Apple Pay on iPhone6 with on board NFC chips to complete cashless transaction, Source: Businessinsider.com
Update: Apple recently announced its NFC based Apple Pay system will go live with a host of retailers on Monday October 20th.
Smartphone – With rumors flying all week, finally a leaked Walgreens memo (fittingly uncovered by MacRumors.com) to its company store managers, all but confirm that Apple Pay will launch on Saturday October 18 to Walgreens, and "presumably" many more charter retail outlets. The move should help position the Cupertino, CA behemoth into a brand new area of technology dominance not unlike its move into music with the launch of the iPod 13 years ago this month. Apple is hoping its cashless, secure payment system based on the new pair of iPhone 6 devices that just shipped (with NFC chip technology) will once again put its mobile device at the center of a game changing solution. Stakes are high, with the potential for Apple Pay to affect literally millions of retail outlets and billions of dollars in transactions per year. Apple is well positioned to dominate the space, as the company already has some 800M of the world's most affluent credit card holders' data on file in its iTunes store.
Indeed, the Wall Street Journal reported on October 13th the improved health of the US credit card industry, stating numbers from R.K. Hammer Consultants (Thousand Oaks, CA) that card issuers' revenue is going up a solid 9% over 2013 numbers (in the US) with $158.6B in revenue forecast. Apple, with its new NFC chips, Passbook App and Apple Pay technology, wants a solid piece of that action.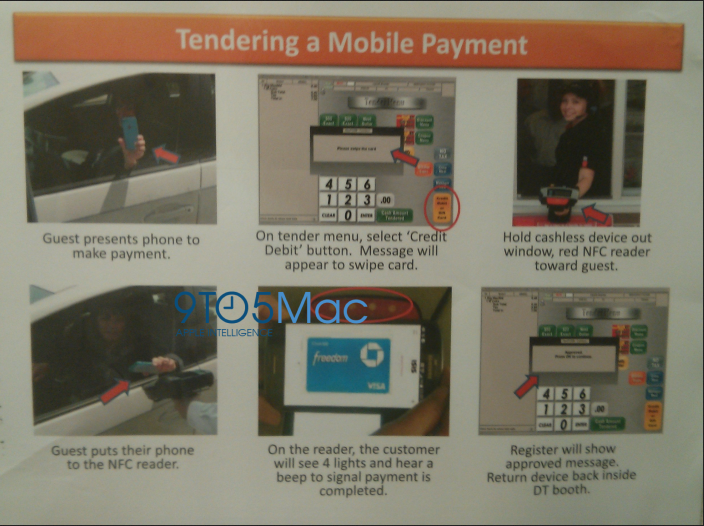 McDonalds Training for Apple Pay at the Drive through window, Source: 9to5Mac.com
On the technology side, the Apple solution based on the new Visa Token service offers a unique approach, replacing sensitive account numbers and personal data. In fact, it doesn't communicate any personal data to the retail vendor or even store it on the phone. The company said rather, it will generate a unique key code plus other authenticators including the Touch ID fingerprint and Apple ID, and in the event of a stolen phone, the token can be wiped, preserving the (presumably) safe credit card still secured elsewhere.
But Apple Pay won't be limited to just Visa cards, the company said beyond Visa, its technology will work with American Express and Mastercard as well, plus top US banks to start, including Capital One, PNC, and Chase. Charter retail members of the Apple Pay club will include Walgreens, McDonalds, Petco, Subway, Macy's and of course, the Apple Store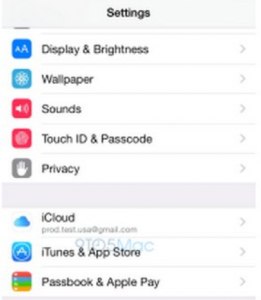 Apple Pay screen shot, source: 9to5Mac.com
Other retail training manuals from company's like McDonalds are also beginning to surface revealing new details like the depth of access granted the Apple Pay system software, as reflected in automated renewable expiration dates for older (out of date) cards, and access to former (recent) transactions that took place at other stores, prior to the current purchase.
We expect the announcement to come along with the upgrade news of the Apple desktop OS Yosemite, and new PC hardware from the company on Thursday, October 16th. That gives iPhone 6 users two days to update their phones with the apps and credit card data for a Saturday launch of Apple Pay. A new Settings option (see image) is coming along with specific Apple Store apps that will enable the new cashless pay feature.
So from the McDonald's Drive through to your next cold medication or prescription purchase, Apple wants to be there on the transaction with the roll-out of its Apple Pay cashless NFC service. But with NFC only available on the iPhone 6 (at least until the Apple Watch ships in early 2015) most Apple fans will have to wait until they bite the bullet and upgrade to a new device. And perhaps those long lines at the holiday cashier, that some may now be able to skip, will be enough to entice a boom in new device sales for Apple. We'll see. – Steve Sechrist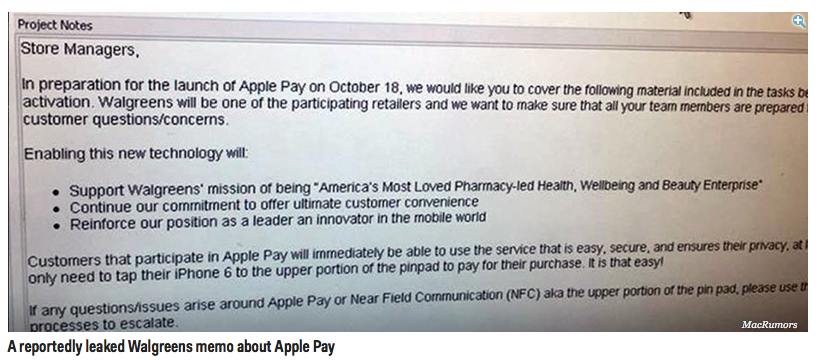 Walgreens memo on Apple Pay launch, Source MacRumors.com