Apple iPhone6 Image contrast source DisplayMate
Mobile Display – When the iPhone6 first shipped, Dr. Ray Soneira concluded from extensive DisplayMate lab testing in his iPhone6 Technology Shootout that this was perhaps the best mobile LCD made to date. How Apple got there is possibly confirmed by NPD DisplaySearch, as the research company is reporting several new display advances in the Apple iPhone6 that helped Apple receive such high accolades. The new technology could also help move the mobile LCD industry further forward as it faces new pressures from the OLED space. In David Hsieh's analyst blog for the company, he also reported that the most recent demand forecast is for Apple iPhone6 stating that the company will ship more than 100M units by the end of 2014. Apple sales of both the iPhone6 and 6Plus topped 10M units in the first weekend of shipments that began September 19th, according to company reports.
DisplaySearch found several new technologies used in creating the Apple iPhone6 display that increases the flagship smartphone size to 4.7″, and uses a 1334 x 750 pixel (326 ppi) TFT liquid crystal display with an LTPS (low temp. polysilicon) backplane. The iPhone 6 Plus has a 5.5″ panel, 1920 × 1080 LTPS TFT LCD (400 ppi) and both use the new technologies found by DisplaySearch. It was reported earlier that Apple is sourcing its LCD panels from both Korean panel maker LG Display and Japan Display (JDI), a recent JV between Sony, Toshiba and Hitachi.
New technologies which the group discovered in both the iPhone6 panels include:
Negative IPS (in-plane-switching) liquid crystal mode (used to enhance contrast)
A thinner color filter with new green elements (used to enhance color gamut)
Slimmer light guide plate in the backlight unit (used to drop thickness)
2-chip in-1 LED backlight package (used to boost brightness)
New brightness enhancement film, that DisplaySearch said combines two films in one (used to boost brightness and reduced thickness)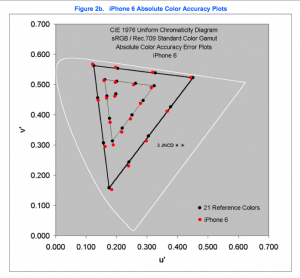 Apple iPhone6 absolute color accuracy plot, Source Displaymate.com
And the new technologies have delivered for Apple. In his shoot-out article it was reported that the Apple iPhone6 Plus has the "…most accurate image contrast, and the smallest variations with viewing angle for brightness, contrast ratio and color", Soneira said. The new green element color filter was measured "… a nearly perfect 99% sRGB color gamut for the iPhone 6 and 101% for the iPhone 6 Plus, both impressively accurate", according to the shoot-out report.
But as NPD DisplaySearch points out, there is a downside to the introduction of new display materials and components. The company reported "production challenges" for the new displays with shipments that started in the end of June and panel makers have been working to improve production stability and yield rates, Hsieh said in his Analyst Blog dated September 25th.
On the up side, DisplaySearch reckons that the Apple iPhone6 will sell 46M of its 4.7″ versions and 29M of the 5.5″ vintage phones in Q4-14 alone. The total number forecast for the year is 116M units that includes the previous model iPhone5s that are also still shipping. Full results can be found in the DisplaySearch Quarterly Mobile Phone Display Shipment and Forecast Report.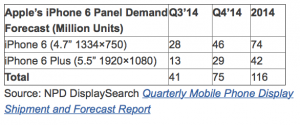 NPD DisplaySearch Apple iPhone shipments 2014, Source: NPD DisplaySearch
So Apple is pushing the LCD envelope further out with new technology used by both LGD and JDI fabs. Both companies will benefit from the advances, as both can (arguably) leverage this new knowledge in other application areas including auto displays, and other B to B markets. This should help both companies compete with the likes of Sharp, Samsung the Taiwanese and China fabs. – Steve Sechrist