Smartphone – Sony is not doing well this year and most of the business downturn relates to its mobile division. Sales of Sony smartphones have been not great and the value adjustment for inventory pulled Sony deep into the red, as we have reported earlier. As a result Sony is changing its strategy to go after the high end mobile market and is also addressing the imaging market with a set of external lenses to augment the limited optical capabilities of smartphone cameras.
Sony is also a large supplier of imaging products, from the consumer camera to professional video cameras. As the sales of dedicated cameras including digital SLR is heading down, the key imaging device in the hand of the consumer is the smartphone.
The Pixel Magazine in the UK interviewed Sony executives on their plans for improving the imaging capabilities of Sony's smartphones. This includes an array of lens cameras that can be strapped to a smartphone creating an ad hoc digital camera.
Source: Sony
The lens cameras come in different colors and sizes depending on the functionality. As you can see some zoom types come in very large sizes, that give the smartphone more of a camera look.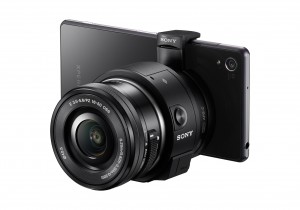 Source: Sony
The devices are quite expensive, selling for around £249 ($200 to $450). In the US there are four different types available. They differ in the use of the sensor (1″ and 1 2/3″), the imager resolution (18 MP to 20.4MP), size and colors. The camera lens connects to the smartphone to allow the taken images to be viewed on the large smartphone screen. The device connects to all types of smartphones based on Android and iOS.
From a market perspective, we have to admit that smartphones are taking away sales from dedicated cameras. This has been the trend for several years and also affects the sales of high end digital SLR cameras. As a consequence, mirrorless cameras came to the market and took some share in the consumer camera market, though lately sales of all camera devices seem to have deteriorated. It has to be recognized that many consumers are willing to give up image quality for convenience. The external lens camera from Sony may be attractive to some of these consumers. Getting a better picture may be of interest for some, but we have to remember that we still have an additional device to carry. This device creates a new type of camera, that is less than a digital SLR but more than a point and shoot camera with a better optical lens system. The question for Sony is if there are enough imaging enthusiasts to make a switch to a more smartphone oriented picture acquisition, instead of using a dedicated digital camera. If convenience is really the driver behind the switch to smartphone imaging we have to ask if carrying an extra lens camera is already too much of an inconvenience? – Norbert Hildebrand