This year, the unique circumstances of 2020 meant a big change in holiday purchasing in the US market, according to US retail data specialist NPD.
I listened to the NPD presentations, twice, as the online presentation had no way to store a pause mark, rewind or fast forward. If your browser refreshed, you went back to the beginning. We reached out to them to query this and basically the response was 'tough!'. So I might go to NPD for great data on the US retail market and good insights on consumer behaviour, but I wouldn't consult about how to make their content easy to access! Anyway, on to the data….
We listened to presentations on the holiday season and on future technology trends and there was some overlap. We also concentrated on the display categories. If you care about imaging or printers or headphones, you'll need to go through the listening process yourself, but make sure you aren't interrupted!
The main analysts were Stephen Baker, who I have reported on many times and Ben Arnold. They were introduced by Ian Hamilton (that's NPD's picture below! Not sure I'd commission them on image scaling, either 🙂 )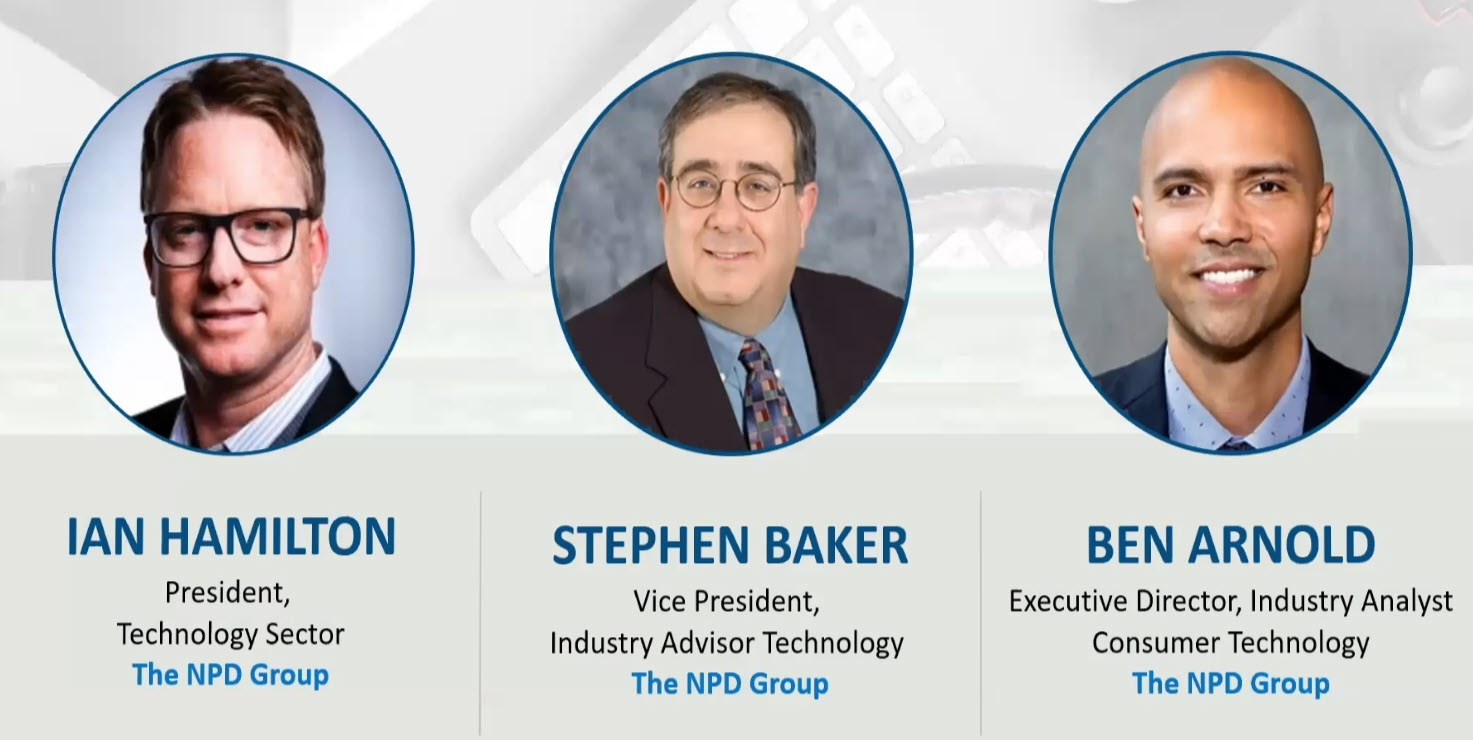 Looking to the future, there have been a lot of changes driven by 2020 conditions. Now, 60% of tech products are being sold via ecommerce, and that's up by 14%.
The final numbers are not yet in, but the forecast for 2021 revenue is that it will be 2% down on 2020, but it will still be a good year as it will be 13% up on 2019 – it's challenging to make comparisons after such a year. NPD expects that Q1 will be up by 11-12% but the rest of the year will be down by 5% or so. However, Baker said, it's really challenging to forecast. However there has been a $20 billion increase in revenues from 2019 to 2021 in the market.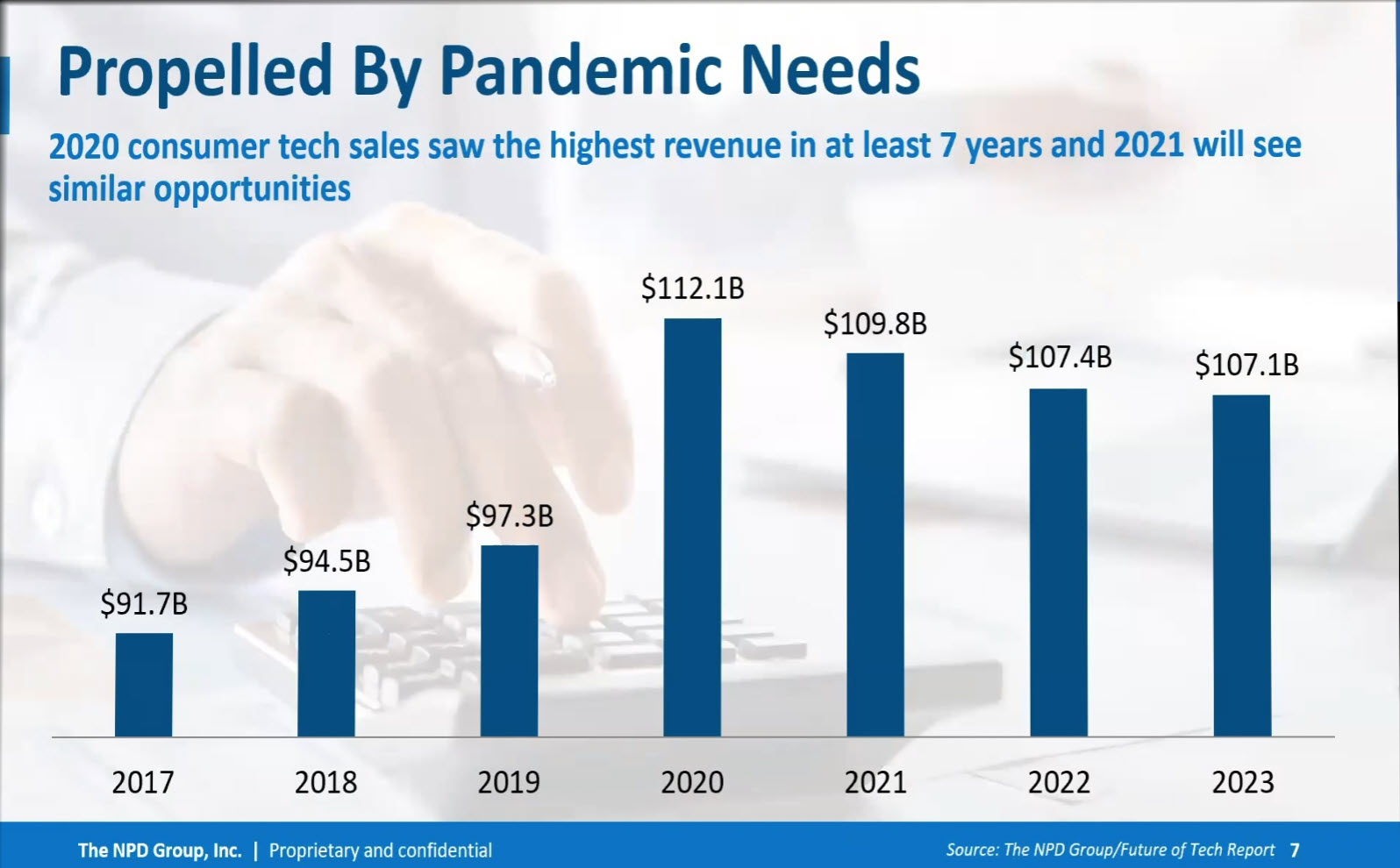 Click for higher resolution
Baker said, as he has for some time now, "Tech" is now not just a pleasure purchase – it is a real necessity for life, whether for entertainment, working from home (WFH) and education from home (EFH). Revenue growth will be concentrated in big categories more than than across the board.
WFH, entertainment, connectivity and gaming are key market drivers. All the family need a PC again – where it had changed to be a family computer with family members having individual tablets or other devices. The market for webcams, keyboards and mice have been really changed.
WFH and EFH have changed the need for good networking infrastructure, to need good Wi-fi and routers, especially mesh routers and Wi-fi 6 to give good coverage throughout the home.
The gaming market value soared and that market is not going to go away, Baker said, although it won't grow in the short term.
Headphones, notebooks, smartwatches, Tablets and TVs are the top 5 categories – and they combined gained 1 point in share from 2019 to 2020, but NPD expects an increase in share by three points over the next couple of years. That was one of the key messages of the talk.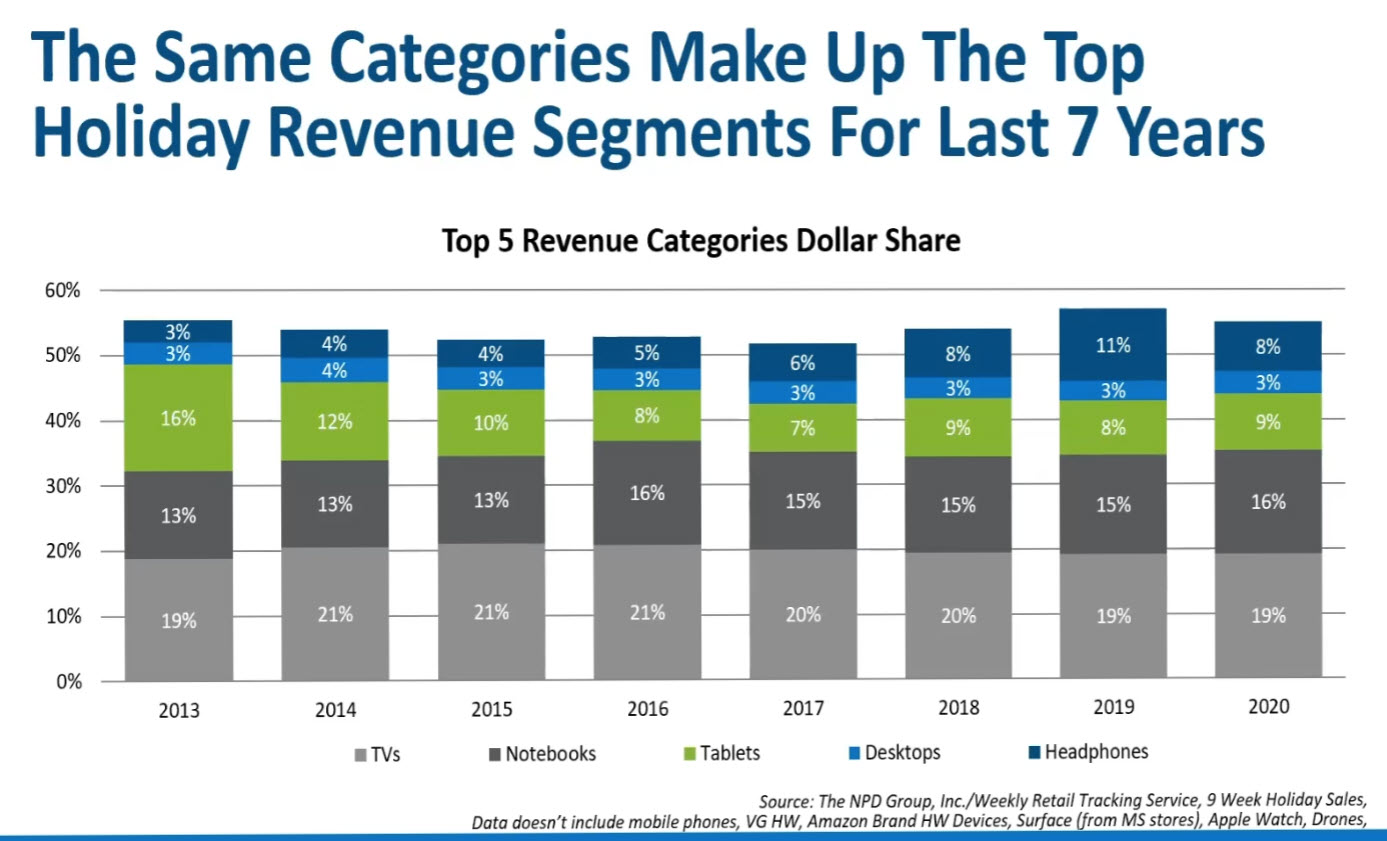 Click for higher resolution
TVs have sold in record numbers the US market has never seen 40 million units before but 2020 reached nearly 50 million. By 2023, 65″ will be the largest volume size – and it's not that long ago that 42″ was the largest category. The ASP trend is heading back towards $400, despite some price rises. TV sales will have services and subscriptions attached.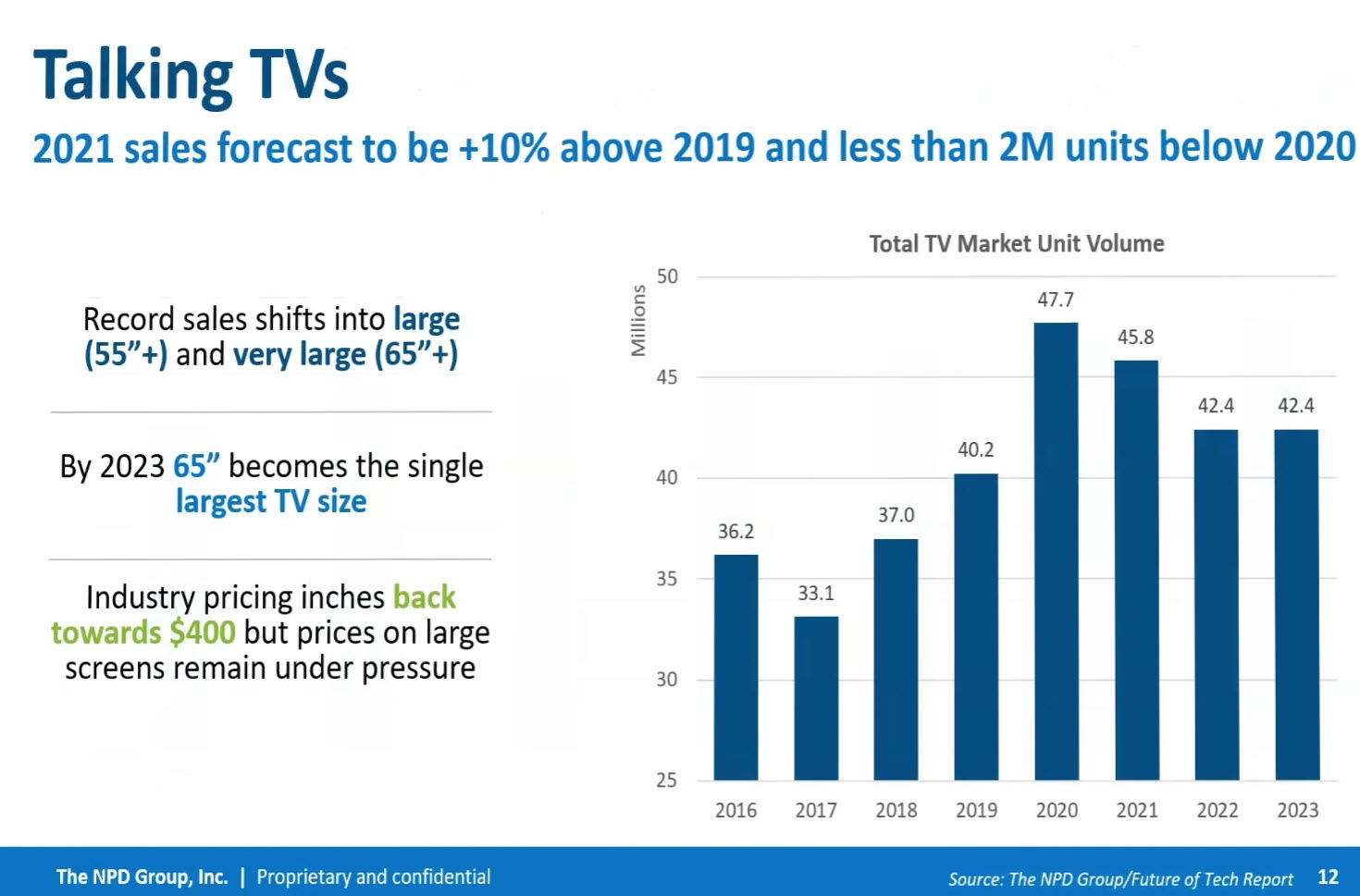 Click for higher resolution
PCs of all kinds have sold well. Chromebooks will increase 3 times to 7.5 million by 2023. I was very surprised to hear Baker forecast that Apple will account for almost 50% of PC revenue by the end of 2023, largely because of the high ASPs that Apple enjoys. (I confirmed with him that this is because NPD really just tracks the retail/consumer channels) Throughout the forecast, gaming PCs are the largest volume segment.
Component sales have been surprisingly good and monitors are also growing well in sales and it's the single most consistent growth category and NPD has added 10.5 million units over the forecast period to 2023.
Baker expects that foldable and transparent displays will help to drive the overall market. Consumers are spending more because products are affecting their lives more. The will update, maintain and upgrade more willingly.
Holiday 2020 Wrap Up
This has been an 'extraordinary holiday season'. Prime Day and early November sales disrupted the normal November sales to spread the sales period. The market was not as high as Q2/Q3, but there was good growth in Q4. Over the holiday PC and TV sales were strong, but also other categories.
The Q4 revenue increase was 15% at $34.5 billion and at an ASP of $70 (which was a record high). It's the highest absolute market value since 2014. It was not just in retail stores – ecommerce was up 13% and ecommerce holiday revenue was up 54%.
There was a big change in the weekly pattern. 44% of the market value was in the pre- and post-Thanksgiving seven weeks. The Cyber weeks were slightly down and Thanksgiving was also down.
The fastest growing categories were mostly in productivity and computing. The Oculus Quest 2 really helped high growth in VR (but those high growth categories combined are only 9% of the market). Gaming PCs were restricted in growth because of supply restrictions.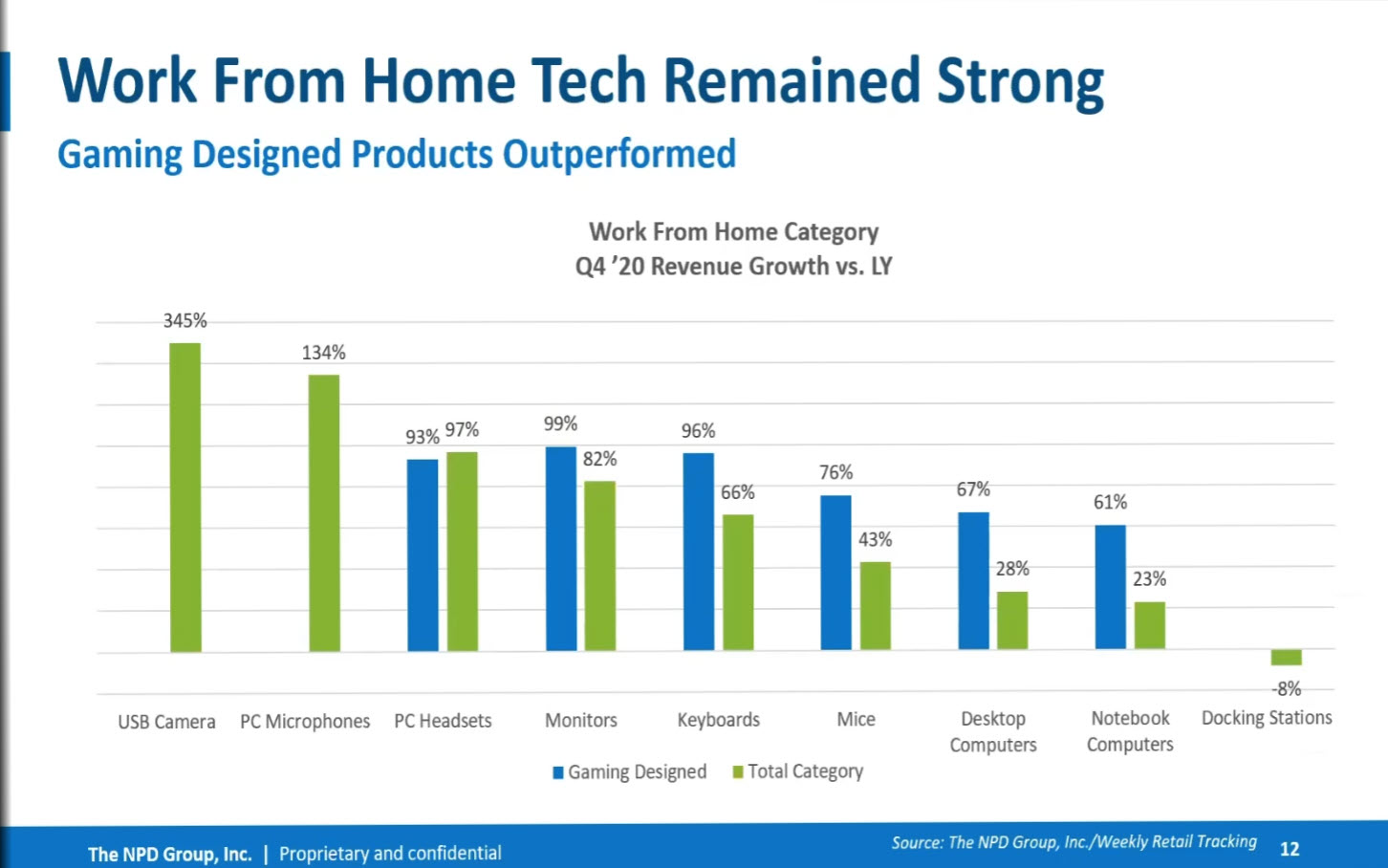 Click for higher resolution
Baker then highlighted the categories that had benefited from the WFH trend, including monitors. When you split out gaming-designed products, they outperformed the category.
PC volumes were up less than they might have been because of supply tightness. That reduced promotions by retailers but helped the sale of premium products. Chromebooks were also not so strong because of tight supply. PC sales were earlier in the holiday season, Apple's M1-based products helped, Baker said.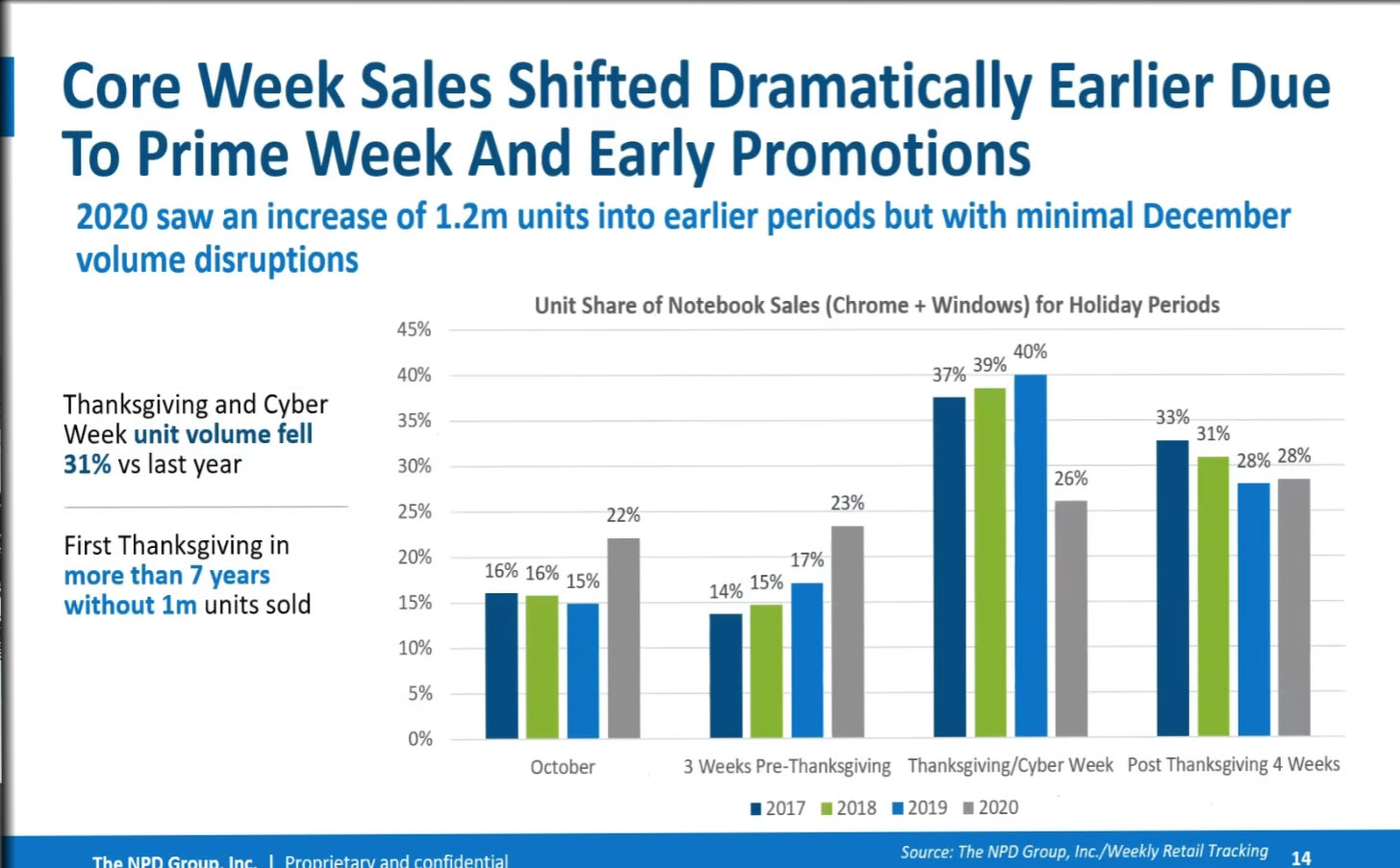 Click for higher resolution
Eddie Hold then took over and looked at smartphones.
Consumers have resisted the move to online sales – buyers wanted to try before they buy in the past. However, now products are almost the same, so are less worried about seeing them before buying. Do you really need to go to the store to buy a smartphone? Not any more, Hold said. 60% of buyers in retail stores already know what they want to buy, so there is less rationale for stores. Exclusive deals are now unusual for particular handsets, too. You can get almost any handset from almost any operator.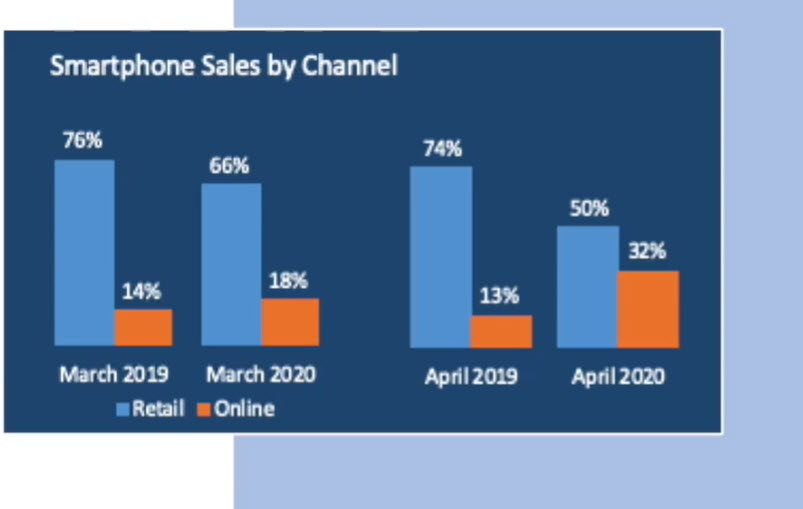 Click for higher resolution
Will retail return after Covid? A lot of stores have been closed during the crisis. Retail closures have reduced upsell opportunities, so accessory sales have dropped. In the past, sales associates could suggest cases etc as upsell items.
18% of phones sold in the US are now unlocked and there is an installed base of 50 million unlocked handsets, now and that will have an effect on the market.
Retail closures reduce upsell opportunities, so accessory sales have dropped.
In summary, despite my snarky comments, NPD issues some useful insights and data, so it was worth the second listen. (BR)