In case you missed it, early last week Apple Inc. made headlines (no huge Apple device marketing blitz here folks–just some – OK top A-list talent – sharing the stage with CEO Tim Cook) announcing its foray into media content (yet again.) At first glance, significant, you may ask? Well – read on…

At the media event, Apple previewed its new AppleTV+ application (video subscription service – no price yet.) The new service will run on a new Apple TV+ device, and bolster the Cupertino, CA device maker's revenue from digital content streaming, distribution, and even content creation, the very thing that is up-ending traditional Hollywood film makers. But can Apple create a force majeure to compensate for sagging iPhone sales, from an already crowded digital content space, particularly this late in the game?
This seems to be the question of the hour. Up front, our take is that Apple Inc. is in a unique position to become a dominant player.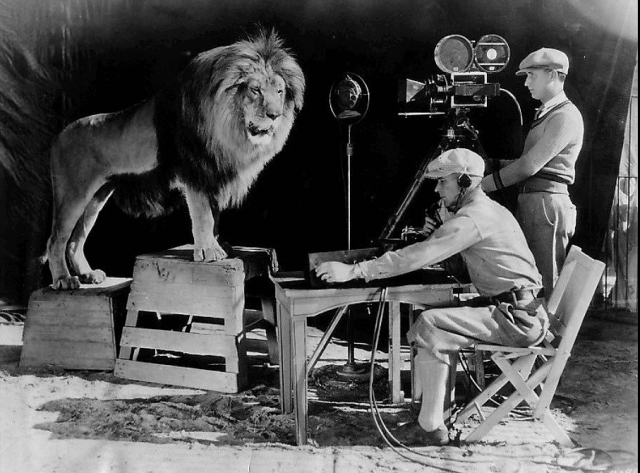 MGM Leo, filming the iconic lion roar that preceded MGM studio films for decades, now Apple is locating its digital content creation venture on that same hallowed studio ground in Culver City, CA
To start, here's the Bloomberg shortlist of unique advantages Apple Inc. brings to the table in streaming entertainment:
There are more than 300M paid subscriptions for Apple services and third-party offerings, up 60% from a year ago
Apple Music subscriptions grew 50% (year-over-year)
AppleCare warranty revenue grew at the highest rate in 18 quarters (as of Q3-2018)
Apple News articles reading has more than doubled year-over-year
Apple Pay transactions topped 1 billion in the June quarter, 2018, that's three times the number from Q2-17
That's not to mention that AppleTV+ will come pre-installed on literally hundreds of millions of devices, Further – giant Apple's deep pockets help, a $245 billion cash on hand war chest (according to data from CNBC.) Apple went on a buying spree last year signing up some of those same A-Lister's (Steven Spielberg and company) that appeared with CEO Cook on stage for the shift to content announcement, Wednesday last.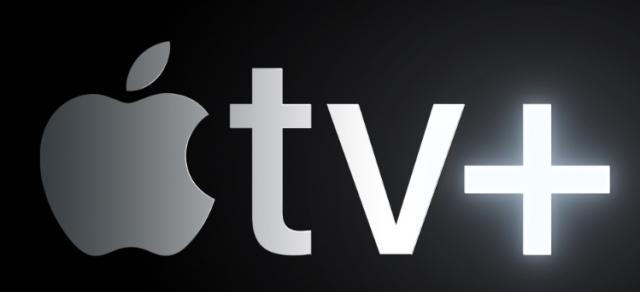 Advantages or not, a great device maker does not a great content maker – well, make. So said Sr. VP and thirty year Apple executive, Eddie Cue, at the 2018 SXSW conference, just after the company first made its move in the direction of content streaming and (perhaps more significantly) content production. Recognizing the company's drift from its core competency is probably Apple's biggest advantage, this and well it's willingness to dip heavily into its treasure chest to fill the gaps.
The Lion Roars Again
It may also be significant to note that Apple chose to locate its new venture on a very old (historic) Hollywood property, the Culver City MGM lot, of Louis B Meyer, King (No Emperor) of the golden age of Hollywood. Perhaps the firm was looking for an old icon to recharge earnings for one of the world's most successful companies.
Then there's the ultimate demise of traditional pay TV with its +$90/ month subscription rate (or ARPU average revenue per user.) That $90 is for cable content alone, (not internet service) and represents a compelling enticement to switch to any over the top (OTT) data streaming hub service.
Any doubt about taking Apple seriously? Here's the short list of top talent Apple garnered for its mid-week event l last week, Steven Spielberg, Jennifer Aniston, Reese Witherspoon, Steve Carell, J.J. Abrams, Sara Bareilles, Kumail Nanjiani, Jason Momoa, Big Bird (yep a Muppett) Alfre Woodard, oh, and just one more… Ms. Oprah Winfrey, possibly the most highly recognized, and respected icons in TV history, (not to mention, one of the richest women on the planet).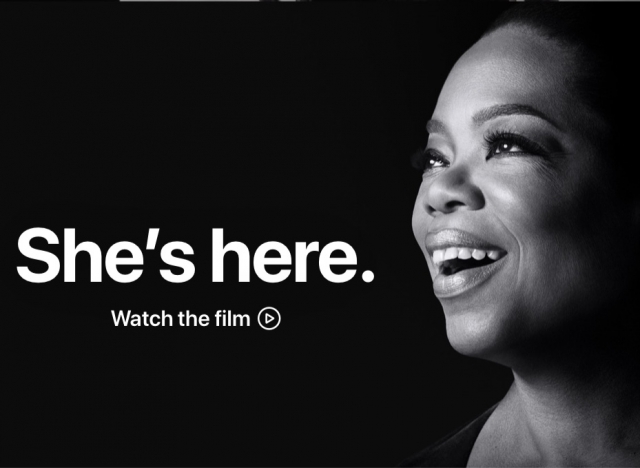 From Apple's Web site announcing the new streaming content service
Nothing shy of Amazon, or Netflix (now at 51% of streaming network subscribers) can even come close to matching what Apple can bring to the video streaming table. If the company's chase for content as its next engine for revenue growth does turn out to be a wild goose, it's not for lack of spending, star talent or determined desire to get into the space. Force majeure aside, Apple will be a dominant player in the video streaming space. – Stephen Sechrist