The boss wanted me to look at a few market research reports on MicroLED and give him some feedback on them. So, I am going to write it all down for you and hope he sees it before the break because I am out of here as soon as this is done. Happy Thanksgiving!
The DSCC Take on MicroLED
MicroLED displays are forecast to become a $1.4 billion market by 2028, according to a new report by display market research firm DSCC. However, high prices will constrain wider adoption in the near term.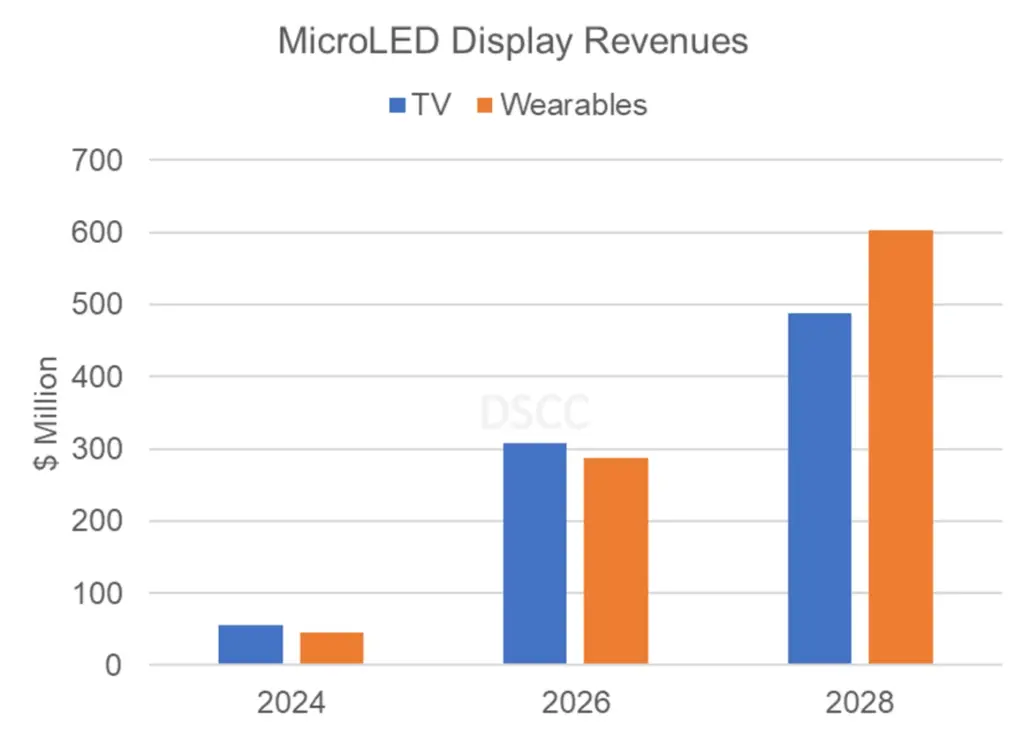 MicroLED is an emerging display technology that offers benefits like high brightness, efficiency, and color quality. But early yields are low, limiting supply and forcing high prices. DSCC expects MicroLED to first gain traction in small, high-end devices, like smartwatches, AR glasses, and luxury automotive displays where the cost can be justified.
The first MicroLED smartwatch is expected to launch in 2024, targeted at the premium end of the market. DSCC predicts wearables will eventually become the largest MicroLED segment as production matures.
TVs have been the focus of early MicroLED efforts, especially by Samsung. At CES 2023, Samsung demonstrated MicroLED TV prototypes up to 140 inches. However, the only model currently available is an 89-inch TV priced around $100,000. DSCC expects MicroLED TVs to remain an ultra high-end niche for the foreseeable future.
Samsung is also now pushing more affordable QD-OLED TVs. The company is positioning itself as the sole brand offering MiniLED LCDs, QD-OLED displays and MicroLED in its lineup.
For now, MicroLED's potential remains hampered by early stage manufacturing challenges. But in the long run, DSCC forecasts over $1 billion in MicroLED display revenues within five years as technology improves and costs decrease.
The Yole Take on MicroLED
The initially optimistic timeline for MicroLED technology has been pushed back, but it still holds promise to disrupt display markets within 5-10 years if key challenges can be overcome.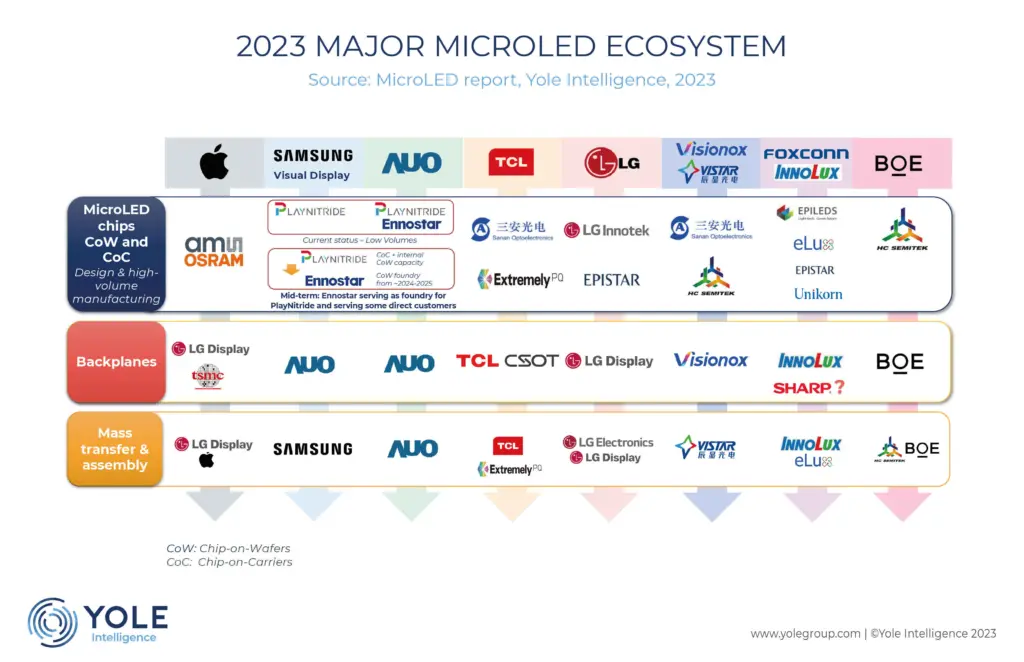 Industry analysts Yole Intelligence report that while over $11.5 billion has been invested in MicroLEDs so far, commercialization has faced delays. Meaningful production volumes are now expected in 2-3 years, with broader consumer adoption in 5-10 years.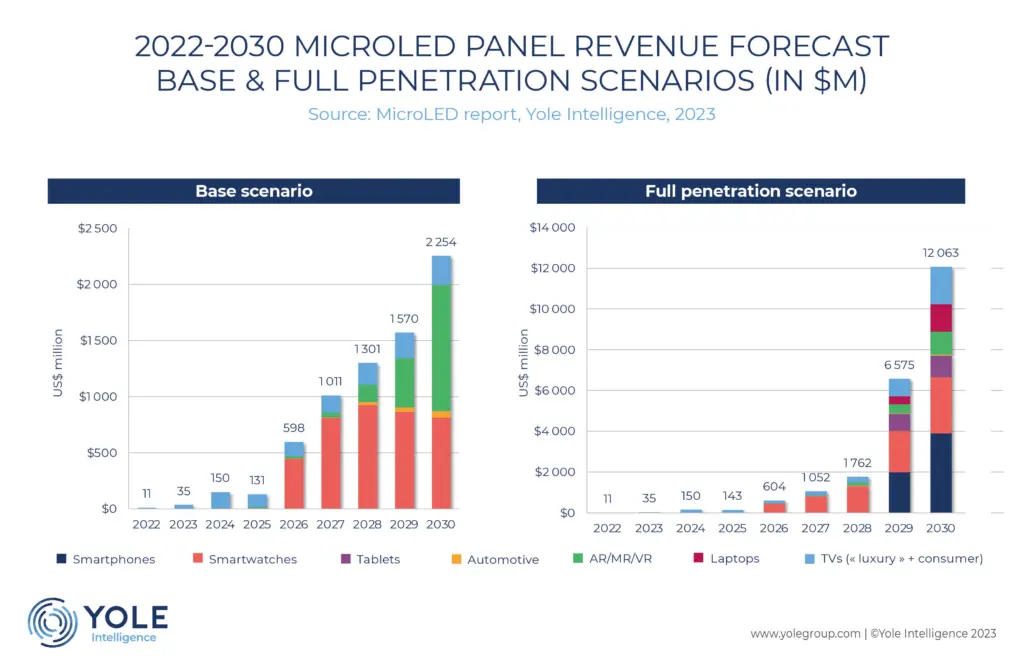 As OLED continues to advance, the pressure is on for MicroLEDs to deliver clear advantages in performance, functionality and cost. The technology will need to showcase superior brightness, color depth, stability and modular potential compared to OLEDs.
Pricing remains a major hurdle, especially for smaller players without access to advanced Si-CMOS chip foundries. However, disruptive chip architectures like Si-CMOS microdrivers could give MicroLEDs a boost in features and lower power consumption. According to Yole Intelligence, few display makers will achieve full vertical integration for MicroLEDs. Most will rely on sourcing LED chips from specialized manufacturers.
The competitive landscape is heating up, with ecosystem battles shaping MicroLED development across China, Taiwan and South Korea. Taiwan has even formed a domestic MicroLED alliance to strengthen its supply chain.
While near-term adoption will likely focus on niche applications, MicroLEDs have the potential to disrupt mainstream display markets within the next decade if the remaining challenges of performance, functionality and cost can be overcome.
The Display Daily Take on MicroLED
There seems to be a lot of hedging bets on the MicroLED market, not the analysts' fault by the way, because the industry isn't quite sure when, where, and how it all takes off or whether it wants to talk about MicroLED taking off when they have so much investment in, let's say OLED manufacturing, that has yet to pay for itself.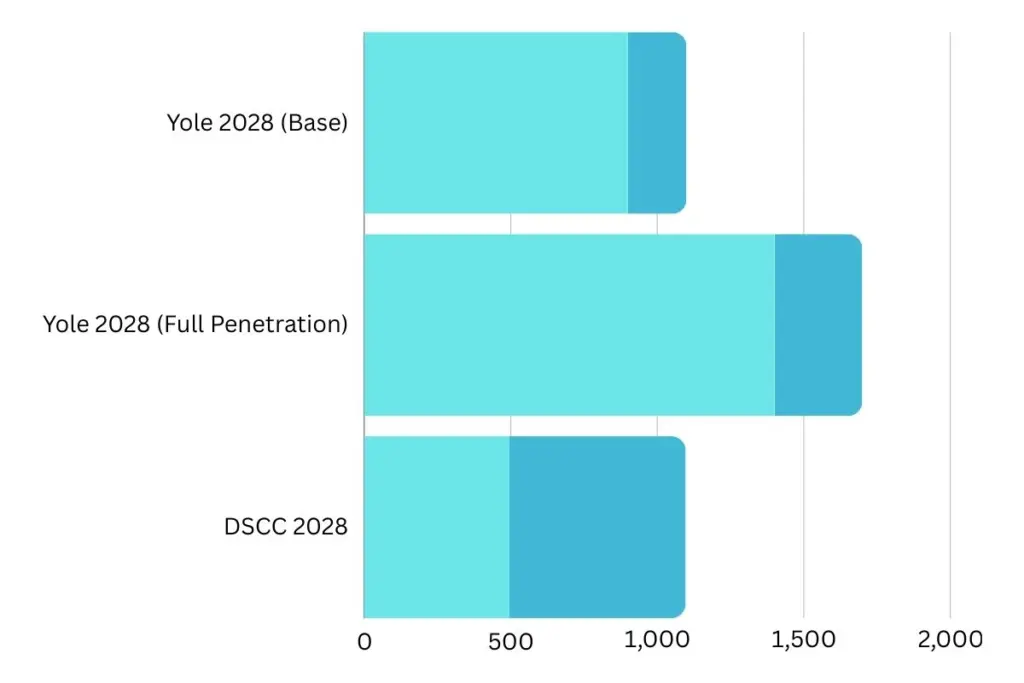 The display industry is very, very reluctant to change or adapt or be bold. It's vertically integrated in terms of supply chains which means that no one wants to rock the boat. But, MicroLED should be, in all its guises, the Holy Grail of display manufacturing. For no other reason than it makes sense to move the display industry model to one that could function without all that vertical integration. I know the boss is going to like hearing that because he goes on about it all of the time and when he is done editing this article he will probably make sure that is what it says.
But, that's okay by me because I see a lot of the yakking around MicroLED's potential versus the challenges of mass market consumption, and every month seems to have a conference or meeting about MicroLED tech. Most of it with the same round-robin group of companies. It's like a group therapy session doing a rock band arena tour. Give it up, fellas, everyone has heard your hits, but let's get some new material, a new album, something to get us all hyped up.
You'd think a so-called tech industry, which is what the display industry should be considered as, would be all excited and gung-ho and aggressive about next gen tech instead of talking around it all of the time. The problem isn't the challenge of mass manufacturing of MicroLED, that's just the job, the problem is that disrupting the display industry doesn't sit well with the display industry. And when you have such a tightly wound vertically integrated market, the only breakthroughs are achieved through penetrating layers of the supply chain. That's probably why there are so many conferences and meet-ups; it's like the MicroLED tech people are doing the rounds like a bunch of debutants coming out for the season, hoping to be courted.
I have mixed up too many metaphors as it is. I guess I am a little a disappointed that the display industry is too predictable, even if the different data projections are not.