HP has shared more details, as well as a launch date, of its first USB-C hybrid: the Pavilion X2, which was teased at Computex this month. Set to arrive at the same time as Windows 10, this convertible PC shares a name with the 2014 model, but uses a different design.
A magnetic hinge is used to attach the keyboard to the 10.1″ 'tablet' portion of the device, replacing the 'raised hinge' of last year. The keyboard includes a touchpad and keys with a 1.5mm travel distance, and is bundled with the product.
Resolution is 1280 x 800. The tablet uses an Intel Atom (Bay Trail) processor; a prototype of a model with a Cherry Trail processor was shown at Computex, but there is no news on a release date yet.
The Pavilion X2 has 2GB of RAM and 32GB of storage; a 64GB model will also be launched. USB 2.0 (full-size) and micro-SD ports are featured, in addition to USB-C.
HP will launch the Pavilion X2 at the end of July, for $300.
A new tablet will be launched at the same time as the convertible: HP's first commercial Windows 10 model. The Pro Tablet 608 is an 8″ unit for SMBs.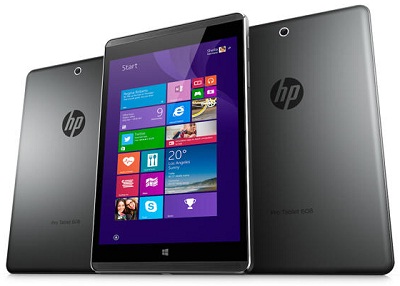 Unlike most 8″ tablets, the 608 has very high resolution: 2048 x 1536. HP says that the 4:3 aspect ratio makes the tablet better for productivity. The display is covered with Gorilla Glass 4.
A quad-core Intel Atom processor (Z8500) runs Windows 8.1 (upgradeable to Windows 10 Professional, which will be pre-installed from August), with 2GB of RAM and 32GB of storage. Other models will feature 4GB of RAM and 64GB or 128GB of storage. Battery life is up to eight hours. Security features and IT tools, such as HP Client Security and a Trusted Platform Module (TPM), are built in.
A digitiser is built in, and the tablet is compatible with an optional Atmel digital pen; this enables pressure-sensitive annotations and hover functionality.
Like the Pavilion X2, the Pro Tablet 608 features a USB-C port. Accessories, such as a travel dock, can add additional inputs, including HDMI, USB and RJ45.
HP will sell the basic edition of the 608 for $480.