Gary Shapiro of the CTA had an optimistic forecast for UltraHD TVs in the US when he met recently with the press in San Francisco. The forecast that sales will reach 15 million this year, representing around 40% of the market with virtually all sets above 50″ now with the UHD resolution. The adoption is going much, much faster than the adoption of HD sets.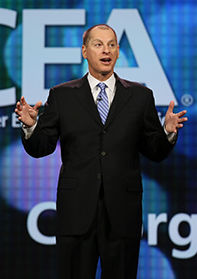 Part of the reason for the fast adoption is the keen pricing. UltraHD TVs cost $1,048 on average last year, but this is down to $861 this year. TVs supporting ATSC 3.0, which is being developed to support UltraHD, are likely to be seen at CES, according to Shapiro.
He also confirmed what we heard from the UltraHD Forum at IBC, that UltraHD Blu-ray sales are going well. He said that 700,000 UltraHD BD players have been sold in the US and more than 500,000 UltraHD disks have been sold. The value of the market is expected to get to a billion dollars by 2019.
According to the CTA, 62% of US consumers plan to buy some kind of device that can be used to view video, with smartphones the most popular at 33%, but with TVs almost at the same level, at 29%.