At CES 2014, TI was showing the first demos of a new DLP chip set designed for HUDs. Today, we are aware of only a couple of production cars that feature microdisplay-based HUDs, but that could change this year. In the TI suite this year, the HUD was shown again.
The HUD creates a 12 x 3 degree field of view image that appears to be about 2 meters from the driver. It can be used with a standalone combiner or use the windshield as the combiner. It is powered by a 0.3" WVGA resolution DLP chip and LED light source. It uses the Osram green LED that has a phosphor converter on top to enable the HUD to achieve 200 lumens at the windshield. One trick that TI does in its HUD engine is to create an intermediate image, which is then reimaged off the windshield. This design helps to mitigate thermal loading which can result from sunlight going back down the optical path.
TI says it has spent the last year doing qualification on the DLP imager and related electronics to be sure it can be accepted by the automotive suppliers for use in a HUD. The company is not ready to disclose when the DLP-based HUD will make it into a car, but hopefully within a year.
TI is also working on ways to use this HUD as part of the telematics solution in the car. For example, there was a nice partnership demo where sensor manufacturer NeoNode teamed up with steering wheel provider AutoLiv to create a novel way to interact with information. The partners added some touch and gesture sensors and red/blue LEDs to the steering wheel to provide a way to access, change and interact with driving, navigation and communication information. As a demo platform, they used the dashboard display from a Volvo and fed some of this to the TI-built HUD. This allows the driver to keep their hands on the wheel and eyes on the road to perform needed functions – a nice safety feature.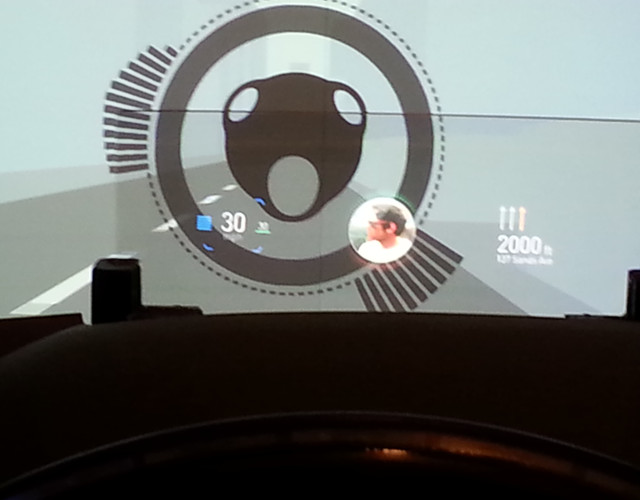 Features currently implemented include:
Double tap – for cruise control activation and mode change
Swipe up/down – for adjusting, volume and answer/decline phone call
Double Pat – to activate voice control
Simultaneous double tap – to active autonomous drive
Long press – to set speed for adaptive cruise control
Another trend in the automotive space is the move toward autonomous and semi-autonomous vehicle operation. The Advanced Driver Assistance System (ADAS) is something that TI is working on as part of this trend. In a demo in the suite, the firm showcased the TI Jacinto processor that was gathering camera information and managing the flow of info to 3 different displays, including the HUD. The demo featured a live camera feed of some dolls that looked like people in a cross walk. The system is supposed to identify this as a dangerous situation and provide a visual and perhaps audible alert. It could even trigger automatic braking in the future. This info was shown projected by the HUD (see photos).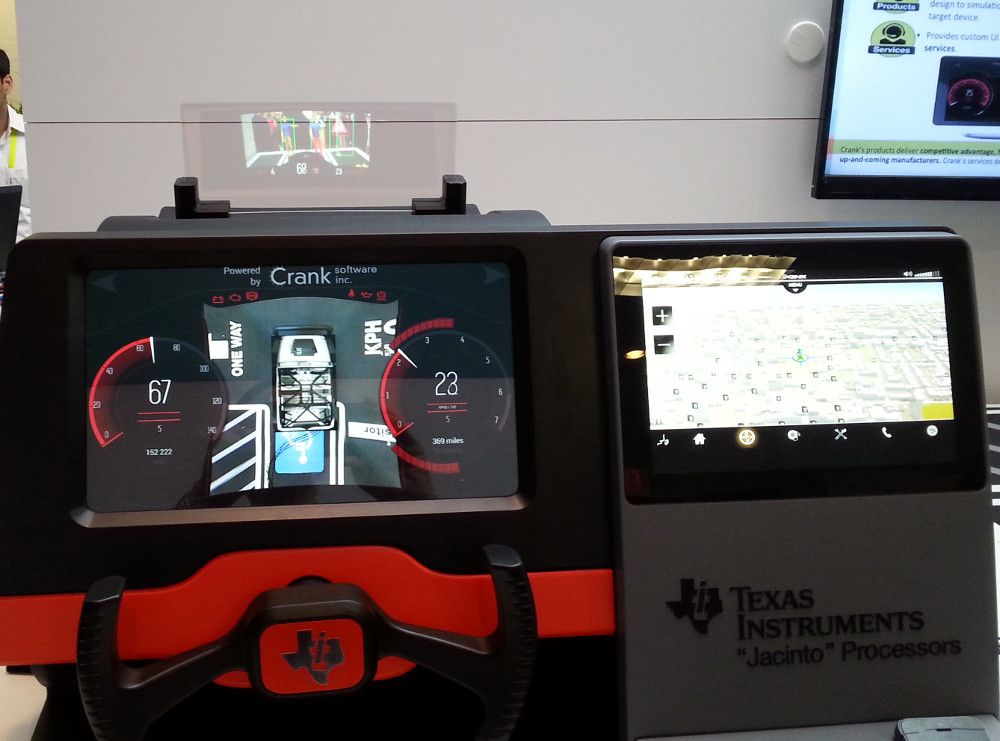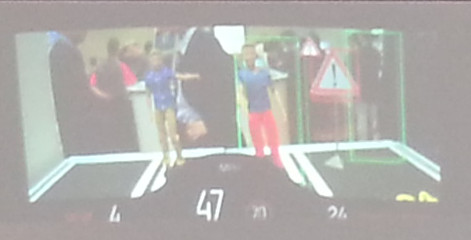 ---