They say a picture's worth a thousand words. In 3D displays, it's worth a million. The new generation of holographic displays creates an astounding effect of depth-of-view and enables the human eye to perceive vivid images unlike any ever seen in a display.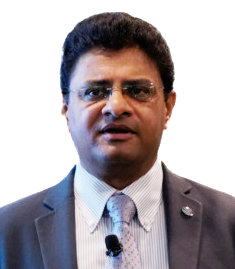 Leapfrogging advances in materials, photonics, optics, and electronics have precipitated a rising demand for 3D display technologies. Similarly, the increased development of 3D games, 3D mobile devices, and 3D movies has stimulated the demand for true 3D displays both in consumer and enterprise applications. The increased demand for enhanced imaging and the adoption of 3D technologies in smartphones, HMD devices, projector devices, and monitors are expected to catapult 3D displays across a new threshold of realism.
According to Market Analysts, the global 3D displays market is expected to grow by double digits with market size of over $100 billion in the next 5 years. Key players in 3D displays include most of the top display makers in Japan, Taiwan, Korea and China in addition to several start-up companies with unique technologies.
Several display technologies including LED, OLED, and LCD serve this particular market. Most of the devices built today use LCD while OLED and LED are also being evaluated. Driving the 3D display market will be the jump in 3D video content and the continued escalation of Internet bandwidth. Also propelling things forward will be how quickly the entertainment and gaming industry will embrace 3D displays.
The new breed of 3D displays will be fully exploited by entertainment, advertising, telecom, and broadcast industries. The higher cost of 3D display technology and the availability of content continue to bottleneck the growth in this industry but it's changing and changing fast. Advances in 3D display technology present enormous opportunities in many areas. Demand will be initially robust in consumer, gaming, and entertainment, with applications increasing in stand-alone devices, smartphones, and tablets.
A Feast for the Eyes
At the Coex K-Pop Plaza at Samsung Station in Seoul, South Korea, one can witness an amazing 3D display. Drawing huge nightly crowds, an eye-popping giant wave moves with breathtaking realism across a massive 3D LED screen. Even when you experience the effect via an amateur video, it's hard to believe the image is not really water sloshing around a giant tank—regardless of where it's viewed. There's a video here.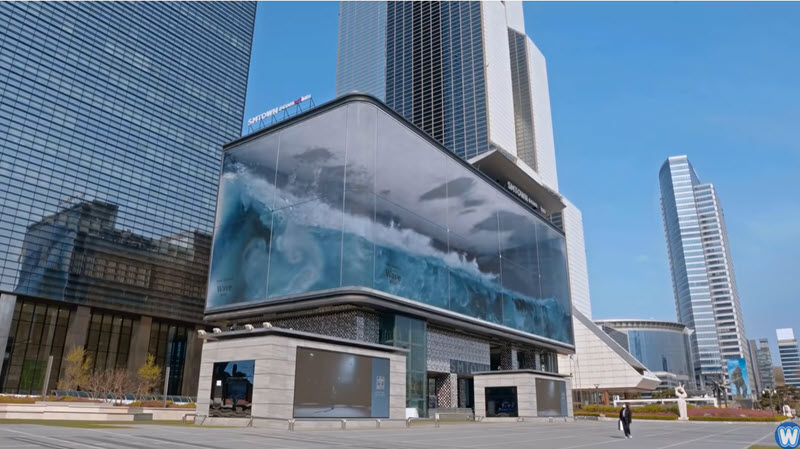 The Coex 'wave' on a big LED in Seoul, Korea
Similarly, in October 2020, a 3D Star Trek spacecraft came to life on a giant LED screen in Chengdu in the Chinese province of Sichuan. The spacecraft appeared to be sliding right out of the display with astounding realism. The technology demo instantly made headlines worldwide—drawing over 320 million views, including Star Trek fans that rushed in for the ultimate visual experience. The 3D LED display boasts 8K resolution and a 1,000 square meter area. This combined with a 450 square meter ultra-high-definition screen on the side make up the "dual screens" for the display. The screens are linked by 90° seamless corner-module technology, a high-brightness wide-angle display panel, with high-contrast.
Latest Trends in 3D LED displays
Today's 3D LED displays typically employ high-refresh, high-grayscale, high dynamic content, and smooth transitions between curved surfaces and corners with playback servers connected to a high-end graphics workstation and multi-graphics capability. In playing the contents on the 3D screen, the main perspective chosen is designed to dovetail with the display model's perspective relationship. A high resolution, high bright display with curated content ensures a realistic 3D effect.
Display Technologies That Enable The Trend
The technology behind these advanced 3D displays involves looking at videos with a depth perspective. These next-generation 3D systems are no longer "contained" in a box. They can seemingly project in front of and behind the physical display, so you will likely attempt to touch these images or step back. Until now, holographic displays needed powerful gaming laptops to run even the simplest holographic media, but new holographic software can run high-definition media content.
Looking Glass Factory in New York/Hong Kong, offers display products that have been used in enterprise settings and their latest offering allow phone and professional cameras to capture realistic holograms. Their HoloPlay Studio automatically converts the depth from Portrait mode photos into dozens of perspectives to create a realistic hologram. The Portrait mode photos on newer mobile devices typically have some depth information, which is normally used to generate a bokeh effect. Looking Glass Portrait software uses this depth of information to generate three-dimensional holograms. (We've reported on Looking Glass 17 times since 2015 – click here and press the search icon to see our articles.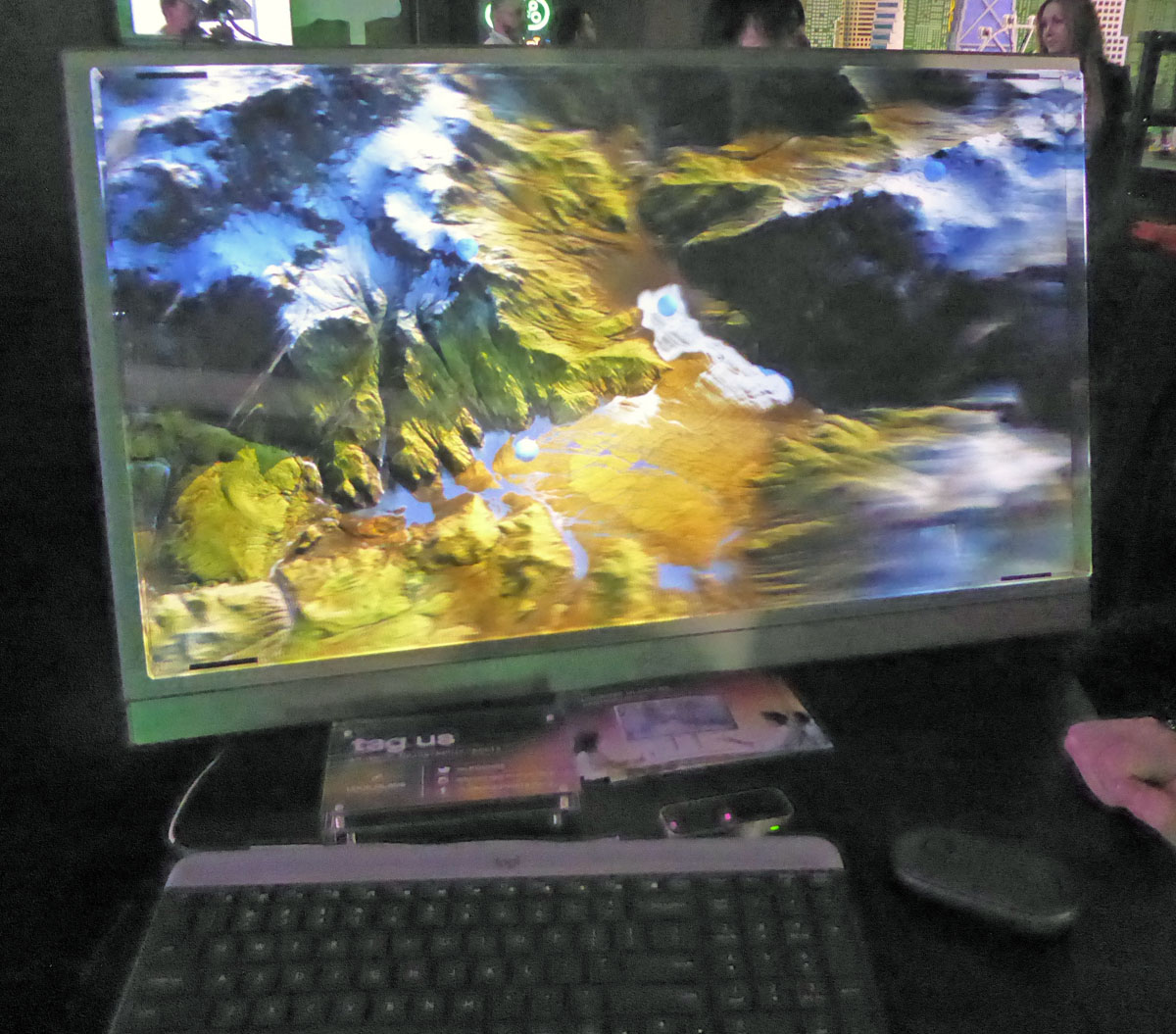 Pete saw the Looking Glass 8K VR Autostereo display in Jan 2020 at CES.
The display works by generating 45 to 100 views of a three-dimensional scene and projecting those perspectives simultaneously into the real world. Unlike earlier 3D displays, multiple users can gather around a Looking Glass Portrait to see multiple perspectives of a three-dimensional scene without 3D glasses.
When looking at the image, your eyes are exposed to millions of rays of light. These reproduce captured content from the real world or play back 3D synthetic content in the most realistic way. Unlike previous 3D technologies, which have sometimes caused nausea and discomfort, this technology produces a comfortable viewing experience albeit it's a recent development and products have just started shipping.
Other Approaches
There are other approaches to presenting three-dimensional images instantly. Some displays are fitted with precision lenticular lenses that present different images for each eye. Unlike 3D films made for the cinema or stereoscopic televisions operating with glasses, such 3D displays require proprietary content combining as many as eight discrete images.
Viewers can stand freely in front of the display and move sideways to enjoy the 3D scene from slightly different angles. These displays show broad scenes with interesting pop-out and depth effects. They can embrace a global depth span in and out of the display equal to its width, and occasionally show much broader scenes when content is well suited. The displays can be viewed in good conditions by an audience of up to 50 people spread over an angle of 90°, providing viewing distances are respected. A narrow transition zone where the 3D effect seems blurred occurs every 50 cm, but a slight step aside returns the viewer to the sweet spot.
Another technique uses a unique eye-sensing technology that constantly senses the position of your eyes and delivers a bright, clear 3D image to each one. A proprietary high-speed sensor follows your eye's movement down to the millisecond, sensing pupil position through space on all three axes: vertical, horizontal, and even depth.
A micro-optical lens is positioned precisely over the LCD. This lens divides the image into the left and right eyes, allowing for stereoscopic viewing with just the naked eye. The content extends deep within the display from any viewing angle. Moving around—up or down, side to side—creates the sensation that you're interacting with the content in front of you. An algorithm processes real-time content for each eye without lag, allowing the 3D world to appear as smooth as in real life, even if you move around.
Light Field Projector Modules
One company uses a miniaturized Light Field Projector Module (LFPM). This approach employs surface acoustic wave (SAW) optical modulators mounted on a printed circuit board and illuminated with precise fiber-optic arrays. Here, LFPMs are stacked to make an electroholographic light field projector that presents a 3D image without glasses when it is integrated into a TV, computer, or other display. The modular LFPMs raise the bar in compact, tile-able holographic video with the promise of depth and field of view. LFPMs can be used in systems with the area of a postage stamp or tiled into mobile, desktop, or wall-sized holographic image projectors. That miniaturization is ideal for companies eager to reduce the size and weight of 3D displays.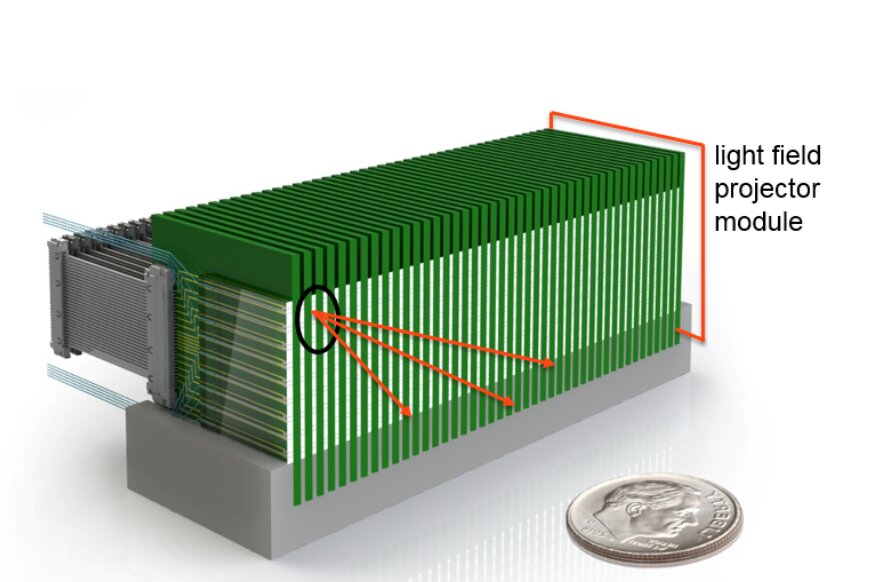 Draper Labs is developing Light field Projection modules.
Volumetric Video Displays
Volumetric displays present 3D information in real 3D space. These can realistically display 3D models, topographical data, volumetric video, 3D video game content, and medical data—in three dimensions. They literally project 3D data into 3D volumes of space. The displays employ several techniques, such as LED arrays, novel projection mapping, moving (swept or spun) LEDs or projection media, or laser-generated plasma. Many people can see volumetric displays, simultaneously.
Volumetric displays project points of an image to specific loci in a physical volume of space. There, they appear either on an actual surface or in aerial images forming distinct depth planes. With the former, a light-reflecting medium either occupies the volume permanently or sweeps it out periodically. With the latter, aerial images are created in free space, which are perceived as cross-sections of a scene stacked one behind the other (multiplanar display).
There are already a dozen volumetric capture studios operating around the world that work by pointing dozens, even hundreds of cameras at a group on vast stages. Volumetric content captured in studios like 4DViews, Microsoft Reality Capture, Mantis Vision, Intel Studios and Metastage can now be displayed as three-dimensional moving images—setting the stage for the next phase of the moving images.
The new breed of holographic systems works with a wide variety of peripherals in Desktop mode, allowing for sophisticated interaction with holograms. This includes VR controllers, various sensors for environmental inputs, tactile feedback systems, as well as hand-sensing devices.
In Part 2, I'll talk about the practical applications of these technlogies. (SP)
Sri Peruvemba is CEO of Marketer International Inc., in California. Peruvemba was previously Chief Marketing Officer for E Ink Holdings, where he played a major role in transforming the startup to a $1B+ global company. With over 30 years of experience in the technology industry, Peruvemba has been an influential advocate in the advancement of electronic hardware technologies. He is an acknowledged expert on sensors, electronic displays, haptics, touch screens, electronic materials and related technologies; and consults, writes, and presents on those subjects globally. Peruvemba has also held senior level positions at Sharp Corp, Cambrios, Novasentis, TFS Inc., Planar Systems, and Suntronic Technology. Based in Silicon Valley, Peruvemba advises high tech firms in the U.S., Canada, and Europe as well as serves on the boards of Omniply, Noctiluca, Summit Wireless, and Visionect. He has BS and MBA degrees and a post-graduate diploma in management. Peruvemba is also a right arm off-spinner for a cricket team he co-founded in Silicon Valley.
This post was moved outside the Display Daily paywall system by DisplayWeek 2021 and does not count towards the two free articles per month. Thanks to them.