In case you missed it, along with Apple's newest (old profile) update to its iPhone 5 series, the company announced last week, a 9.7-inch display version of its iPad Pro line that extends the use of its battery powered pen input device (OK, they call it a pencil.) For Apple the move is further evidence the company is gunning for the laptop replacement market. It may also portend the changing nature of human machine interface with the back to the future pen computer model that this time, just may catch on and go mainstream.

With its 32-bit RISC ARM-based Cortex-M3 processor, the Apple pencil is much more than a simple passive stylus. Unlike passive pens that activate the capacitive touch screen, this $99 electronic device made by Foxconn connects via bluetooth (using a Qualcomm CSR1012A05) and Bosch Sensortech (BMA280) 3-axis accelerometer to offers pressure sensitivity and accuracy to rival best of breed systems like the Wacom battery free pens that have dominated pen input for more than two decades.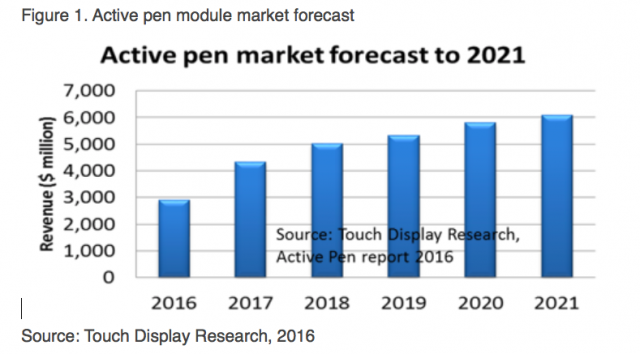 These active pen systems are poised to boom to a $6.1B market by 2021 according to Dr Jennifer Colegrove and her Touch Display Research Inc., recent report update "Active Pen Technologies, Supply Chain and Market Forecast." Colegrove said the group forecasts active pen writing module (includes pen sensor, pen and controller IC) revenue will reach $6.1 billion in 2021, from $2.9 billion in 2016. The work is based on analysis of more than twenty digital pen technologies, which include thirteen active and eight passive pen technologies.
Some key trends Colegrove identifies in her report include:
Apple just announced a plan to extend the use of the Apple Pencil to more iPads from March 31, 2016.
Microsoft acquired N-trig's pen technology in 2015.
Many active pen companies have raised capital through Kickstarter. Over 10,000 people have backed those pen projects.
Colegrove also notes further evidence of the growth in the market "The active pen industry landscape has changed dramatically in recent 2 years: The number of companies actively working on active pen technology has increased from 60 companies in 2014 to over 100 companies in 2016," she said.
Hang around the industry long enough, and just about everything will come full circle, as evidenced by this latest move from Apple. Pen computing has been around since the 1950's and arguably, its heyday was in the mid to late 1990's with the advent of pen-based tablet devices from new technology developers, Momenta (Pentop), GRiD Pad and its GRiD System OS 1989, Go Corp.'s and its gesture based GoPoint OS, and NCR that turned to Microsoft's Pen Windows, (really dating myself here.) Eventually most laptop makers of the day had a pen computing or slate option relying on the Microsoft Pen Computing option, only to see the technology move into niche markets such as health care and other B2B specialties.
Apple, of course, was also in the game with the introduction of its Newton device in 1993, that like most systems relied heavily on hand writing recognition. The technology never came to fruition as a primary text input device and now decades later has been supplanted by voice and our trusty (NOT) auto correct system on the iPhone and iPads. But a boom in the technology is forecast so hold on to your pen (err pencil) and don't loose the sucker, as it's a hefty $99 if you do, or heaven forbid, the dog gets a hold of it. – Steve Sechrist
Active and Passive Pen Summary and Comparison
Pen
Technologies
Pen Tip
Battery
Sense Pen/Finger
Active pen (electronic pen)
Electromagnetic
1.9mm fine tip
No battery
Pen only
1.9mm fine tip
No battery
Pen only
1.9mm fine tip
With battery
Pen only
1.9mm fine tip
With battery
Pen and finger separately
Projected capacitive
1.9~4.5mm tip
With battery
Pen & finger
Ultrasound
Disc tip
With battery
Pen & finger
4mm soft tip
With battery
Pen only
1.9mm tip and real ink tip
With battery
Pen & finger
Receiver with wireless
Real pen, 1mm fine tip
With battery
Pen only
Camera with microdot
Real pen, 1mm fine tip
With battery
Pen only
Real pen, 1mm fine tip
With battery
Pen only
Photo sensing
~4mm
With battery
Pen only
Camera with IR laser
2-3mm
With battery
Pen & finger
Metal pen with 4~6mm tip
With battery
Pen & finger
Passive pen (no electronics in the pen)
Projected capacitive
Metal pen with disc tip
No battery
Pen & finger
Metal pen with driving-wheel shaped disc tip
Pen & finger
Conductive brush tip
Pen & finger
Metal pen with wedge tip
Pen & finger
Pencil or metal pen
Pen & finger
Camera optic
IR reflector tip
Pen & finger (can have object ID software)
Magnet ring
Normal ballpen
Pen only