Stream TV Networks is the developer of the Ultra-D glasses-free 3D system, which converts 2D content to 3D and eliminates 'sweet spots'. It introduces a proprietary optical stack to a plasma, LCD or OLED display that directs light from the sub-pixel level, to create a 3D image.
Last CES saw partnerships with several Chinese brands, including Chimei, Changhong and Skyworth. This year UltraHD TVs with the technology will be introduced, said CEO Mathu Rajan, using a conversion chip developed by Qualcomm (Display Monitor Vol 21 No 1). Previous UltraHD TVs have required an external conversion box (the Seecube).
New partners are joining Stream TV this year – most were announced in 2014. They include Cello, Inception Digital, Konka, Izon, Hisense and PDC (a joint venture between Panasonic, NTT Docomo and Mitsubishi UFJ). These companies will be selling Stream's new 65″ TV this year.
Tracy Rees, CEO of Canada's Intrinsyc (which assisted Stream with adding its conversion technology to the Qualcomm chips (Display Monitor Vol 20 No 40)) came on stage to talk about the companies' work together. Development kits on Snapdragon 800, 805 and 810 chips eventually led to the development of a single board solution. Intrinsyc is now an investor in Stream TV.
Bud Robertson is the VP of business development at Stream TV. He said that the company has been talking with content creators, including Hollywood studios, sports leagues and cable networks, to create native Ultra-D content. Additionally, an SDK was introduced last year that enables the creation of native Ultra-D games – and can be integrated into a workflow in 24 hours. Thanks to this SDK, there will be native Ultra-D games for the PC and consoles this year, including titles such as Ether One, Solus and Refunktion.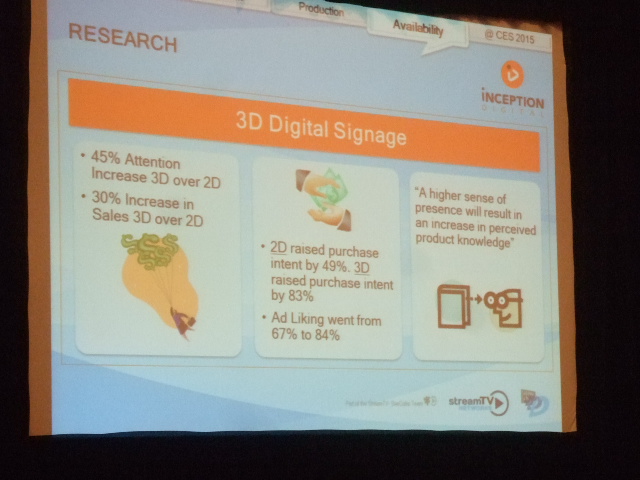 Next was Douglas Humphreys, head of broadcast in the UK and Europe for Stream TV, who introduced the Seecube Pro ("Essentially the old Seecube on steroids"). The box is designed for broadcast workflows, and can convert a 2D camera feed intro Ultra-D 3D. Stream is also working on sterescopic 3D-to-Ultra-D conversion. Field tests are scheduled with 'major sports leagues' this year.
Rajan returned to the stage briefly to talk about a new bonding facility that was set up in China last year. Staffed by Neways, production is now being ramped up. The supply chain (for all Stream TV's partner brands) is being overseen by Pegatron.
The CTO of Inception Digital, Doug Mack, discussed Ultra-D's use in digital signage (a lot of time was spent on this subject, and we feel that it may be a new focus for the company, despite the gaming announcements – TA). Autostereoscopic 3D has many uses in this area, raising dwell times and purchase intent.
Inception ran several Ultra-D trials in 2014, in hotel chains; travel agencies; retail store chains; and restaurant chains throughout the USA.