Compared to the stands of other well-known brands, Sharp's was somewhat smaller ("klein aber fein" as the Germans say – Man. Ed.). The company has withdrawn from TVs in Europe (Sharp 'Leaves' TVs in Europe, Display Monitor Vol 21 No 42) and is instead focusing on professional displays.
We met with Michael Bailly, who is new to Sharp but not the industry – he has previously worked for NEC and Samsung. This year, Bailly said, Sharp is keen to refocus on its strengths: visual solutions and document solutions. "We are back", he said.
Bailly is the new director of product planning and marketing in Europe. This year Sharp will introduce what he terms 'No fuss signage': a set of displays for businesses that cannot afford or do not want to invest in large-scale rollouts of high-end units.
The displays will feature USB media rendering; if the main signal fails, they will revert to playing content from a USB source, so – technically – will never show a blank image. There are no RJ45 or RS232 connections for remote control, keeping costs low. The software is cloud-based; users can upload content and it will create a file that can be played via USB.
The PN-Y entry-level series of signage displays (Display Monitor Vol 21 No 27) was on show, and will act as the basis for the 'no fuss' concept. They range from 32″ to 55″ and were first seen at Infocomm 2014. Like other PN- displays, they share a chassis design – the only difference is in their resolution and brightness. A new line, the PN-E series, will be introduced soon, starting at 60″. 70″ and 80″ models will come later in the year.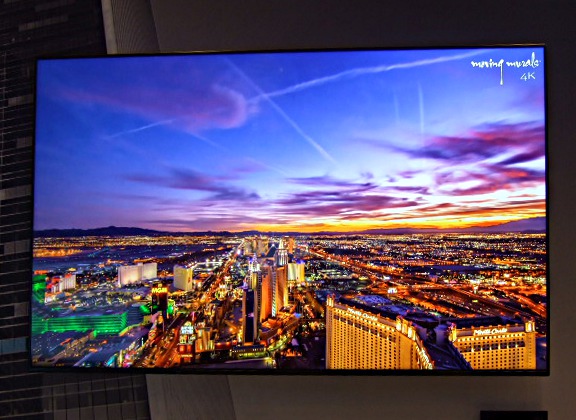 A 70″ UltraHD display called the PN-H701 was being shown. It is an UltraHD signage unit with a VA panel, matt display and 24/7 operation. UltraHD content can be shown at 60fps and a media player with UltraHD rendering is built in. The unit has a 3,000:1 contrast ratio, 400 cd/m² of brightness, weighs just 38kg and consumes 240W – low for its size and specifications.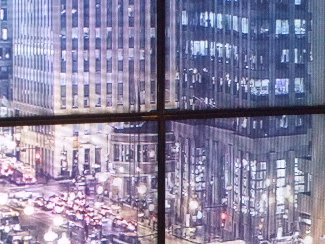 Bailly emphasised the lack of shadows at the edges of the PN-V551Another new unit, the PN-V551, was being used to demonstrate Sharp's Uniform Colour Calibration Technology (UCCT). The UCCT is a form of pixel-to-pixel correction for use in video walls; as well as matching colour and white point between all displays in a wall, it also matches them within the display itself.
The PN-V551 has factory-calibrated colour and a 3.5mm bezel. There are two look-up tables (3D and 1D), which are used to level off and correct mura. This is a high-end unit and was being demonstrated in a 4×4 video wall. A release date has not been announced yet.