Sharp's press conference was primarily used to announce progress with existing technologies, such as IGZO. However, there were some particularly interesting displays shown, which were familiar to us but hadn't been seen before.
Toshiyuki Osawa, sales and marketing officer, said that Sharp's will showcase four breakthroughs this year that will define next-generation displays: UltraHD and beyond; the MEMS-IGZO tablet developed with Qualcomm (Display Monitor Vol 20 No 22); Free-Form Displays (Display Monitor Vol 21 No 25); and "More screen sizes than anyone else", ranging between 5″ and 120″.
Larry Meixner is the president and CEO of Sharp Laboratories America. As well as a bit of self-congratulatory back-patting for Sharp's IEEE awards, he also stressed that the company is not standing still. The Free-Form Display is one of the innovations that Sharp is working on this year; an LCD screen that can take any shape, not only rectangular/square. To achieve this, Sharp moved the controlling electronics from the bezel to the pixels themselves.
We first saw Sharp's MEMS-IGZO display at SID 2013. It was created through a collaboration between Sharp and Qualcomm subsidiary Pixtronix. The backlight is not white, but rather switches constantly between red, green and blue; the MEMS shutter controls the brightness of light allowed through to the screen. The advantages of this display include high resolution, high visibility in bright sunlight and low power use. Sharp plans to introduce a 7″ tablet using the technology soon.
Big TV Plans
The number of UltraHD Aquos TVs will quadruple this year and five new screen sizes will be introduced. The TVs will also use Sharp's Smart Central UI, with the fourth-generation version launched; this includes personalised accounts and second screen functionality. The majority of Sharp's UltraHD TVs this year will use Android TV – a big win for the OS.
Sharp's new TVs will begin to be shipped in late spring. They will start with the UB30 series (42.5″, 49.5″, 54.5″ and 64.5″). These are entry-level models, starting at $750. They include a resolution upscaler, wallpaper mode and a quad-core processor. In addition they have HDMI ports capable of supporting UltraHD signals at 60fps as well as the HEVC and VP9 codecs.
The UE30 series (60″, 69.5″ and 80″) adds the Smart Central 4.0 UI and Android TV. They also have a local dimming feature (AquoDimming) and AquoMotion 480. Finally, the top-end range is the UH30 series (69.5″ and 80″), with Sharp's Spectros Rich Colour Display (Display Monitor Vol 21 No 26). According to Meixner, this boosts colour output by 20% and is "similar to quantum dot technology". The UH30 models are expected to feature THX picture quality certification and will have AquoMotion 960.
Another TV, part of a new series available in late 2015, is simply called the Sharp Aquos Super Slim TV. It is a 70″ model with very light transmissive glass for the light guide plate, enabling a depth of less than 12.5mm. (presumably the new Corning glass Corning Stays Ahead in Display Glass)
There was still one more product to go. Sharp's ultimate goal is lifelike picture quality, "like looking through a window". The company has applied its "pixel-splitting" technology, Quattron Plus (Display Monitor Vol 21 No 3), to a new 80″ prototype TV, for a total of 66 million individually-controlled sub-pixels. Just as last year's Quattron Plus TVs were a step between Full HD and UltraHD, this set is set between UltraHD and 8k.
As well as resolution, the new TV focuses on colour. Quattron technology (RGBY sub-pixels) is used, for the first time on an UltraHD set, combined with Spectros to enable DCI-P3 gamut coverage of over 100%. Finally, contrast is important, so the TV has a full array backlight with local dimming and HDR technology.
Signage is Still There
Signage was not really mentioned in Sharp's press conference, but there was a large area of the stand devoted to it – mostly concepts. These included a 60.1″ LCD model with a 150° arc and 500R bend. The screen was wrapped halfway around a pillar, and was developed with Sakai Display Products Corporation (SDPC – the joint venture with Foxconn that runs the Sakai G10 fab – Man. Ed.). It may be launched in 2017.
A 70″ LCD videowall display was another concept, with a 4.4mm pixel-to-pixel distance. It has 1920 x 1080 resolution and is capable of being run 24/7. Nearby was a 120″ LCD display with UltraHD resolution and 640 cd/m² of brightness, also capable of 24/7 operation. Both of these prototypes were developed by Sharp with SDPC and will be released in 2016 or 2017.
The final concept product was a 104″ display with an unusual 22:9 aspect ratio (5280 x 2160). Sharp was gathering feedback about this display and has no firm release plans, yet.
Two finished products were on show. One was a 69.5″ signage display, with UltraHD resolution, a resolution scaler and a USB media player. It will be able to run 24/7 and will be launched in March. The following month a 55″ videowall display, with a 3.5mm pixel-to-pixel distance, will be launched. It has 1920 x 1080 resolution, is capable of 24/7 operation and has factory-calibrated colour settings.
After signage we visited the Free-Form Display area, where Sharp was showing many different display shapes. All of these were geared towards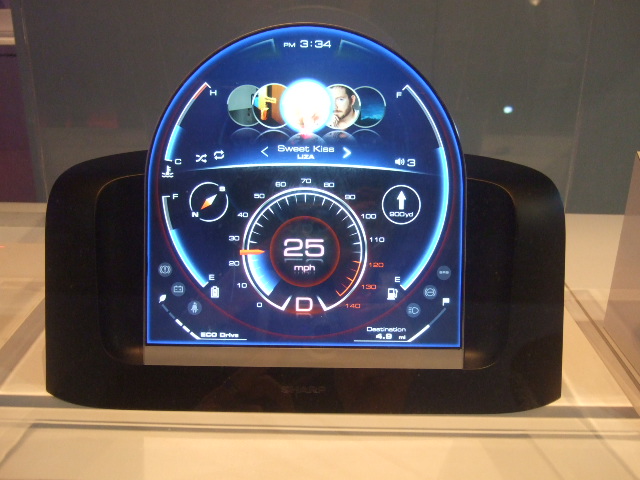 automotive applications, which is the main area for these products. A Sharp representative, Yukihiro Saiki, told us that the mass-production process is not very different from traditional LCD products. Production is scheduled for 2017.
Next were the new TVs, beginning with 80″ Quattron+ model with RGBY sub-pixels. While we were talking about this TV with our friendly Sharp representative, we got to the bottom of Spectros technology – at last. It is a colour-enhancement using red and green phosphors, coated on blue LEDs (either edge or direct). As well as 100% DCI-P3, Spectros enables 70% coverage of the BT.2020 gamut. It is only one of the technologies that Sharp is testing now, however, along with quantum dots. We were told that which one Sharp will eventually settle upon is still subject to change.
The new UB, UE and UH TVs were on show. All of these will use edge-LED backlights except the 65″ UB30, which will have a direct-LED backlight. They are also all 120Hz sets. The UB30 models have three (42.5″, 49.5″) or four (49.5″, 64.5″) HDMI and two USB ports, while the UE30 and UH30 feature four HDMI and three USB inputs. We were told pricing for all sets, starting with the $750 LC43UB30U; the LC50UB30U will be $1,000; LC55UB30U will be $1,200; LC65UB30U will be $2,300; LC60UE30 will be $2,000; LC70UE30 will be $2,800; LC80UE30 will be $5,400; LC70UH30 will be $3,200; and the LC80UH30 will be $6,000.
Finally we had a brief look at the natural language recognition of Smart Central 4.0, which seemed well-suited to forgetful people! "Movie about a dream within a dream" suggested Inception – and, oddly, The Dark Knight.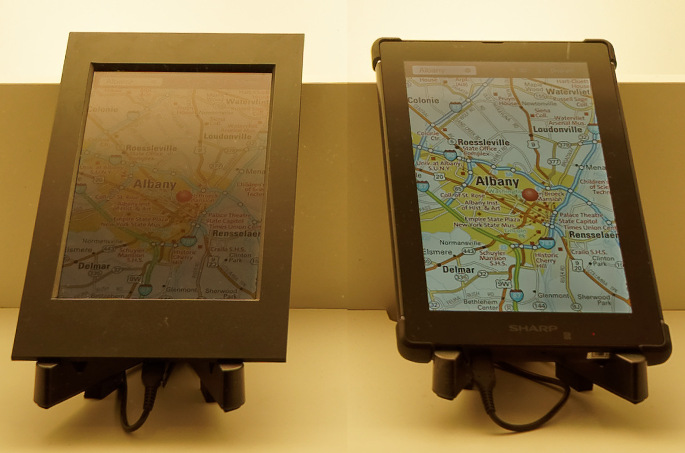 Sharp MEMs display (image edited, but from the same shot, to enable comparison between reflective and backlit mode)There was a large area devoted to the new MEMs displays. Staff told us that the technology can be used in three different ways (dynamically) by controlling the way that the Pixtronix shutter is modulated, to optimise high brightness, wide grey scale or wide colour gamut. The display can also be used in a reflective mode, where power consumption is extremely low. We heard that products using the technology are likely to be available in the first half of this year, but later in the US and elsewhere.
Also shown, but with few details available were some very narrow bezel wide format panels.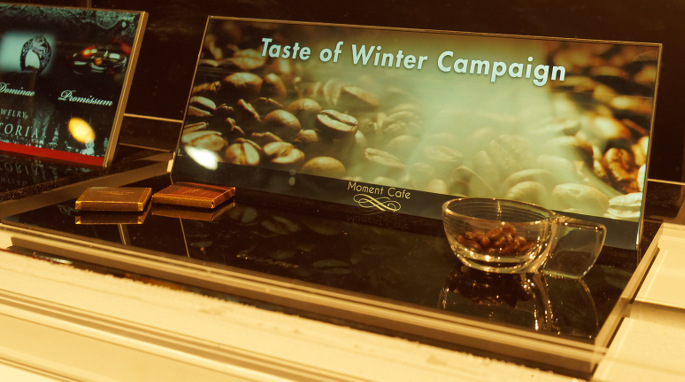 Sharp showed these panels with narrow bezel panels, but had no details
Display Daily Comment
We have been following the story of the MEMs displays that Sharp showed, from the days of Iridigm – we first reported on that company in 2001. Qualcomm eventually bought Iridigm and its iMod/Mirasol technology in 2004. After years of investment, Qualcomm gave up that technology in 2012, and switched to MEMs technology from Pixtronix two years ago. It has been working with Sharp to commercialise the technology ever since. The demonstrations (especially of the Pixtronix technology) have always looked good. (BR)