Sharp has demonstrated a new 80″ TV offering 'virtual' 8k resolution. The Aquos 4k Next LC-80XU30 (what a mouthful) isn't simply a prototype, either – it will go on sale in Japan in July, for ¥1.6 million ($13,000) ex VAT.
IDG's Tim Hornyak, who was at the press conference in Tokyo where the TV was shown, said that the difference in image quality between the XU30 and a conventional UltraHD 80″ TV was not immediately apparent. However, after spending a little more time with it Hornyak said that the display's "super-saturated colours" had "more pop".
These colours and the high resolution are the result of two technologies. First, Sharp has used its Quattron technology to add a fourth yellow sub-pixel to the TV (RGBY). The LED backlight also uses a new phosphor. Secondly, Sharp's X8-Master Engine Pro SoC is used in the TV.
Sharp writes that the TV uses new materials for low reflection. It has a VA panel with UltraHD resolution and 176° viewing angles. There are three digital terrestrial TV tuners and ports for HDMI (x4, supporting UltraHD at 60fps), mini-VGA, USB (x2) and RJ45.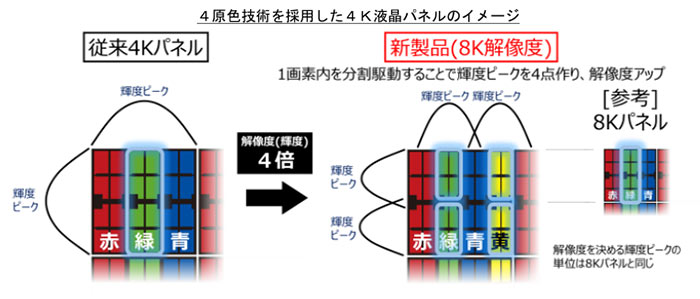 Analyst Comment
As can be seen from the diagram above, the panel uses sub-pixel addressing to boost perceived resolution. (BR)