Royal Caribbean International partnered with Daktronics (NASDAQ-DAKT) of Brookings, South Dakota, in conjunction with Robotic Arts and ABB, to implement a never-been-done-before visual experience for their new Quantum Class cruise ships.
Anthem of the Seas made its first voyage on April 22, 2015 with the visual spectacular first showcased on the maiden voyage of Quantum of the Seas in November 2014.
Daktronics worked hand-in-hand with all parties involved from the initial concept through the final installation to provide a first-of-its-kind experience now available on cruise ships and known as RoboScreens. These robot display systems contain such complexity and intricacy that they are only bested by the robots on Mars.
"We were looking to develop the next big 'WOW' feature for the Quantum Class and after initiating concepts with ABB and Robotic Arts, it became apparent that selecting the best display solution would be a critical element," said Christopher Vlassopulos, superintendent of SLVR and architectural lighting for Royal Caribbean International and Celebrity Cruises. "Because a robotic visual screen had never been implemented on a ship, there were numerous concerns about the technical viability, long-term reliability and overall quality. We were pleased to meet Daktronics, who then utilized their engineering and US-based facility resources to work as partners in the successful design and testing of the RoboScreen concept."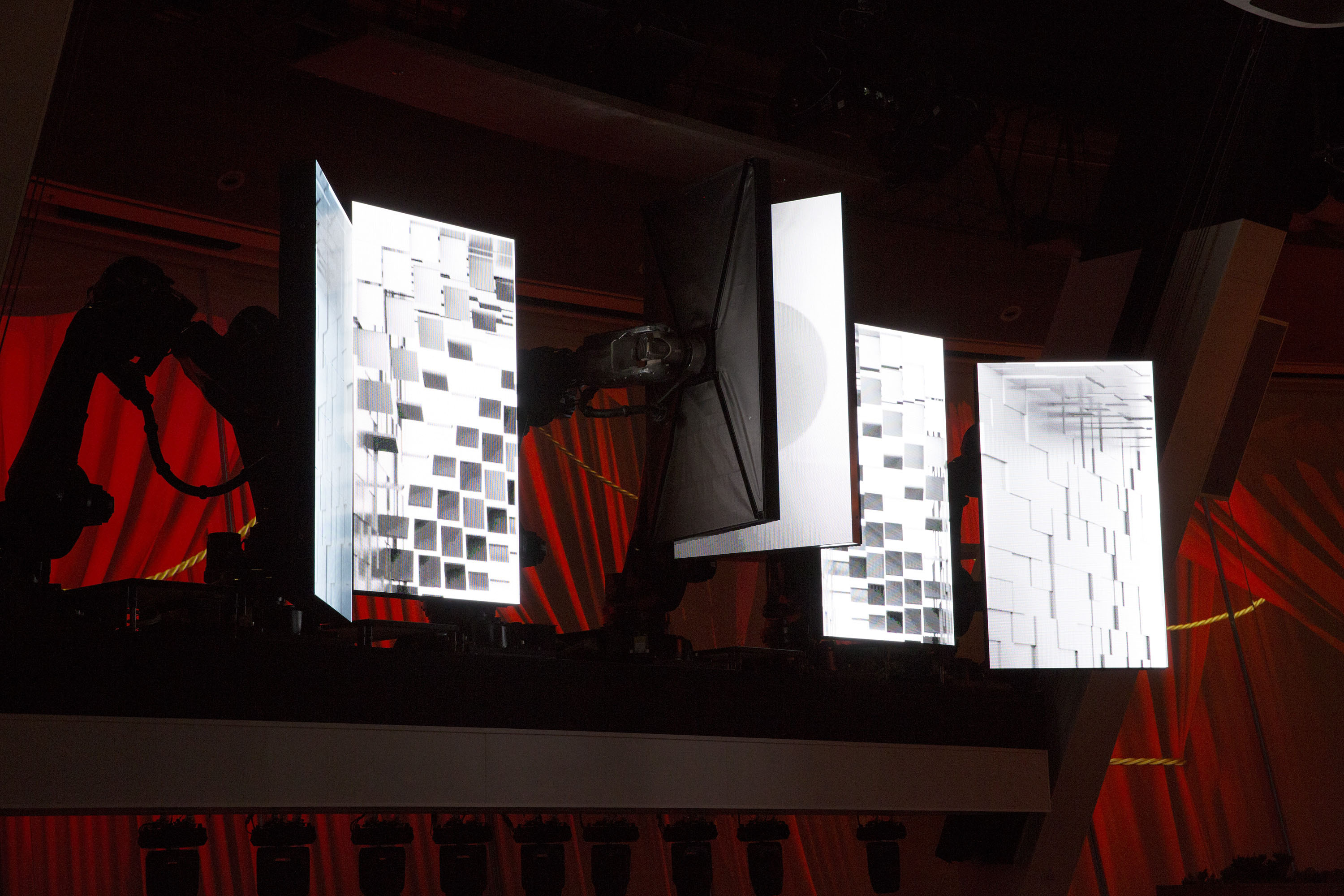 Six LED video displays were mounted to robots in Two70, which is named for its magnificent 270-degree panoramic sea views provided by vast, floor-to-ceiling glass walls that span almost three decks high at the stern of the ship. This multi-level great room seamlessly fuses entertainment and technology to create a transformative journey for guests from morning to night. The displays can be moved, turned and rotated in coordination with custom-made 3D animations and video signals. Each display features 4 millimetre line spacing and measures approximately 1.22 metres high by 2.13 metres wide for over 15 square metres of display space in each club.
Two70 transforms into unique entertainment spaces in the evenings with the LED video displays serving as the focal point. The movement allows for multiple abstract shows making for an amazing entertainment experience.
"The results have been fantastic," added Vlassopulos. "Daktronics has been a solid partner for these ships as well as a number of other Royal Caribbean ships for which Daktronics has installed outdoor SMD LED screens. We're very pleased with the quality and reliability of the product and, just as importantly, the response and the quality of customer service."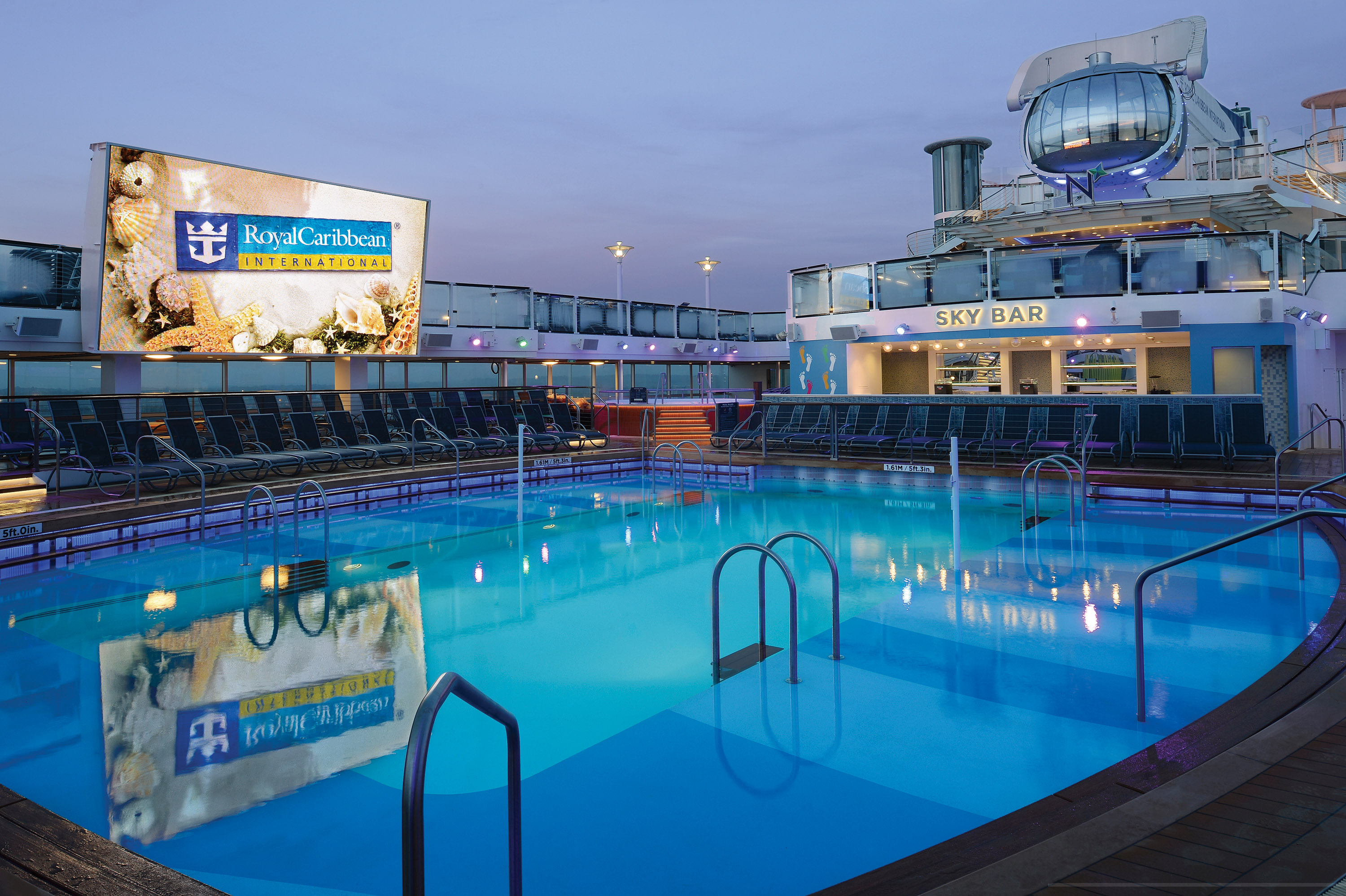 Daktronics also provided an outdoor LED video display on the pool deck of each ship. The displays measure approximately 3.66 metres high by 7.01 metres wide and feature 10 millimetre line. They are largely used as a poolside movie screen to provide entertainment to passengers, but can also be used to provide passengers with important information and announcements.
"Daktronics is proud to be part of this groundbreaking project from the initial idea through extensive testing and working with everyone involved to make this project a reality," said Peter Dunkle, Daktronics sales representative. "It is critical that LED displays withstand all the different structural, environmental and weather-related aspects that are inherent on cruise ships, including superior brightness to maintain visibility in high ambient light conditions. Daktronics product engineering groups have developed products that meet and exceed the requirements for open sea applications. We're excited to be able to provide a solution for this important customer application and for the unprecedented RoboScreen project."
All of the displays on each ship feature SMD (surface-mount device) 3-in-1 LED technology that has been tested past the point of failure in Daktronics unmatched reliability lab. These displays are proven to be reliable in all types of weather and climates, including the moist and salty environment provided by the high seas.
---