Ricoh is a company that is more known for its copiers and other office machines. Four years ago, they decided to enter the Professional AV market but at InfoComm 2016 they showed a full range of projection solutions. This year, 13 new models were added bringing their total to 29. The range includes lamp, LED and laser phosphor models for home, commercial, education and professional applications. Products range from picoprojectors to 12,000 lumen models.
At the Ricoh booth, they showcased their product line in the following categories: Entry Level, Desk Edge, Standard, Ultra Short Throw, High End, Installation and Laser.
On their line card, they offer products in the following categories: Entry (3 models), Desk Edge (2), Short Throw (2), Ultra Short Throw (2), Large Venue Fixed Lens (7); Large Venue Optional Lens (6).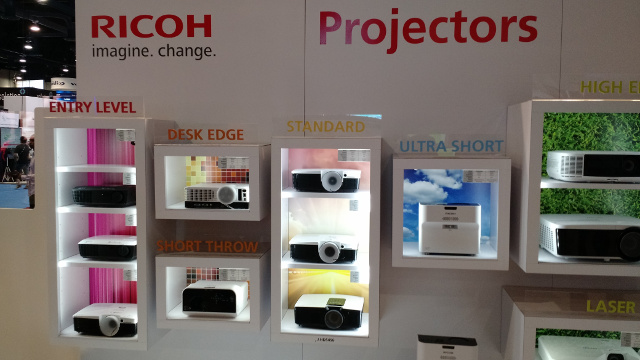 The entry level is focused on value applications like education with 3000 lumen DLP class products.
The desk edge models are offered in XGA and WXGA in a 3500 lumen range that are billed as "portable" models with connectors and fan exhausts on the front of the projector so as not to clutter the desk and heat up participants. That's a very good idea.
The standard series offers 3500 and 4000 lumen models with XGA, WXGA and HD resolutions. This category also includes Ricoh's first home theater projector, the HDC 5420 that has a dual color wheel and 2500 lumens. MSRP on this one is $1165.
Ricoh is also on their third generation ultra short throw projector that looks like a box and can project downward onto work surfaces or onto a wall. It is small and light weight (6.5 pounds). Resolution is WXGA and output is 3500 lumens. There is even an option for an interactive pen.
Moving to the high end, these products are in the 5000 lumen range and offered in XGA and WXGA resolutions. New is the WU5570 that offers lens shifting and is ideal for the House of Worship application.
Ricoh also introduced their first laser projector, the 454. It is offered in XGA and WXGA with around 3200 lumens. MSRP pricing of the XGA is $2000 and $2700 for the WXGA.
The installer series boosts output to the 6000 lumen range. Here, XGA, WXGA, FHD and WUXGA models are offered with six lens options. Almost all models in the Ricoh line are DLP, but they have a 3LCD model in this category as well.
Beyond this, Ricoh was also showing some even higher lumen models in a separate area. This included a 12K lumen model with WUXGA resolution and a dual-lamp power source. This comes with six lens options, HDMI and HDBaseT connectivity. It was released in May for $18,869 (MSRP) without any lenses.
A 6000 lumen laser phosphor model was also shown that has five lens options, HDBaseT and WUXGA resolution. This has a MSRP of $11,800 without lenses. – CC