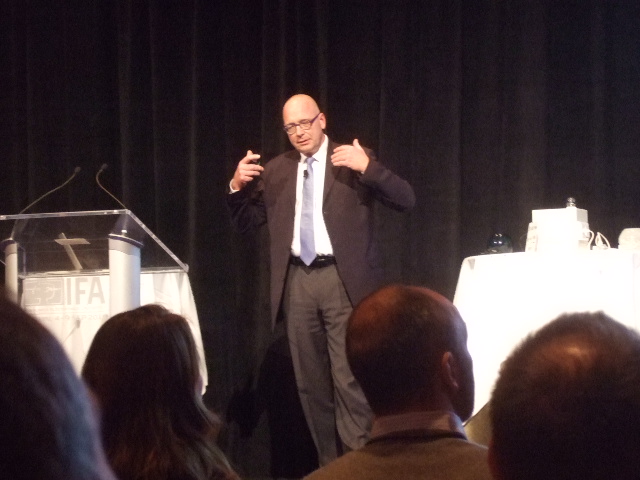 The IFA Media Reception is held every year at CES in The Wynn hotel, just before the Showstoppers press event. As well as promoting IFA, there is always some useful data shared! The event was hosted this year by Dave Graveline (of the Into Tomorrow radio show), who, after introductions, handed over to Jürgen Boyny of GfK.
There are several forces driving the digital world today, said Boyny: large displays, high resolutions, the internet of things, wearables, 3D printers and more. Obstacles mass adoption include continuous price erosion, price transparency and online sales.
Europe as a market is expected to grow 1.5% YoY in 2015, following a 0.9% fall in 2014. Challenges for CE vendors include the military conflicts in eastern Europe; weak markets (Greece); and high mobile device penetration. However, there are still markets in other parts of the world, such as India, that have a comparatively low level of adoption. In addition energy costs are low worldwide right now, so money is likely to be spent elsewhere.
Emerging Asia is leading the world in digital spend; while the 3% growth of the region is equal to that of North America (and below the 6% of MEA), its base market share of 27% is higher than any other (its closest competitor is North America, with 22%).
Smartphone growth will continue to rise, increasing to almost 1.38 billion this year (from 1.2 billion in 2014), with an 8% rise in value. Tablets (up 1%) and LCD TVs (up 2.3%) are the only other CE categories expected to grow. This reflects the rising number of screens in consumers' households: from just one screen (the TV) in the 1950s and two (PCs) in the '80s and '90s, we are now seeing three, four, five and more screens (eReaders, tablets, smartphones, MP3 players, wearables).
Wearables are growing extremely quickly. Having hit 90 million unit sales last year, they will rise 500% by 2018. Boyny noted that only 20% of the value to vendors is in wearable hardware; the rest comes from software. In the future, the price of the hardware (to consumers) could move closer to €0, perhaps being subsidised by insurance companies.
LCD TV sales will rise by about 9 million units, to 243.5 million, but value will see a fairly flat increase as ASPs are falling (from €430 to €423). Total value of LCD TV sales this year is expected to be €103.1 billion, compared to €100.8 billion in 2014. UltraHD sales, however, will see a significant increase; they are expected to exceed 25 million units this year (more than 10% of the LCD TV market) (58% of which will be sold in China), more than doubling, to 50.8 million, by 2018.
Christian Goeke – head of Messe Berlin – said that order volume placed at IFA 2014 reached almost $5.3 billion, and the size of the show (excluding off-site rooms) had grown 3% compared to 2013.
IFA 2015 will take place from the 4th to the 9th September.