Parks Associates announced new research today in smartphone ownership showing that Apple and Samsung have widened their brand share lead over LG and Motorola among the installed base of smartphones in the U.S. The international firm shows that LG has fallen to just 9% of consumer-reported brand share, behind Apple (47%) and Samsung (29%).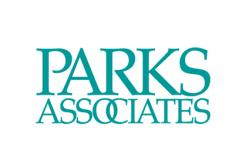 "Samsung's market share has held at approximately 30% of the installed smartphone base since 2015, indicating that the issues related to its Galaxy Note line last year did little to impact its market position overall," said Kristen Hanich, Research Analyst, Parks Associates. "The new Galaxy S8 and Note 8 have sold better than their predecessors, signifying a strong consumer interest in Samsung's premium smartphone brands. Nevertheless, Apple still has a sizeable lead in market share and maintains a tight replacement cycle."
Parks Associates notes that Apple's dominance is likely to continue in the coming years. According to the firm, 75% of iPhone users may upgrade over the next couple of years.
"Most Apple fans are waiting for the iPhone X," Hanich said. "The iPhone 8 offers an attractive mix of features but doesn't differentiate itself enough from the iPhone 6 and the iPhone 7, whereas the X has a very distinctive look. The X's powerful on-device artificial intelligence and facial recognition abilities are also of great interest to consumers who want to buy the best available device. However, Apple's limited production of the X may have a negative impact on upgrade rates over the next few months."
Parks Associates: Brand Share of the Existing Base of Smartphone Units
360 View: Mobility & The App Economy, which quantifies mobile device and service usage and preferences, shows that HTC has fallen from fourth in share of the installed base at 9% in 2012 to sixth in 2017 with just 2% market share. Additional data and analysis from the research include:
Huawei could pose a threat to LG, Motorola, and ZTE as it expands its U.S. sales channels in late 2017 and 2018.
ZTE's market share has increased from 1% in 2015 to 2% in 2017.
About 65% of Samsung smartphone users have a model more than two years old.
Parks Associates also recently released two industry reports assessing the mobile and broadband landscape:
Modern Broadband: Impact of Wireless on Fixed-line examines the use of cellular and Wi-Fi connections for in-home and out-of-home data needs. The report addresses the impact of these wireless technologies on fixed-line broadband services and evaluates consumer usage of both options. Report includes a five-year forecast for fixed-line global broadband household connections.
Mobile Data Services: Business Model Assessment analyzes how global mobile operators sell mobile data services, manage customer loyalty programs, develop innovative services, and offer customer incentives such as zero-rated services and international travel plans. It also provides a global forecast of mobile data revenues earned by operators from 2017-2021.
More information about the research is available at www.parksassociates.com. To schedule an interview with an analyst or to request specific data, contact Julia Homier at [email protected], 972-996-0214.
About Parks Associates
Parks Associates is an internationally recognized market research and consulting company specializing in emerging consumer technology products and services. Founded in 1986, Parks Associates creates research capital through market reports, primary studies, consumer research, custom research, workshops, executive conferences, and annual service subscriptions.
Each year, Parks Associates hosts industry webcasts, the CONNECTIONS™ Conference Series, Connected Health Summit: Engaging Consumers, and Smart Energy Summit: Engaging the Consumer.
http://www.parksassociates.com