I attended the Panasonic Press conference that came right at the start of ISE, hosted by Hartmut Kulessa, Marketing Manager at Panasonic Marketing Europe GmbH. Perhaps the most significant newly introduced product was the WUXGA (1920 x 1200) PT-RZ21K installation and live events projector and its companion, the SXGA+ (1400 x 1050) PT-RS20K. Both of these projectors use a laser-phosphor light source, called "Solid Shine" by Panasonic, to produce 20,000 lumens output. This projectors are both 3-chip DLP with the RZ21K using 0.96" imagers and the RS20K using 0.95" imagers. Both of these projectors are filter free and are said to provide 20,000 hours of maintenance-free operation.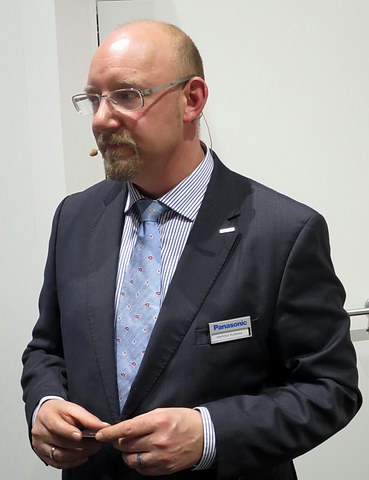 Panasonic spokesman Hartmut Kulessa at the ISE press conference.
The RZ21K projector is specifically designed to be the successor to the PT-DZ21K lamp-based projector. This projector was launched in 2012 and is said by Panasonic to be the 'live event projector of choice'. It is also a 3-chip WUXGA DLP projector with 20,000 lumens output but the RZ21K is powered by a bank of four 465W UHM lamps with a replacement cycle life of 2,000 hours instead of the 20,000 hours achieved by the Solid Shine light source.
Both the RZ21K and the RS20K projectors are expected to be available in November.
Panasonic RZ21K Laser-Phosphor projector in a rigging fame and the portrait orientation at ISE.
Kulessa also discussed the new Panasonic PT-RZ31K projector which had been announced about six weeks before ISE. This is also a Solid Shine projector with WUXGA resolution. It produces 30,000 lumens in high-mode, 25,000 lumens in normal mode and has three constant lumen modes with 12,000, 10,000 and 8,000 lumens respectively. Lifetime to 50% output is 18,000 hours in high mode and 20,000 hours in normal mode. The three constant lumen modes of operation have light source lifetimes of 43,800, 61,320 and 87,600 hours respectively before the projector can no longer produce the specified output. The RZ31K uses a filter and three different filters are available – one with a life of 4000 hours in normal mode and a long-life filter with 20,000 hours in normal mode. The third filer is specifically designed for smoky environments.
The RZ31K is intended for permanent installation and for rental and staging applications. It is expected to become available in October.
At ISE, Panasonic also introduced the new VZ580 series of 3LCD projectors. The six projectors in this series have resolutions of WUXGA (1920 x 1200), WXGA (1280 x 800) and XGA (1024 x 768) with lumen outputs in the 5000 – 5500 lumen range, depending on resolution. The lower resolution projectors are slightly brighter than the higher resolution ones, as is normal for 3LCD projectors in the same series. Each projector comes in two variations, with wireless and wired network capabilities. The wireless versions have both Wireless LAN and Digital Link functionality. The projectors are powered by a single 280W UHM lamp and use three 0.64" LCD panels (0.63" for the 4:3 XGA version). According to Panasonic, the lamp and filter replacement timing was extended to 7,000 hours in the ECO2 mode, compared to previous similar projectors from the company. While the basic projectors are 5000 – 5500 lumens, Panasonic did not say how bright the ECO2 mode would be.
The VZ580 series of projectors are intended as portable projectors for business applications. they can also be installed upside-down on the ceiling. Because of the mercury lamp, they should not be installed in portrait mode. They are scheduled to be available in June, 2017.
Panasonic's VZ580 series portable 3LCD projectors were announced at ISE. (Source: Panasonic)
Panasonic also introduced the BQE1/BFE1 series of touch screen displays at the press conference. These displays, which come in 75" and 65" sizes, are intended for applications such as boardrooms and classrooms. The two new displays in the series, the 75" TH-75BQE1 and the 65" TH-65BFE1, have 4K (3840 x 2160) and FHD (1920 x 1080) resolution respectively, while both have 400 cd/m² of brightness and 10-point touch, allowing two people to write on the board at the same time. They use VA LCD panels with direct LED illumination and are covered by a protective glass with an anti-glare film.. They support Panasonic whiteboard software for PC, which allows users to draw, write, change line thickness, color, and background with the tool palette. Built-in software includes whiteboard mode, PowerPoint presentation mode, desktop mode, video and screen capture functions. They also have a built in USB viewer to display digital media from USB storage devices plus the units have a variety of inputs to display content from external media players.
The TH-65BFE1 will be available from May, 2017 and the TH-75BQE1 will be available from June.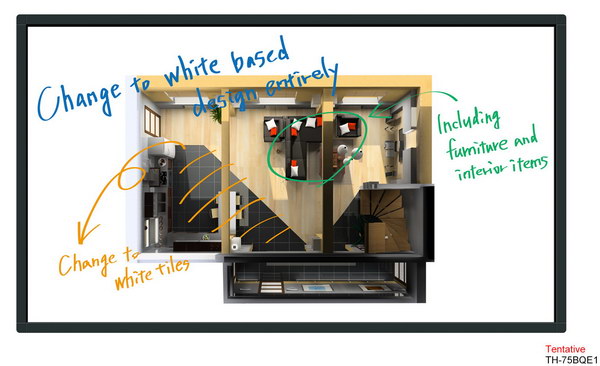 Panasonic TH-75BQE1 (Source: Panasonic)
Panasonic launched the LFV8 series of LCD videowall displays at ISE. There are two displays in the LFV8 series, the TH-55LFV8 and the TH-49LFV8. The 55LFV8 is a 55 inch panel with 500 cd/m² of output while the 49LFV8 is a 49" display with 450 cd/m². Both panels have 1920 x 1080 resolution and use IPS LCD technology with direct LED illumination. When tiled, the units have a 3.5mm bezel-to-bezel distance. There is built-in scaling for 4K video signals for 2 x 2 and larger arrays of LFV8 panels. Panels can be daisy-chained with the DisplayPort 1.2 in/out terminals. According to Panasonic, the units are engineered for dependable and economical 24/7 operation and are suitable for airports, train stations, surveillance systems, and digital signage. The displays support portrait orientation without affecting color, brightness, or operational life.
LFV8 series displays will be available in the Summer of 2017. While prices were not given, a lot of the discussion by Panasonic about these panels emphasized their cost-to-performance value.
Panasonic also introduced the SF2 series of indoor signage displays. These come in a variety of sizes from 43" through 65", as shown in the image. All members of the series have FHD (1920 x 1080) resolution, 450 cd/m² output and LED edge illumination. While the units have a "slim bezel design," the bezel width is not specified and the units are not intended for tiling applications. The SF2 series will be available starting in July, 2017.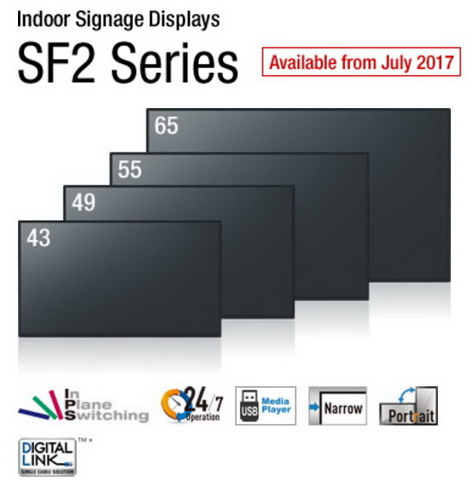 Panasonic SF2 indoor signage displays (Source: Panasonic)
At ISE 2017 Panasonic formally launched LinkRay, which had been introduced as a concept at ISE 2016 (and was previously known as LightID). LinkRay is designed to be a QR-code like system, providing consumers with an identification code via a smartphone camera, by modulating an LED. This code can then be identified with a specific product and product details downloaded from a host, as shown in the figure.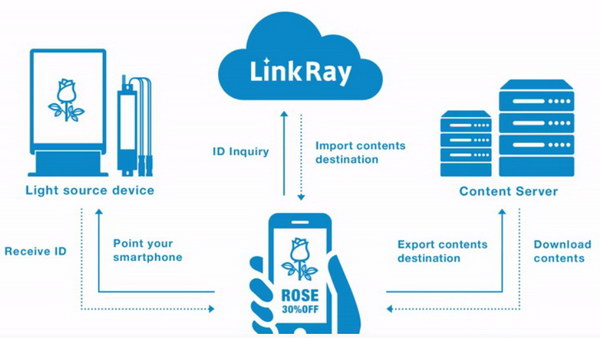 LinkRay Configuration (Source: Panasonic)
The first step in LinkRay is for the consumer to download the LinkRay app to his smartphone. Apps are available for iOS8 and later and android 5.0 and later. Panasonic has tested 13 iOS devices and 21 Android devices for LinkRay compatibility as of February 3rd and is continuing to test more devices. The phone's camera then receives and analyzes light from the LinkRay-enabled light source to determine the code being transmitted. LinkRay light sources can include a variety of digital signage systems or stand-alone lights. For example, the LED floodlight illuminating an object in a store window can carry the LinkRay code for the object and a smartphone camera pointed at the object could read the code. The phone then checks the LinkRay server and gets the URL for the information corresponding to the code, then downloads the information from the URL to the smartphone screen.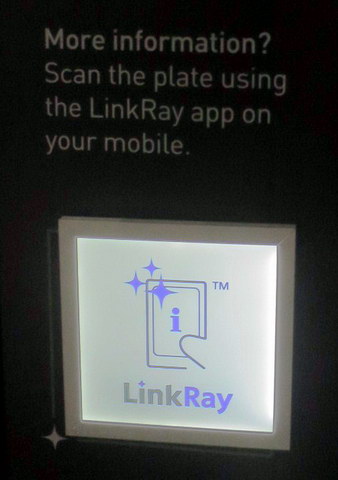 A dedicated LinkRay transmitter in the Panasonic booth.
According to Panasonic, LinkRay has one major advantage over QR codes – they can be read from any distance. For a QR code to work, the camera must be able to resolve the code, which typically means the user must be close to the display. With LinkRay, as long as the phone can receive light from the LinkRay enabled display, the code is readable. For example, a LinkRay code could be imposed on an image on a large LED Display in a sports venue and be readable by anyone in the stadium who can see the display. In a sports venue, the code might allow viewers to download information on a specific player. In other applications, detailed product and ordering information can be downloaded. Another advantage of LinkRay over QR code is the LinkRay signal does not take any of the display area and is not visible to the viewer. Typically, however, the display would want to display a LinkRay logo to indicate to viewers that the display is LinkRay enabled.
Panasonic's SF1 series of displays are intended for digital signage and includes three members, the TH-42SF1H, TH-49SF1H and the TH-55SF1H. These displays are all FHD (1920 x 1080) with 700 cd/m² output and 1300:1 contrast. These displays are LinkRay capable when used with the AL-A001GL-1 LinkRay modulator. Panasonic says larger 70″ and 80″ displays are slated for release in winter, 2017. The SF1 series of displays and the LinkRay modulator are available now.
The company was emphasising the support it is getting for its OpenPort signage platform. In small pixel pitch LED displays, which are new to Panasonic in Europe, the firm had 1.2mm LEDs on preview and plans to offer from 1.2mm to 2.5mm. The tiles are 27″ diagonal and the company has no plan to offer anything for the rental market, it will stick to fixed installations.
Analyst Comment
One thing that surprised me a little is none of the displays Panasonic introduced at ISE, including the SF2 and the BFQ1/BFE1 series displays that target digital signage, are LinkRay enabled. Doesn't Panasonic have confidence in its own LinkRay technology to add the capability to every new digital signage display? Panasonic needs to get a critical mass of LinkRay-enabled displays in the field before the technology will have a significant impact on the digital signage market and Panasonic digital signage displays seem like a good starting point. -Matthew Brennesholtz