New video research from Parks Associates finds more than 85% of millennials in U.S. broadband households subscribe to at least one OTT video service.
This research comes from Parks Associates' OTT Video Market Tracker, which includes an exhaustive analysis of market trends and profiles of OTT video service providers in the U.S. and Canada, such as Netflix, HBO, YouTube, and Amazon. The Tracker features a new way to blend company profiles with industry research data and analysis of competing players' strengths and weaknesses in the space.
"Overall penetration of subscription OTT video services among millennials has topped out, suggesting that those households that want such a subscription already have one or more. The more interesting and important question is how many subscriptions they will keep," said Brett Sappington, Senior Director of Research, Parks Associates. "More than one-fourth of millennials subscribe to three or more OTT services, and more than 50% subscribe to at least two."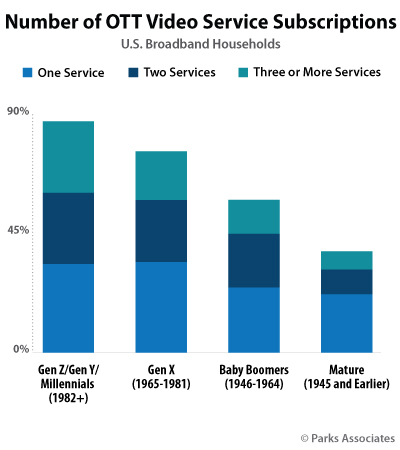 The trend is also visible, though less pronounced, among the other generations as well. OTT service penetration among Baby Boomers and older generations grew more than 10% between the two groups as a whole from 2016 to 2017.
"For consumers, self-aggregating content is simply part of the entertainment experience, particularly millennial households," said Hunter Sappington, Researcher, Parks Associates. "Their evaluation criteria for services, and brand loyalty, differs from that of previous generations. To take advantage of this self-aggregation trend, providers need to understand the evaluation criteria consumers use for their OTT services, which can vary from household to household."
The OTT Video Market Tracker features monthly updates on trends and market activities in the OTT video space. Additional features include:
Comprehensive tracking of the OTT video services industry
Identification of new OTT video service players
Changes among existing OTT players
Current updates and insights into industry trends and disruption