The Zenbook 305, revealed by Asus at IFA 2014 (Display Monitor Vol 21 No 36), will be available soon. The 13.3″ unit, which has a Core-M processor and 1920 x 1080 resolution, will cost $700.
New versions of Infocus' Mondopad, BigTouch and JTouch large-format displays are being introduced. Previously available in 55″ and 70″ sizes, 57″ and 80″ models are being introduced. The 57″ model will replace the 55″. Both new displays have anti-glare and fingerprint-resistant layers.
We have heard more from Intel about the Compute Stick (Intel to Challenge Rivals With Thumb-PC): the company's own take on a PC in an HDMI dongle form factor. Providing access to VoD platforms, games and enterprise applications, it is based on an Atom Z3735G quad-core processor. Two versions will be available when the Stick is launched in the USA in March: a Windows 8.1 model ($150) with 32GB of storage and 2GB of RAM; and a Linux model ($100) with 8GB of storage and 1GB of RAM.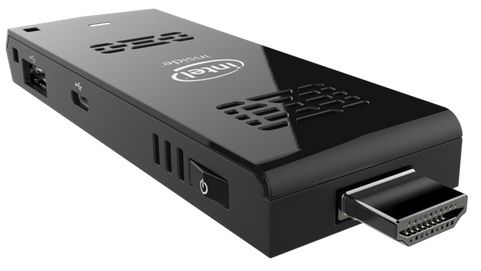 The 105″ UC9 TV from LG (Display Monitor Vol 21 No 3) is now on sale in the UK, for £50,000 ($76,000). The 65EC970V (EC9700 in the USA) (Display Monitor Vol 21 No 27) is also on sale in the country; it costs £4,440 ($6,820).
There are no plans to launch the Razer Blade gaming laptop in Europe at this time, the company has said. It is currently available to order directly from Razer in North America and some Asian countries, and will enter the Microsoft Store this month. Availability in Asia will be expanded in March. The laptop may be sold in Europe later this year.
Samsung's Tizen-powered smart TVs, introduced at CES (No More Plasma for Samsung, But LED is New Category, Display Monitor Vol 22 No 3, have been launched in Korea.
The PN-H701, a 69.5″ professional monitor from from Sharp (Sharp Has Lots to Show, Display Monitor Vol 21 No 41) will be launched this month.
All prices are ex VAT.