At the NEC Showcase in New York on October 26th, I had Keith Yanke, Sr. Director of Product Marketing at NEC Display Solutions of America, to guide me though the show floor exhibits. The NEC Showcase was part of New York's Digital Signage Week. The products on display were all targeted at the installation industry (both signage and non-signage applications) and included large projectors, LCD signage and large screen LED videowalls. From my personal point of view, the high point of the show was when I saw the NEC Laser Cinema projector using RGB lasers. I have written about laser cinema projectors many times but I'm ashamed to say I'd never seen one before. In addition to NEC products on display, many of NEC's partners were showing how their products worked with NEC displays. While I will only talk about two of them, Green Hippo and SRUI, there were actually 51 NEC partners at the Showcase.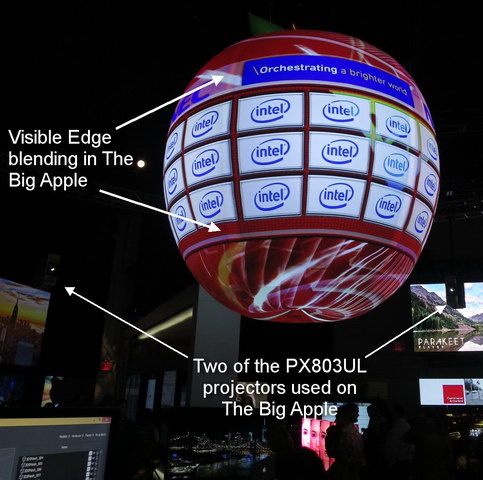 The Big Apple, projection mapped by six PX803UL projectors (Photo: M. Brennesholtz)
The centerpiece on the show floor was "The Big Apple," an apple-shaped object suspended over the main show floor. Images were projection mapped on the Big Apple using six PX803UL laser-phosphor projectors producing 8000 lumens each, five around the circumference of the apple and one illuminating the bottom. (More about the projectors later.) Edge blending of the six projectors was done by Green Hippo. According to Sean Westgate, Technical Director at Green Hippo, edge matching of the six projectors was done by pre-processing of the video signals using Green Hippo's hardware, not by the internal edge blending of the PX803UL projectors. Set up was done by eye, not automatically by a camera. Edge blending was mediocre at best, and the blends were clearly visible. Westgate said that in a permanent installation, edge blending would be done more carefully and not be visible. Maybe.
Scalable was a partner of NEC at the Showcase, although I didn't get to talk to them. However, in the past, with Scalable camera-based edge blending, the blending has typically been mostly invisible. Also, Scalable is normally happy to mess up the blend and re-blend the system in real-time as a demo. The main screen above the show floor was powered by (I believe) a pair of PH1202HL 1080p (1920 x 1080), 12,000 lumen, single panel DLP, laser phosphor projectors. The edge blending in this image was not visible and, presumably, done by Scalable.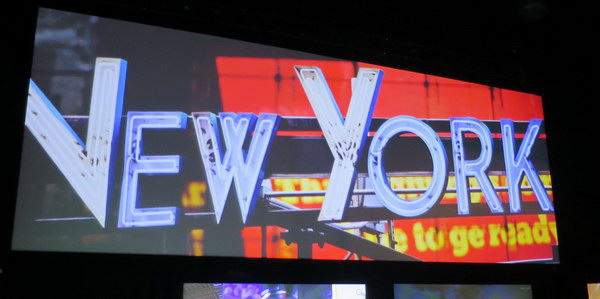 Main image above the show floor, powered by a pair of edge-blended NEC installation projectors (Photo: M. Brennesholtz)
I talked to Michael Holbert, Managing Partner of SRUI, short for Smart Retail User Interface. SRUI is another NEC partner and offers both large-scale touch screen technology and "Media Glass," a material that can be switched from a rear projection screen to transparent. The Media Glass is based on a polymer dispersed liquid crystal (PDLC) film that is mostly transparent when a voltage is applied and highly scattering with no voltage. The PDLC effect is polarization independent and does not require polarizing the projector light. The scattering state can act as a rear (or front) projection screen and the clear state allows viewers to see what is behind the screen. The clear state actually had quite a bit of residual scattering, although objects behind the screen were certainly visible.
Lighting in the SRUI booth at the showcase was not optimized to make the objects behind the screen visible so it was hard to judge the actual level of scattering in the clear state. These two capabilities can go together to produce an interactive store window, as demonstrated at the NEC showcase. Media Glass has a plane glass surface, not plastic and with no contour. It is suitable for use in store windows and is as easy to clean as ordinary window glass. As demonstrated, the glass had a 140" (3.56m) diagonal with a 130" (3.30m) clear aperture. The remainder of the glass was obscured by the SRUI touch screen apparatus around the edge of the window. Holbert told me ordinarily the largest glass size would be 165" (4.19m) but the company could go larger, if asked.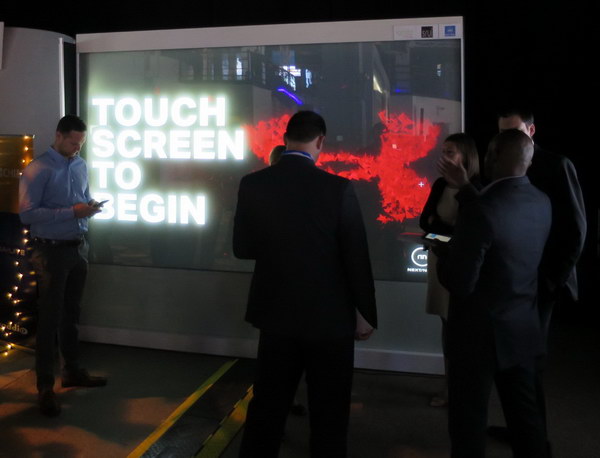 SRUI showed their touch technology and their Media Glass window. (Photo: M. Brennesholtz)
I was given a demonstration of NEC's new MultiPresenter system, a way to share a display device, such as a projector in a conference room, among multiple users. The system is positioned as a lower-cost alternative to high end media sharing solutions such as Barco's ClickShare. A HDMI dongle is plugged into the display and the MultiPresenter app is downloaded to every device that wants to share its screen. Apps are available for Windows, OSx, Android and iOS devices. The dongle is not-self powered from the HDMI port and requires external power either from an AC adaptor or a USB port.
MultiPresenter allows up to 50 devices to connect simultaneously and will show up to 12 of them on the screen at a time. In addition, MultiPresenter can link up to four display devices and show the same image on each display. MSRP for the HDMI Dongle is $329. Visitors to your conference room without the MultiPresenter app on their laptop can use a USB dongle on their computer that does not install any software on their system but allows the visitor to connect to the screen.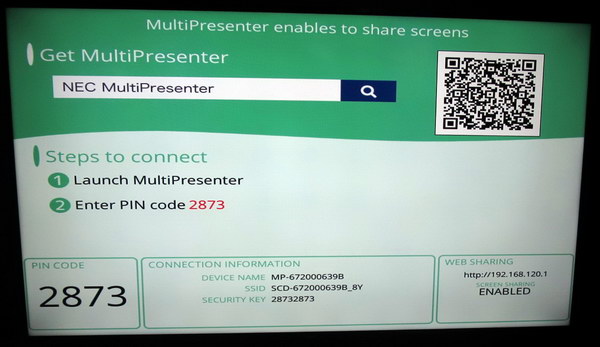 NEC MultiPresenter Screen (Photo: M. Brennesholtz)
Projectors I saw at the showcase included:
PX1004UL This laser-phosphor projector was introduced at an event in Munich on October 25th, the day before the NEC New York Showcase and was on display in New York. It is expected to start shipping later this year. According to Yanke, this WUXGA (1920 x 1200), 10,000 lumen, single-DLP projector with a MSRP of $24,874 can be considered the "Big Brother" to the 8000 lumen PX803UL projector with a MSRP of $19,999, as discussed below. Except for the higher lumen output, the specifications for the two projectors are virtually identical, including the 20,000 hour light source life. The PX1004UL is intended as a drop-in replacement for the PX803UL in applications where the higher output is needed. This projector was shown at the showcase with a short-throw lens.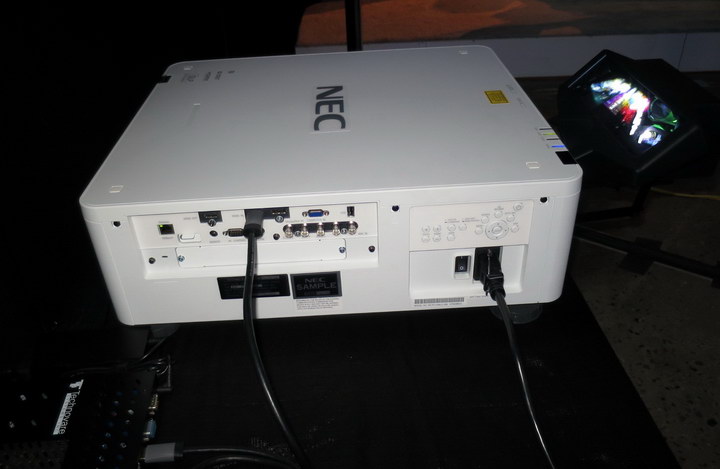 NEC PX1004UL with a short-throw lens. (Photo: M. Brennesholtz)
PX803UL This is a laser-phosphor projector with 8000 lumen output. I'd actually seen it last year at the 2015 NEC Showcase (Subscription required. The PH1202HL was another projector I saw at the 2015 Showcase). It uses a single WUXGA (1920 x 1200) DLP imager. The projector will accept and scale 4K inputs. Dynamic contrast is 10,000:1 and light source life is 20,000 hours. Yanke told me that high-brightness, relatively inexpensive, long life projectors such as this may reshape the digital signage market.
Currently this market is dominated by flat panel displays including LCD and LED direct view modules. Projectors such as this, he said, can compete with these displays on image quality at a significantly lower cost. When asked, he said rear projection cubes have virtually disappeared from the digital signage market and been replaced by direct view displays. Rear projection cubes, which NEC does not make, are still used in control rooms, he admitted.
PA803UG This is another projector similar to the PX803UL with two key differences. First, it uses 3LCD technology instead of single-DLP technology to produce the image. Second, it has a lamp as the light source, rather than a laser-phosphor system. According to Yanke, several versions of the projector will be produced with resolutions of XGA (1024 x 769), WXGA (1280 x 800 or other possible resolutions) and WUXGA (1920 x 1200). Lumen output is expected to be 6500 to 9000 lumens, depending on projector resolution. The unit on display was said to be about 8000 lumens. Detailed specifications of the PA803UG are not available but presumably they will be similar to other members of NEC's PA series of multimedia installation projectors. The projector is expected to start shipping in January and the MSRP has not yet been set. Typically, the MSRP of a lamp-based projector is significantly lower than the MSRP of an equivalent laser-phosphor projector.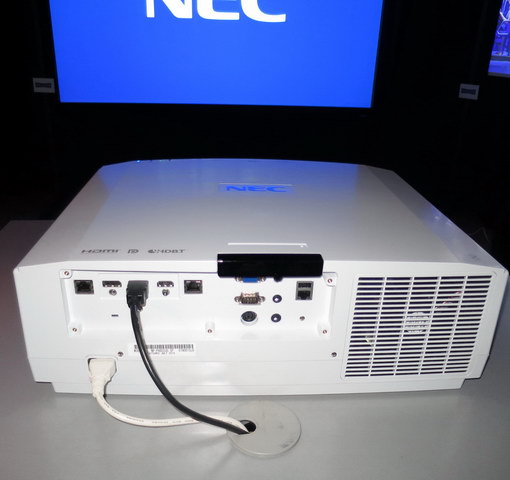 NEC's pre-production PA803UG 3LCD projector (Photo: M. Brennesholtz)
PX804QL This 4K laser-phosphor projector was on display but Yanke says it is still in the R&D phase and has not been formally announced yet. It uses a single DLP imager with pixel shift to produce a 4K image and is expected to produce about 7000 lumens. Yanke is hopeful that production will begin in late 2017. Detailed specifications and an MSRP are not yet available.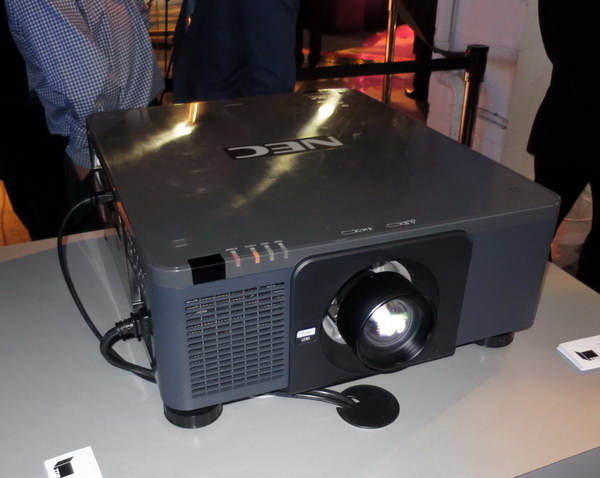 NEC PX804QL 4K, single DLP, laser-phosphor, prototype projector (Photo: M. Brennesholtz)
NC3540LS This was a true laser projector using red, green and blue laser light and is intended for high-end cinema installations. As would be expected, the projector has full 4K resolution (4096 x 2160 pixels) and a 3-DLP optical design. Contrast is said to be 2000:1, full on/full off. Price has not been announced, but Yanke told me that, like the Barco and Christie laser cinema projectors, the price is overwhelmingly dominated by the cost of the lasers, not the 4K, 3-DLP projection head. The projector is actually three separate units, as shown in the image.
The laser light gets from the laser array to the projection head via a single 400µm fiber cable carrying all three colors. The laser box outputs about 100,000 lumens. After passing through the cable and the projection head, this translates into 35,000 lumens out of the projection lens. I was told that if you needed more output, the projector could be used in pairs, producing 70,000 lumens on screen, for applications such as very large screen 3D presentations. The projector is classified according to Class 1 of Safety of Laser Products IEC 60825-1.

NEC NC3540LS Laser cinema system. Left: laser chiller; Center: Laser source, including laser power supplies; Right: Laser cinema projector head capable of producing 35,000 lumens. The laptop on top of the laser source was used to control the projector. (Photo: M. Brennesholtz)
The laser projector was operated at about 20% power, producing about 7000 lumens, at the NEC Showcase. This was done to produce the SMPTE-specified 14 Ft.-L. (48 nits) on the approximately 20' (6.1M) wide, low gain screen.
While contrast is specified as 2000:1 out of the projection lens, this is not necessarily what the cinema viewer sees. When an image that is mostly dark is shown, as in the upper image shown below, this may be the contrast the viewer sees. Note that in this image, it is impossible to see the difference between the white projection screen, the black screen frame and the relatively dark room walls. In the lower image, where a larger portion of the screen is illuminated, reflected light from the screen is reflected off of the walls, ceiling, floor and audience back to the screen, significantly reducing contrast. Even starting with a 2000:1 contrast, this contrast reduction is clearly visible.
With HDR cinema (and HDR home theater), with claimed contrasts of 20:000:1 and more, this reflection of image light back on the screen becomes a very serious problem. It will largely obscure detail in the shadow regions of the HDR image, although it won't greatly affect the highlight regions. However, the highlight regions will produce more light than in a SDR image, further reducing the contrast in the shadow areas. (for more on this, see Chris' article from SMPTE in this issue. (Barco Performs Shadow and Highlight Measurements in a Theater)
Images produced by the NC3540LS. Top: Relatively small portion of the screen illuminated; Bottom: larger area of screen illuminated. The red dot visible in the center of the bottom of both pictures is the pilot light on a second projector used by NEC to give tutorials on the cinema screen. (Photo: M. Brennesholtz)
Analyst Comment
This contrast issue, which affects front projection much more seriously than rear projection, is one of the reasons projection is not used more often in digital signage. NEC's hope that relatively low cost, long life projectors like the NP-PX803UL will increase the use of projectors in signage may be off-base. Since NEC has a strong position in both LCD and LED signage, this may not affect the company overall, just prevent growth of the projection business in the signage market.
Bob Raikes attended a different NEC showcase (subscription required) earlier this year in London. He covered more of the digital signage aspects of the NEC show and not the projection aspects covered in this article. –Matthew Brennesholtz
I asked Matt about his reaction to the image quality of the NEC Direct Laser projector. I thought his comments were interesting.
"The image quality was, of course, good. A 4K, 3 panel DLP projector set up correctly? Of course it was very good! I believe it had normal P3 colorimetry, not laser colorimetry because that is what the content was color-graded for. The content was DCI, a long series of previews for movies. All were in 2D No speckle was visible from a distance of more than a few feet. Up close (i.e. inches away) you could see something. Perhaps speckle, perhaps noise in the dithering of the DLP imagers. It actually looked a lot like film grain although I'm sure none of the content had been created on film – it was all previews of popular movies from the last year.

In short, it looked like the images produced by a high end cinema projector. None of the laser advantages seemed to be on display such as expanded color gamut or high brightness for 3D movies on a large screen. On the 20′ screen showing normal 2D cinema content at 14 Ft.-L., there was nothing really different about the image. Perhaps if it was side-by-side with a similar 4K Xenon projector I might have noticed something. Matt

p.s. This goes along with my contention that modern displays are nearly perfect. The very modest improvement in image quality possible are normally invisible to a normal viewer. (I consider myself a normal viewer, not a "Golden Eye") Most normal viewers can see the difference between normal and high-end systems only when they are side-by-side and an expert points out what to look for. And then they often say, "So what?"