A new series of UltraHD lenses was shown by Fujifilm. The first is the UA80X9, designed for a 2/3″ sensor, with an 80x zoom and optical image stabilisation. The lens covers focal lengths from 9mm to 720mm and will be available in August.
Harmonic used a suite of its own virtualised gear to run a live satellite-fed UltraHD feed on the show floor. The SpectrumX product was used for the playout, with graphics and branding, while ElectraX encoded the feed at 15-20Mbps per channel. The demonstration was being run with Sony and SES. Content was coming from a camera outside the LVCC, then being bounced to an SES facility in Maryland and back to Las Vegas.
Hitachi showed off an 8k camera, ahead of tests of the format in Asia. The SK-UHD8060 is designed to facilitate 8k broadcasting, which NHK – a development partner – intends to have working by 2020. An UltraHD camera, the SK-UHD4000, was shown by Hitachi Kokusai. The UHD4000 uses a 2/3″ B4 mount HDTV lens and 2/3″ MOS sensors. A 4-port RGB prism combines with four sensors to deliver the performance of a 35mm single-colour filter array in a portable camera chassis, said Hitachi.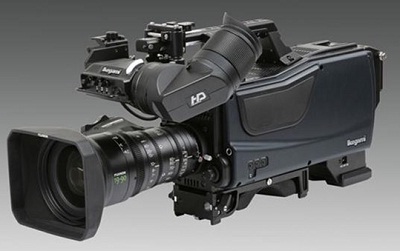 Ikegami had a camera developed with NHK: the SHK-810, a handheld 8k unit. The camera uses a Super 35 CMOS sensor, weighs less than 9kg and is designed for live studio and field production. Using the System Expander tool, large viewfinders and full studio lenses can be used with the camera – converting it into a full-facility studio/field model. A PL lens mount is featured and a flange-back adjustment is built in, enabling back focus adjustment of PL lenses without shims. As well as the SHK-810, Ikegami was showing a prototype 4k 3-CMOS camera.
The Fovea-F1 MEMC (motion estimated/motion compensated) converter, from Imagine Communications and Calibre, was shown with Dolby E audio frame rate conversion.
NGCodec showed its real-time Intra HEVC encoder, running on a Xilinx Kintex-7 FPGA.
Panasonic was showing the PT-RZ12K camera, which we saw at ISE (Panasonic Emphasises Strength & Reliability). The laser projector had been renamed for the US market, to 'PT-RZ12KU'.