According to Canalys, the smartphone market in the Middle East (excluding Turkey) experienced a 3.5% annual decline in Q1'23, with a total of 8.8 million smartphones shipped. Despite this decline, the region showcased resilience by outperforming the global market, which witnessed a significant 13% annual decline in smartphone shipments.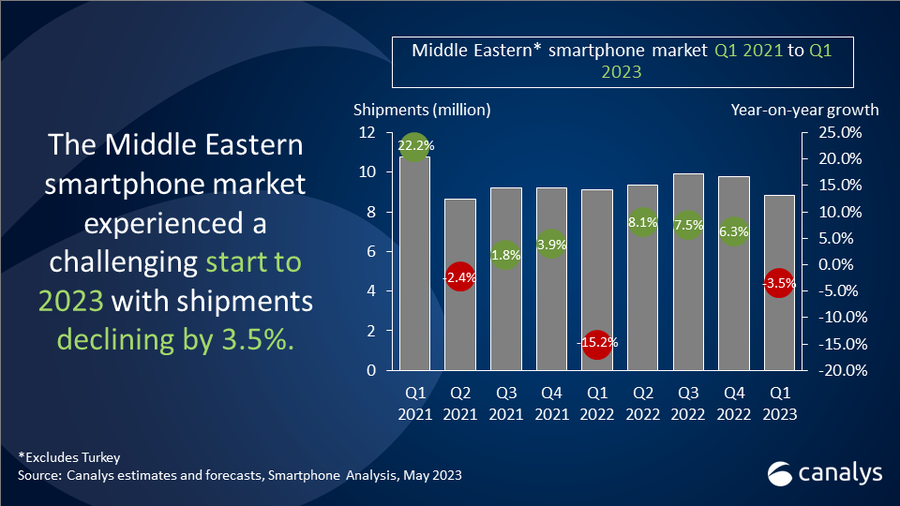 Among the sub-regions, the Middle East emerged as the best-performing area. Although the Q1 decline marked the end of the region's nine-month growth streak, the Middle East demonstrated its strength even in the face of economic challenges.
In Q1'23, Saudi Arabia's smartphone shipments saw modest growth of 1%. This growth can be attributed to consumers prioritizing spending on food, beverages, and entertainment as the economy reopened. Meanwhile, the United Arab Emirates (UAE) experienced a 3% year-on-year decline in smartphone shipments, primarily due to limited marketing spending that hindered vendors from capitalizing on the growing trend, despite the expansion in the retail industry.
Iraq's smartphone market witnessed a 3% annual decline in Q1'23 as consumers focused on conserving cash for essential expenses. Kuwait faced an 11% annual decline in smartphone shipments, with consumers holding onto newer upgrades. In contrast, Israel recorded an impressive growth of 26% in smartphone shipments. This growth was driven by high demand for premium smartphones and the thriving tech industry, earning Israel the title of the "start-up nation."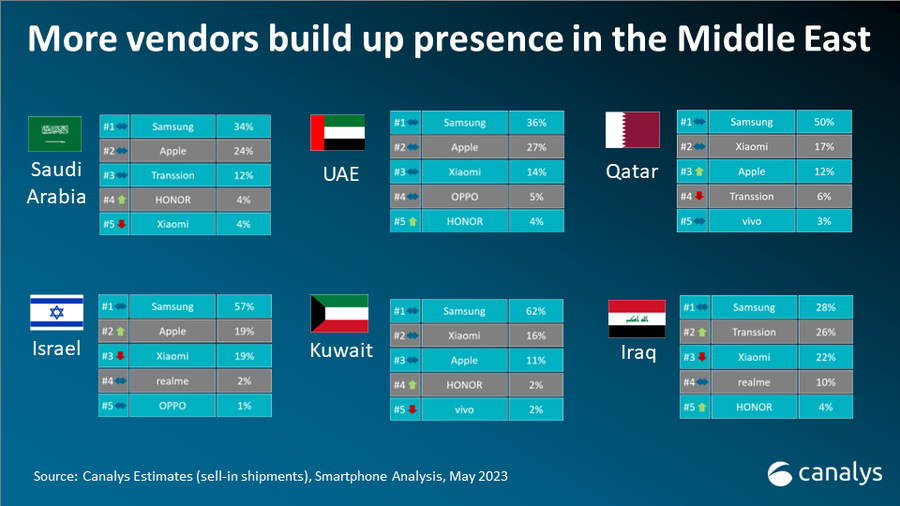 Samsung and Apple continued to dominate the Middle East smartphone market. Samsung's after-sale service, brand perception, and channel prioritization, along with the growing popularity of its S23 series, contributed to its success. Apple's year-on-year growth was fueled by strategic partnerships with local retailers and operators in the UAE and Saudi Arabia, as well as its strong appeal among younger generations. Additionally, attractive installment payment options acted as growth catalysts in the region.
Despite the prevailing economic challenges, analysts from Canalys believe that the long-term potential of the smartphone market in the Middle East remains strong. Countries such as Saudi Arabia, Qatar, and the UAE are showing signs of recovery from the pandemic, particularly in the rapidly growing tourism industry. However, the market outlook is affected by persistent inflation, increasing interest rates, and unpredictable geopolitical developments in the short term.
Canalys forecasts that the Middle East's smartphone market will maintain similar shipment levels as the previous year in 2023. Smartphone vendors are expected to adopt a more cautious approach, focusing on distribution channels and effectively managing local product pricing to navigate potential recessionary pressures. Despite the challenges, the Middle East continues to present opportunities for smartphone manufacturers to tap into its resilient and tech-savvy consumer base.
| Vendor | Q1'23 Shipments (million) | Q1'23 Market Share | Q1'22 Shipments (million) | Q1'22 Market Share | Annual Growth |
| --- | --- | --- | --- | --- | --- |
| Samsung | 3.8 | 43% | 4.0 | 45% | -5.3% |
| Apple | 1.3 | 15% | 1.0 | 11% | 35.4% |
| Xiaomi | 1.0 | 11% | 1.0 | 11% | 1.6% |
| Transsion | 0.9 | 11% | 1.4 | 16% | -35.0% |
| Oppo | 0.3 | 4% | 0.4 | 5% | -31.9% |
| Others | 1.5 | 17% | 1.3 | 15% | 13.1% |
| Total | 8.8 | 100% | 9.1 | 100% | -3.5% |
Middle East smartphone shipments and annual growth. Xiaomi estimates include sub-brand Poco and Redmi and Oppo includes OnePlus. Percentages may not add up to 100% due to rounding. Excludes Turkey. (Source: Canalys Smartphone Market Pulse: Q1 2023)