Taiwan's Market Intelligence & Consulting Institute (MIC) says that as HD panels have become mainstream among China's newly released smartphone models, several panel makers have started to build new LTPS production lines to manufacture high-end mobile phones.
According to MIC, Chinese panel makers in particular have taken a more aggressive stance, such as BOE setting up a 6G production line in Chengdu, and Tianma establishing a 6G line in Wuhan. MIC estimates from the capacity of existing lines of individual panel makers that the total LTPS area will increase 41% from 7.8 million square metres in 2014, to 11 million square metres in 2016.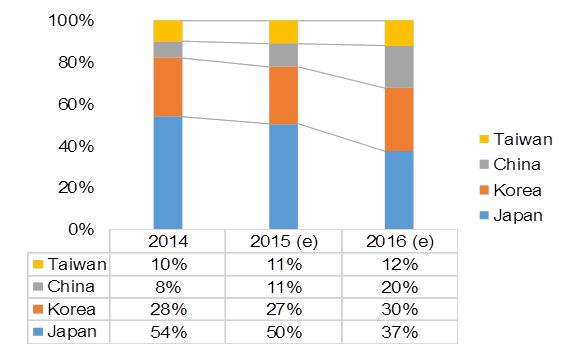 Small-and-medium LTPS Panel Production Share by Nationality, 2014 – 2016"Given the continued improvement in resolution, panel makers without LTPS lines are exposed to the loss of competitiveness," says Joy Tsai, industry analyst with MIC. "Driven by the support of government policy, Chinese panel makers have been able to invest production lines using the top-notch technologies like LTPS. Whether the chain reaction caused by the low-price trend will lead to bankruptcy of Japanese brands is noteworthy as it may give Chinese panel makers a good chance to take over Japan makers with more advanced technology and know-how. This will help them make a big leap forward in panel technology to [put] pressure on their rivals".
MIC noted the operational difficulties Sharp has been facing in recent years, commenting that Chinese panel makers, as well as Taiwan's Foxconn, have shown an interest in acquiring the troubled Japanese firm's LTPS and oxide technologies. If Chinese panel makers succeed in buying Sharp's technology, their LTPS production yields will be enhanced significantly, which would create a disruptive stir to prices of HD panels as the high-end of the market.