Asus' Zenfone 2 smartphone, which we saw at CES (Asus Swims Against Current With Mobile Announcements), is now on sale in Taiwan. It will also roll out to China, Hong Kong, Singapore and France this month. India, Italy and other markets in south-east Asia will follow in April, and Brazil in June. Shipments will reach 500,000 this month and 1 million from April.
The UK's Ginsbury Electronics is now stocking two new high-brightness displays from Kyocera. The 10.4″ TCG104XGLP and 12.1″ TCG121XGLP both have 1024 x 768 resolution and 170° viewing angles. Additionally, they feature anti-glare coatings and will operate in -30° to 80° temperatures. Brightness and contrast ratio are 1,300 cd/m² and 700:1 and 1,200 cd/m² and 750:1, respectively. Price is on application.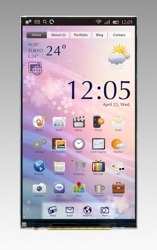 Japan Display is to begin mass-production of a 'larger-than-5″' LCD module, with in-cell touch (JDI refers to this as 'Pixel Eyes' and is based on its own technology). The component has 2560 x 1440 resolution and a 1,500:1 contrast ratio. Viewing angles are 'higher than 160°', with 85% NTSC gamut coverage and 500 cd/m² of brightness.
LG's G Pad 7.0 (Display Monitor Vol 21 No 20) will soon be available on the Sprint network in the USA, and is known as the G Pad F 7.0. It is the first LG tablet to come to Sprint. The product will be launched on 13th March and will be free with a two-year contract of $10 per month, using the Sprint Easy Pay system.
Prices have been leaked for Samsung's Galaxy S6 Edge, in Europe. The phone will apparently start at €700 for the 32GB version and raise to €850 for the 64GB model. A price was not revealed for the 128GB unit. OLED-Info has speculated that Samsung will not be able to produce displays for more than 7 million or 8 million S6 Edge handsets in 2015, if its uses its existing G5.5 line.
Like JDI, Sharp has announced the mass-production of displays with 2560 x 1440 resolution. They have in-cell touch and use IGZO technology. Production will take place at Sharp's Kameyama No. 2 plant this summer.
Russia's Yota Devices will launch the YotaPhone 2 (Yota Upgrades From LCD to AMOLED) – the dual-screen OLED/E Ink handset – in the USA soon; but not in regular channels. Instead, the company said that it will be launched through an Indiegogo campaign. Following that, the phone will reach retailers for more traditional distribution.