MATCHevent, Paris based audiovisual supplier, has invested heavily in ROE Visual LED panels.
Extending its rental stock with the acclaimed Black Pearl LED panels from ROE Visual, MATCHevent aims to position as the main large screen display provider in the Paris area.
Ever since it's foundation in 2008, MATCHevent is dedicated to providing its client base with the best available professional equipment and services. With an excellent track record in the French market, MATCHevent offers audiovisual technical services for the organization of a wide variety of events, like conventions, conferences, product launches, festivals and fashion shows and general assemblies. Like their recent work for the premiere of the movie Mission Impossible – the Fallout.
To update their stock of large screen LED display materials, MATCHevent selected ROE Visual to supply over 400 Black Pearl BP2 LED panels. "The Black Pearl LED panels have a great track record in the rental market and are regarded as the best product in the market" states Jean-François Lienard, founding partner of MATCHevent.
"That alone would be a reason to select ROE Visual as LED supplier. On top of that, the quality and un-matched service we get from ROE Visual makes the investment worth it. They are a reliable supplier. ROE Visual serves us both with technical support when needed and swift delivery. ROE Visual stocks its products in vast quantities in Europe, so we can always trust we're served for last-minute projects".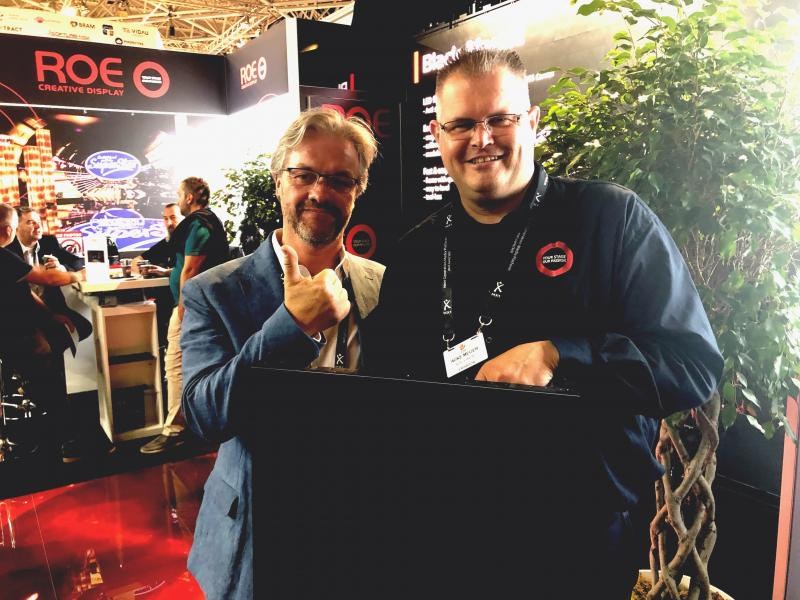 "ROE Visual an MAtchevent have a long relationship", Lienard continues. "They really understand the market and that's what counts in this industry. You need to be able to trust your supplier to support you when needed".
The Black Pearl panels will be used for several events this Autumn.
In the picture LTR: Jean-Francois Lienard, MATCHevent and Auke Meijer, ROE Visual.
Featured Products:
ROE Visual Black Pearl BP2 LED panels
More information:
About ROE Visual
ROE Visual lives up to its tag-line your stage is our passion by providing unique, best-in-class, high-resolution LED displays for all commercial applications. From the top stages across the world, to exquisite broadcast and architectural installations, ROE Visual products offer maximal creativity, ease-of-use, durability and visual excellence. Our global technical support team is expert in LED display technology is an extension of your production team, able to troubleshoot remotely or intervene on-location.
ROE Visual has three operational bases, the lead manufacturing facility in Shenzhen, China with additional sales offices and service centers in the Netherlands and United States. The company enjoys relationships with global rental companies including PRG, NEP and other notable partners.
ROE Visual manufactures best-in-class LED displays, supplying a broad range of LED solutions for rental, broadcast, live events, corporate, architectural, retail, control room, houses-of-worship and other applications.