The Consumer Electronics Show 2015 may wind up being the biggest in history again, but the show feels increasingly strange. For a show that is nominally about consumer electronic products, a surprising number are either not consumer products or not electronic.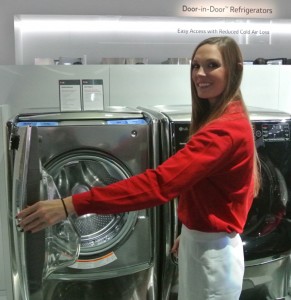 A significant portion of Panasonic's booth was devoted to a men's grooming salon where male attendees were being barbered for free, with the barbers using Panasonic grooming devices. Not far away was a beauty salon, where female attendees were being beautified, again with Panasonic beauty products. I saw a beautician using a Panasonic hair dryer with great enthusiasm.
Samsung, LG and others showed stoves, refrigerators, washing machines and dryers. I mentioned to one LG representative that she reminded me of Betty Furness opening a refrigerator door in ancient TV commercials. The rep enthusiastically did her best Betty Furness imitation and opened the nearest appliance door, which belonged to a clothes dryer.
Panasonic also emphasized commercial products, including batteries, and promoted the huge battery plant it is building near Reno with Tesla Motors. Also in Panasonic's booth was the new Tesla Model X crossover SUV, which has a 0-60 acceleration time of 5 seconds.
Continuing the trend of several years, the Las Vegas Convention Center's North Hall looked more like an auto show than an automotive electronics show, which CEA claims it is. To be sure, most of the manufacturers were emphasizing electronic controls, navigation, or infotainment systems, but Toyota's large booth was devoted almost entirely to its new hydrogen fuel-cell-powered Mirai (which I was told means "future" in Japanese). Don't get me wrong, Toyota's in-depth exhibit was fascinating , but where is the consumer electronics product?
But there are still a lot consumer electronic products at CES. A major trend in TV this year is the increasing commoditization of UHD (4K) TV. The speed with which 4K has gone from expensive to cheap continues to surpirse many people in the industry. If last year was the year of UHD-TV's breakout, this year will surely be the year of quantum-dot-enhanced TV. Many major manufacturers announced QD-enhanced TVs for release this year, including Samsung, LG and TCL. Unfortunately, they will probably be called "QD-TVs." But if we can survive "LED TVs," we can probably survive "QD-TV", too.
Viewed side by side with conventional LCD-TVs, the increased color saturation and gamut produced by QDs provide an obvious improvement in image quality and allow TV makers to exceed 90% of REC.2020. Combined with 4K, QDs produce really compelling images. Samsung went so far as to say that QD enhancement provides image quality that is superior to OLED.
When LG announced its line of QD-enhanced TVs, its marketing people were forced to do an impossible tap dance. On the one hand, they said the new QD-enchanced TVs offered a huge improvement over traditional LCDs, that the new sets are beautiful and that everybody should buy one – but they're not as good as OLED. It's a tough argument to sell.
This year QD will be for premium sets, with TCL saying it will have a UHD 65″ with QD for $3000 later in the year. Next year, these sets will enter the pricing mainstream.
There is much, much more to be written about what we saw and heard at CES. And we will write about it in immediately forthcoming issues of Display Daily, Mobile Display Monitor and Large Display Monitor. – Ken Werner