Unemployment in the US is low right now and a lot of companies, a lot of industries, for that matter, are out there looking for skilled workers. One of the industries that needs an ongoing input of skilled workers is the professional audio/video (pro-AV) industry. The industry is growing and the workforce needs to grow, too.

Growth of Pro-AV from 2014 to 2023, broken down into technology segments. (Credit: Avixa)
Avixa, sponsor of InfoComm and ISE, has recently released reports both on the pro-AV industry in general and on employment in the pro-AV industry. The overall growth of the industry is shown in the figure above, from the Avixa Industry Outlooks and Trends Analysis (IOTA) released by Avixa in September.
They are expecting a 4.3% compound annual growth rate (CAGR) from now through 2023. The market segment Avixa expects to have higher than average growth is the presentation and entertainment market. Avixa defines this market as "Presentation and entertainment solutions includes audio and video equipment in both residential and commercial settings. Examples include cinema, home theater and theater installations in museums, houses of worship, entertainment venues, etc. Rental and staging equipment are excluded from this category and are covered under 'Live Events'. This sub-market is expected to go from 9% of the total pro-AV market today to 12% of the total market in 2023.
The biggest market today, and expected to retain that position in 2023, is the collaboration and conferencing market segment, which includes applications such as corporate boardrooms, other conference rooms, huddle rooms, teleconference equipment, etc. This is a big market and going to get bigger although its CAGR will be lower than the presentation and entertainment market. This sub-market is currently 16% of the total market, expected to decline to 15% in 2023. Of all the market segments evaluated, Avixa only expect one to show no growth, with the residential market (Avixa wasn't completely consistent in its market names) expected to have 0% CAGR through 2023. Here Avixa is talking about the Cedia market with professional installers, not the do-it-yourself market where a consumer buys a TV in a retail store, takes it home and hooks it up himself to his cable box and sound system.
I had a chance to talk to Sean Wargo, Senior Director of Market Intelligence at Avixa about both the pro-AV market in general and the pro-AV labor market in particular. He told me the traditional line between pro-AV and Information Technology (IT) is blurring and has been blurring for some time now, which is something that almost everyone familiar with the industry was aware of. Still, it is nice to hear it straight from a knowledgeable source. Much of the emphasis in new infrastructure in the pro-AV industry is on IP based infrastructure, including Ethernet. There is much less emphasis on pro-AV-centric infrastructure such as DVI. Even modern pro-AV interfaces such as the HDBase-T video connection have their roots on the IP side of things, not the pro-AV side.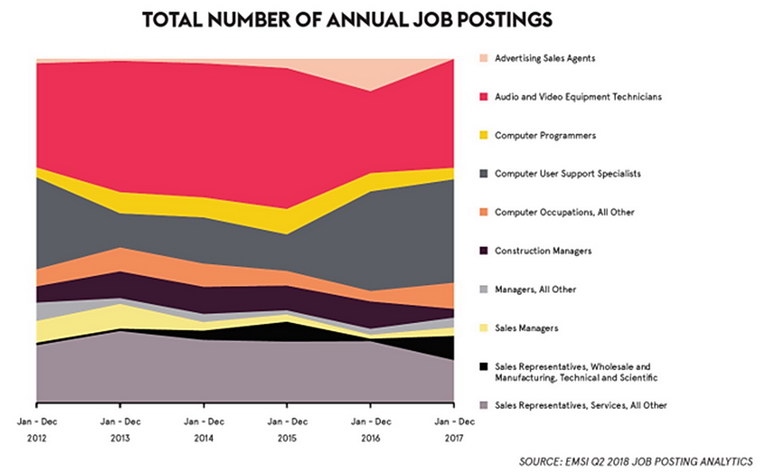 Pro-AV Job Postings 2012 – 2017 (Credit EMSI via Avixa)
All this growth in the market will require growth in the workforce as well. Avixa gave me the EMSI data on job postings in the pro-AV market, broken down by the skill set needed.
The biggest group is for Audio and Video Equipment Technicians (AVET), representing the traditional "Tech" in an AV installation company. This is the group of people that actually install, connect and troubleshoot pro-AV equipment in the field, both during and after installation. Currently the number two skill set needed is Computer User Support Specialists (CUSS). Taken together, CUSS, computer programmers and computer cccupations-all other, are a major factor in the pro-AV labor market. Plus, an AVET tech doesn't just carry equipment around and bolt it down before hooking up a connector (or 50) to it. Modern pro-AV are all based on digital systems and, as such, the software needs to be set up before it will work right. So even an old-fashioned AV tech needs modern IT skills.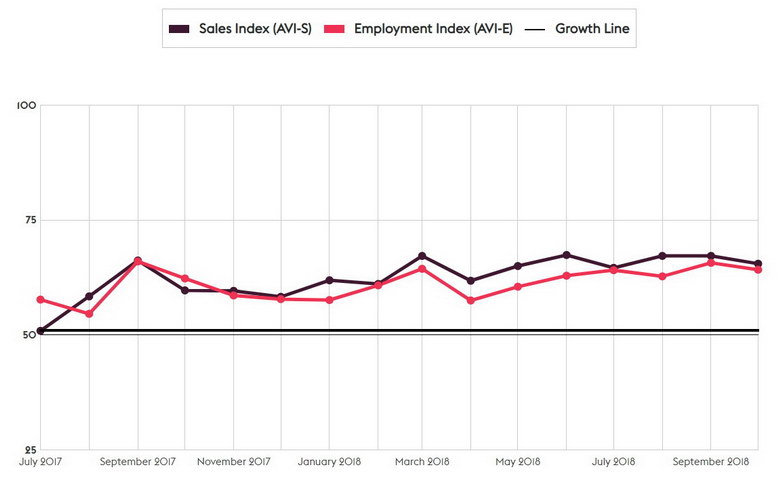 Avixa's Sales and Employment Indices, July 2017 – October 2018. (Credit: Avixa)
Every month, Avixa calculates two indices on the pro-AV industry, one on sales and the other on employment. The most recent available plot of this data is shown in the figure. The indices are calculated in such a way that a value of 50 indicates no increase or decline, above 50 indicates industry sales or employment growth for the month and below 50 indicates a decline. As can be seen, since July 2017 Avixa hasn't seen any decline in either sales or employment, only growth. there is also no obvious cyclical pattern in this data – pro-AV is a year-round job.
Historically, many pro-AV positions have been freelance positions. In the 2018 labor market, freelance positions are accepted by many but often not preferred in comparison with full time positions at established firms. Wargo said the freelance and part-time nature of pro-AV work is changing, especially since the recession of 2008. He said that major corporations are almost all multinational. When they look for a system contractor to install their new pro AV systems in multiple locations around the world, naturally enough they look for a multinational system contractor to do the work. Wargo said these multi-national system contractors tended to have full time employees rather than depend on freelancers.
System Contractor News (SCN) every year issues a Top 50 list of system contractors. In the introduction to the current list, SCN says, "2018 has been quite the year for pro AV—more mergers and acquisitions, continued market growth, and the global service provider trend. All of these things have had a significant impact on SCN's annual Top 50 Systems Integrators list."
SCN solicited comments from companies on the top 50 list on the biggest challenge their company faced in 2018. Six of the seven comments SCN posted on-line were related to getting enough skilled people. For example, Jeff Irvin, Principal at Spinitar, a global audiovisual design and integration company based in California and #27 on the SCN top 50 list, said, "Ready access to qualified AV talent continues to challenge us and our ability to grow, but during this past year we brought on a new EVP of corporate development who has been focused on building a portal to a talent pool. Fortunately, we are now seeing a boost in available install tech candidates, but still remain challenged in finding qualified AV design, programming, and project management talent."
The seventh comment SCN posted was on the need to maintain revenue targets for the business. This is nothing new or even directly related to the pro-AV industry, it is a challenge for any business in any industry. Well, for that matter, so is finding a workforce with the needed IT skills.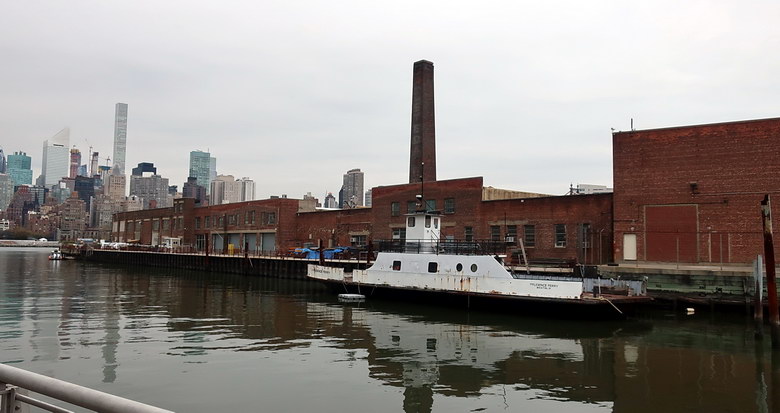 This under-used waterfront site in Long Island City, Queens, New York will soon be the home to about 25,000 Amazon employees, most of whom will have strong computer skills. Manhattan is visible in the background. (Credit: M. Brennesholtz)
Of course, the pro-AV industry isn't the only industry looking for individuals with IT-centric skills. Essentially every modern industry is going digital and needs workers at all levels of the organization with computer and IT skills. For example, in New York and Washington D.C., the pro-AV industry, when seeking new employees with computer and other IT-centric skills, will have to compete with Amazon, which is expected to pay the employees at its two new headquarters locations an average of $100,000 apiece. For an employer in today's job market, IT skills don't come cheap. –Matthew Brennesholtz