Four Fraunhofer Institutes, led by Fraunhofer Institute for Material and Beam Technology (Fraunhofer IWS), have recently completed a three year research project on lithium-sulphur (Li-S) batteries. The lithium-sulphur technology is said to be potentially superior to lithium-ion battery technology for a wide variety of applications, including powering mobile devices such as smartphones. This Fraunhofer in-house joint project, called LiScell, included not only Fraunhofer IWS in Dresden, but also Fraunhofer Institute for Chemical Technology (ICT) in Pfinztal; Fraunhofer Institute for Organic Electronics, Electron Beam and Plasma Technology (FEP) in Dresden; and Fraunhofer Institute for Transportation and Infrastructure Systems (IVI) in Dresden.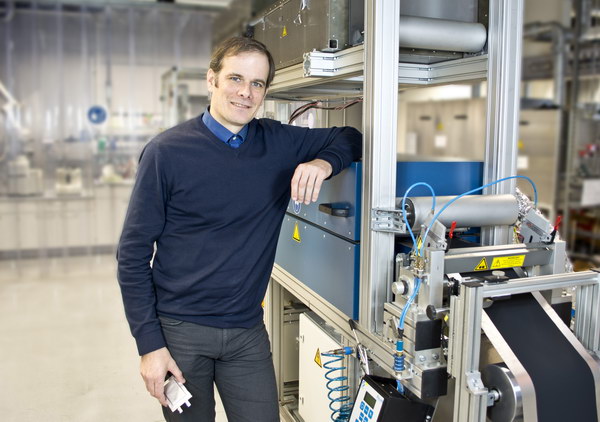 Dr. Holger Althues, Head of the Fraunhofer Li-S Consortium (Source: Fraunhofer IWS)
According to Fraunhofer, the solution to the problems of lithium-ion batteries can be novel Li-S batteries, for which future energy densities of up to 500 – 600 Wh/kg are expected. Simultaneously, this technology replaces the expensive cathode material of Li-ion cells by the cost-effective and non-toxic sulphur with its nearly unlimited availability.
Some Advantages of Li-S Batteries (Source: Fraunhofer LiScell Project)
Research has been carried out over the last three years on advanced development of Li-S battery cells using new cathodes, electrolytes, and anodes under the Fraunhofer LiScell joint project. Besides their involvement with materials development, the participating Fraunhofer Institutes were also working on scalable fabrication processes for anodes and cathodes in the form of roll-to-roll foils and on the construction of battery modules. The goal was to advance the state of Li-S technology for mobile electronics. The batteries are also expected to eventually be usable for higher-powered applications such as electric cars.
The Li-S system distinguishes itself with its very low material cost and high energy density. As a result, it might represent an attractive energy storage solution for future mobile applications. Currently, Li-S cells have achieved up to 400 Wh/kg, which is already up to 40% higher energy density than the best lithium ion cells available today.
The greatest challenge with Li-S cells is to improve their poor cycling ability: typically they can only be discharged and re-charged 50 to 100 times. The reason for this is a chemical reaction in which the electrolyte attacks the anode surface, which consists of metallic lithium. The Fraunhofer scientists focused on this challenge and developed a cell design based around an anode made of a silicon alloy as a substitute for metallic lithium. Their research target was to achieve 1000 charge/discharge cycles.
This new anode and cell design was implemented and demonstrated in Li-S and Li-ion prototype cells at the Fraunhofer IWS. New solutions were also found for the fabrication of sulphur cathodes. Dr. Holger Althues, head of the consortium and the Department of Chemical Surfaces and Battery Engineering at the Fraunhofer IWS, explained, "Powdered active materials were processed without solvents by using a dry-film procedure at the Fraunhofer IWS to produce high-performance electrodes."
An additional advantage of Li-S cells with the Si anode technique is they have a high tolerance to overcharging and thermal stress. This was determined in safety tests carried out by the Fraunhofer ICT. This is said to eliminate the dangers associated with lithium ion cells.

Left: Fraunhofer IWS pouch battery with a bottle of elemental sulphur. Right: Li-S pouch battery thermal testing at Fraunhofer ICT (Source: Fraunhofer LiScell Project)
Finally, suitable economical and efficient fabrication processes needed to be worked out and tested. Dr. Nicolas Schiller, director of the Flat and Flexible Products Division, summed up the results at the Fraunhofer FEP,
"Silicon layers with a specialized micro-scale structure were able to be deposited on both sides of thin charge-collector film made of copper using a new vacuum coating technology in a roll-to-roll process. The layers proved themselves to be suitable anode material for Li-S cells as well as for Li-ion cells. They possess considerable potential for increasing the volumetric energy density compared to conventional solutions."
This three year, €3.45M project on lithium-sulphur batteries was financed by the Fraunhofer Institute MAVO program for market-oriented initial research and was completed May 31. There have been no industrial partners for the work done at Fraunhofer on the LiScell project. Presumably, Fraunhofer will be looking for industrial partners to carry this promising battery research forward in the future.
Even though the LiScell project is complete, Fraunhofer IWS is not done with Li-S batteries. They will hold the 6th annual Workshop on Lithium-Sulphur Batteries in Dresden on November 6 – 7, 2017. This is not just a Fraunhofer IWS event and Li-S batteries are not just a Fraunhofer development – confirmed speakers come from Japan (2), Russia, USA (2), China, Germany (University of Giessen) and the UK (2). –Matthew Brennesholtz
Analyst Comment
Although we don't really cover batteries, it's no secret that the capacity of the battery is a big factor influencing the power budget available to displays, so we thought it worth covering this development. It's unusual to see such potentially large increases in capacity without exotic materials or dramatic costs. My estimate from the figures in the report is that capacities could double – that could be really significant. Now, if only the new batteries were rollable and transparent, we'd be away….. (BR)