An American company called Noribachi, known for its LED lighting, has entered the digital signage space with the 'ALiVE' product line. These consist of indoor and outdoor LED tiles and LCD monitors.
Five indoor LED tile ranges are part of the ALiVE series: Glacier, Redwood, Denali, Saguaro and Pinnacles. They have pixel pitches ranging from 0.9mm to 20mm.
The Glacier range has pitches of 0.9mm, 1.2mm, 1.5mm and 1.9mm, with 600 or 800 cd/m² of brightness. They can be used in 2×2, 3×3 or 4×4 configurations. The Redwood series (2mm and 3mm, 1,000 – 3,000 cd/m²) can be used in larger walls of 8×2, 10×6 and 10×3.
Denali LED products (2mm) are designed to create durable and long-lasting LED displays. They have 1,200 – 1,500 cd/m² of brightness and can be used in 8×5 and 7×4 walls.
The Saguaro series are thin and light, with a modular design. The tiles clip together without using tools. They reach 1,200 cd/m² and can be used in walls up to 7×4. Tiles weigh 9.3kg and are 85cm deep.
Finally, the Pinnacles series are between 64% and 80% transparent. They are designed for use in windows and atriums, with 10mm, 16mm and 20mm pixel pitches and 1,500 – 6,000 cd/m² of brightness. The tiles are rectangular rather than square (32cm x 96cm). They can be part of 40×8, 64×15 and 80×15 displays.
Outdoor Displays
The outdoor LED ranges have wider pixel pitches and higher luminance levels. They are all IP-certified and have minimum viewing distances of 6.4m.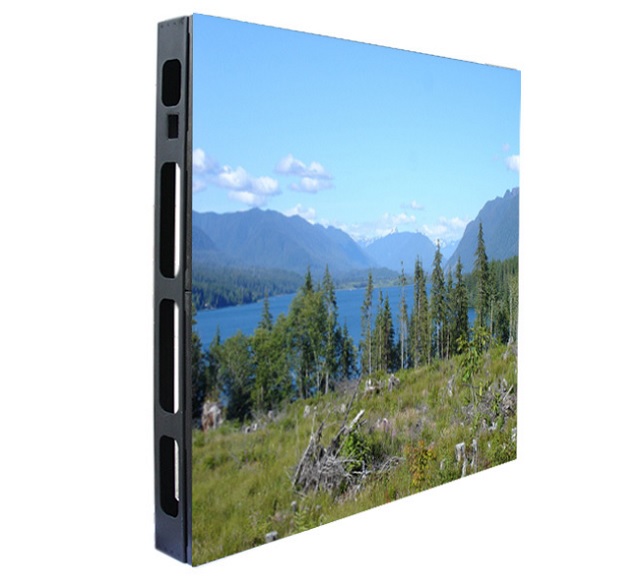 Yellowstone is the first of Noribachi's outdoor LED products: the largest, brightest and most durable series. 10mm, 16mm, 20mm and 25mm pitches are available, with 6,500 – 10,000 cd/m² and three different tile sizes. The tiles are IP54 (rear) and IP68 (front) rated.
The Acadia series has a 6mm pixel pitch and is IP65 rated to the front and rear. They can be installed flat or with a 5° curve. Brightness reaches 6,500 cd/m². Like the Pinnacles range, these tiles are rectangular.
Designed for perimeter linings, the Mojave family can be tilted to optimise viewing angles. No mounting is required for the tile stand. They are IP54/65 rated, with pixel pitches of 8mm, 10mm, 12mm and 16mm and brightness levels of 5,500 – 8,500 cd/m².
Finally is a mesh display called the Olympic series. These are partially transparent for mounting on buildings. They are IP43/54 (back, depending on tile) and IP65 (front) rated. Pixel pitches are 10mm, 16mm, 20mm and 25mm and brightness is 5,500 – 7,000 cd/m².
Pricing for all of the LED tiles is on application. Noribachi plans to expand the ALiVE line with professional LCD displays in 55″, 65″, 75″ and 85″ sizes in October. LCD Video wall, vertical-standing and interactive products will be added later.