Various products were unveiled at Cinemacon in Las Vegas this month. We have pulled out some of the most interesting (see Product News), and have a roundup of other relevant ones here.
The Cinecloud Lux is a new laser light source from Cinemeccanica. The unit can be placed in 'any' DLP projector and scales from 19,000 to 57,500 lumens. With stacked projectors, output can reach 100,000 lumens. It is designed for screens up to 50m wide and will last for 30,000 hours.
DepthQ showed its existing 3D passive polariser, the DepthQ Polarisation Modulator, as well as a new patent-pending high-brightness unit called the Cinebright. The new polariser has an optical efficiency of up to 31%.
The CP850 processor is a Dolby product for its Atmos audio solution. Dolby also highlighted the IMS2000 integrated media server, which supports UltraHD to 30fps and 3D at 30fps, 48fps and 60fps.
An intelligent digital signage system for box offices, auditorium entrances and lobbies was introduced by Entertainment Supply & Technologies. The CallconnectDS pulls data from ticketing and refreshment systems and feeds them directly to the screens. It can show images, custom messages and video.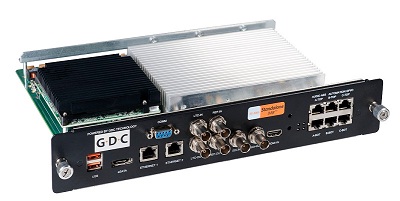 GDC Technology had a stand-alone integrated media block called the SX-3000. It features high frame rate (HFR) capability in both 2D and 3D modes and 3G-SDI and HDMI inputs. GDC's storage solutions, which are designed for 24/7 use, were shown alongside the IMB.
A new lamp was shown at the Philips stand, for the Barco DP2K-32B and DP4K-32B projectors. The new 6,500W xenon lamp (XDC 6501B) has a 600-hour 100% warranty and a wide operating range.
South Korea's CJ Group was showing its immersive cinema format, ScreenX (CJ Group Debuts Panoramic Cinema in Vegas).