Lenovo has realigned its business groups and geographies following the integration of Motorola Mobility and IBM's System X server business.
Gianfranco Lanci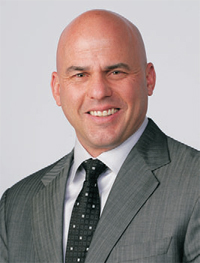 Gerry SmithIn a new leadership role, Gianfranco Lanci has been named corporate president of Lenovo, taking responsibility for all of Lenovo's geographic sales organisations and adding the enterprise business group (EBG) to his existing role as head of Lenovo's PC business group. He also retains his position as COO.
Lenovo has also appointed Gerry Smith to executive vice president and COO of PC & EBG, reporting to Lanci. Currently, Smith leads Lenovo's EBG and Americas region.
Additional leadership roles were announced for PG & EGB, including the promotion of Jay Parker to senior vice president of EBG, Tom Shell SVP of the PC business group, and Johnson Jia who is promoted to SVP of PC & EBG Global Operations. Shell currently heads Lenovo's commercial and consumer laptop, desktop, workstation, and monitor business.