CES seems a long time ago, an artifact from an age in which we still went to international trade shows like, well, like CES. But I still have some leftover notes. These are not the kind of notes from which big, high-concept stories are made. Rather, they are records of some interesting products and companies that may have slipped between the cracks.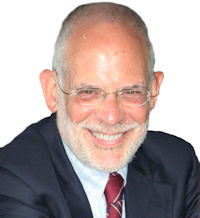 Although Sharp didn't announce it was leaving the North American TV Business, word got around quickly — and it seemed the decision had been made right at CES because the company had an extensive booth in Central Hall. A project that may survive this transition is a 30-inch flexible OLED monitor with RGB sub-pixels that rolls into its base (LG OLED-R style). The monitor, which was jointly developed with NHK, has an IGZO backplane. A rep said it could be commercially available in two years. This is a product that would appear to be good fit for the merger of Sharp and NEC Display Solutions (NDS), as described by Bob Raikes yesterday (A Big Topic Appears Just in Time!). Sharp is acquiring 66% of NDS. NDS has been a successful purveyer of commercial displays and monitors, 30-inch flexible seems compatible with its focus and customer base.
LG Display announced a 48-inch OLED, intended to bring OLED television pricing down to where it will be attractive to a wider audience. It will be available in the first half of this year. (LG has been under pressure to produce a smaller panel for the European and Japanese markets where smaller homes mean that there is a demand for smaller sets, even from premium brands – Editor)
You've Been Framed
Many television purveyors were showing TV lines called Art Max, Frame TV, or something similar. The idea was to have the flat screen within a picture frame designed to hang on the wall. When the TV is not being used to watch conventional TV programming, it shows fine (or not-so-fine) art. One manufacturer offered a limited number of artworks with the TV set, and generously offered to sell the customer more. This idea has been around for a few years, but it was more widespread in 2020.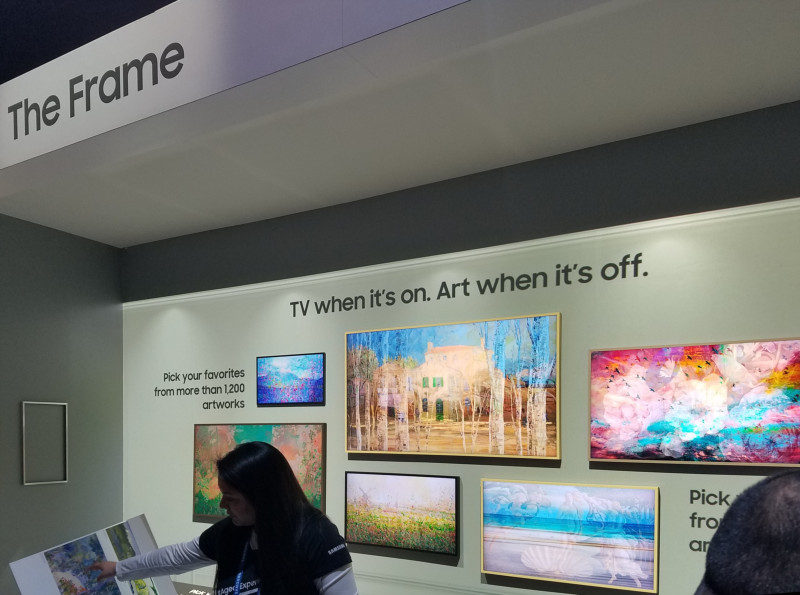 Samsung: TV when it's on. Art when it's off. (Original Photo: Ken Werner)
Another trendlet was to use the Nvidia G-Sync or AMD FreeSync adaptive synchronization technology from gaming monitors in gaming TVs. THX announced a TV game mode, which TCL will incorporate in a set later in 2020.
And for some reason several manufacturers, including Samsung, thought the world is pining for a TV that tilts from horizontal to vertical like a high-end office monitor, except that the tilting is motorized. This is intended, I suppose, to show all the portrait-mode programming the networks are sending us.
Memeio programmable keyboard with single "E Ink type" display. (Photo: Ken Werner)
At CES Unveiled — the show within show for media and analysts — the French company Nemeio showed a programmable keyboard, which was to be available in June. A singly "E Ink type" display sits under the transparent keys, and provides the keys with letters and symbols appropriate for different languages and keyboard configurations. By default, the keyboard picks up the language from your PC's system. The keyboard weighs 700 grams, and is available for Mac, Windows, and mobile operating systems. Nemeio's Arthur Petitmengin said the keyboards are intended primarily for the enterprise market but will also be available to individuals. Target MSRP is $399.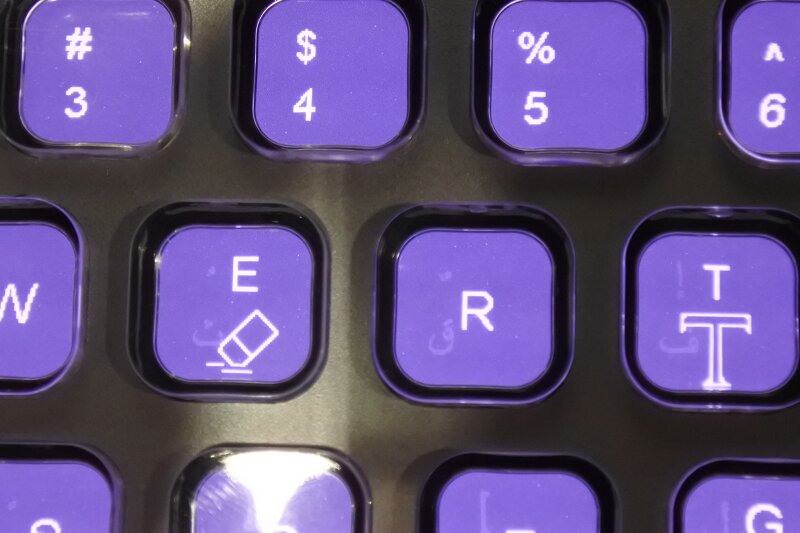 Memeio programmable keyboard close-up. (Photo: Ken Werner)
I have more of these. I'll fit them in as breaking news allows.
Ken Werner is Principal of Nutmeg Consultants, specializing in the display industry, manufacturing, technology, and applications, including mobile devices, automotive, and television. He consults for attorneys, investment analysts, and companies re-positioning themselves within the display industry or using displays in their products. He is the 2017 recipient of the Society for Information Display's Lewis and Beatrice Winner Award. You can reach him at [email protected] or www.nutmegconsultants.com.
CAPTIONS [Note: No figure numbers. I don't think they're needed.}