Zytronic, a leading supplier of durable, high performance Projected Capacitive Technology (PCT and MPCT) touch sensors, and Istanbul-based integrator Nerotouch, have digitised Kia's flagship dealership in Istanbul with a unique and exciting way for customers to view the range of vehicles on offer.
According to Asli Kubilay, Managing Partner at Nerotouch, "Kia sought a customer experience beyond that offered in other dealerships. Using Zytronic's touch technology we created custom designed multi-touch tables connected to a four-screen video wall. Content from a touch table can be flipped onto the nearby video wall, providing a fun and dynamic approach for customers and staff to view information and engage with the brand. The tables are very user-friendly so customers can operate them unaided if they prefer."
The installation is based on Nerotouch Clivo 43" diagonal touch tables incorporating custom designed Zytronic ZYBRID® 40-point multi-touch Projected Capacitive touch sensors together with their proprietary ZXY200 multi-touch controllers. Nerotouch provided Kia with the multi-touch software installed on the tables, including the pick and flip functionality that transfers content to the 2×2 video wall.
Commenting on the choice of ZYBRID touchscreens in this project, Asli Kubilay said, "The specially developed Zytronic sensors were manufactured to order for the project in very small quantities and provide a truly outstanding user experience. Using them, we created a touch table that's smooth operation is every bit as impressive as its professional appearance. The screens were further enhanced by the incorporation of the Kia logo into the seamless, toughened all glass surface. The whole thing looks, feels and works like a giant tablet computer that is purpose-designed for public use," she continued.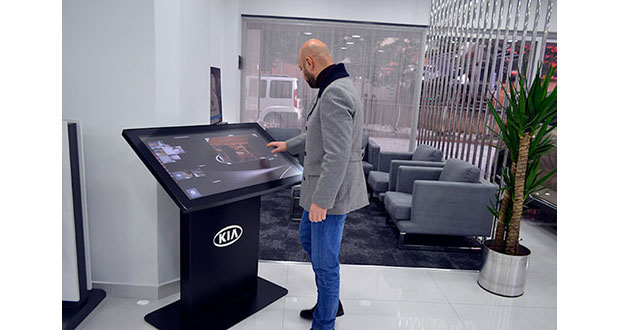 Nerotouch was able to exceed Kia's expectations by creating a lightweight table that can be moved around the car showroom, allowing management to adapt the layout to changing needs, for example by placing the table next to a new model. It also enables sales staff to experiment with different locations to see which is the most convenient and productive position for customer engagement. The custom designed 42" ZYBRID touch sensors are manufactured from thermally tempered 4mm anti-glare etched glass, combining leading class durability, a low "stiction" surface for optimum finger glide, and excellent image visibility under overhead lighting.
About Nerotouch
Nerotouch Interactive Technologies, based in Istanbul, Turkey, designs interactive touch-point experiences. The company produces customized integrated large-scale, multi-touch platforms consisting of highly sensitive, robust and large-scale interactive hardware combined with appropriate and functional software. Nerotouch products are positioned in showrooms, retail points, museums, educational institutions and government agencies, basically anyplace where industries and end-users meet. Nerotouch products are also great with corporations, addressing meeting room and presentation platform needs. Innovation and user-experience drive the design process for all Nerotouch products. Nerotouch is a pioneer in the phygital revolution and is dedicated to digitize physical environments through creating seamless omni-channel experiences.
About Zytronic
Zytronic Displays Ltd internationally award-winning touch sensors are used globally in ATMs, digital signage, self-service kiosks and gaming machines as well as by industrial and medical OEMs. The company's success rests on its patented and highly durable touch sensing technologies, which can be provided in custom designs of 85" and beyond.
In addition to its manufacturing and R&D centre in Newcastle, England, Zytronic has sales offices in Taipei, Tokyo, Austin, Texas and Atlanta, Georgia and a worldwide network of representatives and distributors. For further information please visit https://zytronic.co.uk/