KDX Group is a leading Chinese brand which has been developing and promoting glasses-free 3D displays and products for some time. They bought glasses-free 3D specialist Dimenco several years ago. (Dimenco Acquired by KDX) At CES 2018, the company announced its new 3D+ strategy, launched the new Simulated Reality Alliance (SRA) and showed off a number of glasses-free applications.
According to KDX, their new 3D+ strategy has three goals:
to create an integrated man-machine interaction
to present a mixed reality experience
to build a brand new 3D ecosystem
This new system will include 3D displays, 3D content and Simulated Reality (SR) experiences, which will leverage the company's glasses-free 3D display technology in combination with leading technologies in depth perception and spatial interaction.
The company did not provide a particularly clear definition of what it means by simulated reality, but it seems to suggest that by combining a number of existing and emerging technologies, we can start to simulate the real world via three key senses: visual, auditory and touch. Smell and taste will have to wait.
In most circles, Mixed Reality (MR) is defined as a headset-based experience where a front-mounted camera provides a view of what the user is seeing with computer generated symbology, images or scenes mixed into the video image.
KDX Believes in MR Without Glasses
KDX seems to be building on this concept to say that this type of MR experience can be obtained without the headset using it glasses-free 3D displays, plus additional audio and interactive technologies. This is what they call simulated reality. But unlike a headset-based MR experience, the visual solution is limited to what every 3D displays are available – which won't create an immersive 360º environment, so it is clearly a limited simulated reality experience.
One of the key demos they showed at CES to illustrate simulated reality was a kind of home theater set up. This featured the latest generation glasses-free 65" 3D display based on an 8K panel from Innolux (not in production yet) with an immersive audio solution by Auro Technologies. Slow motion animated content ran on the display with room-filling sound. The sound was great and the 3D effect quite good – as long as you stayed in the sweet spot.
While the 3D effects, size of the sweet spot and other factors continue to improve, this is still a stereoscopic technology (with 64 views now). Sweet spots and the conflict between accommodation and vergence remain, which will limit the depth volume that will be acceptable. In other words, I don't think this technology will even actually simulate reality as there is a limited horizontal-only look around capability but not 6 degree of freedom navigation.
Zhang Biao, president of KDX's 3D Display Business Group said:
"SR integrates multiple technologies including optical imaging and display design, environmental/spatial perception technology, man-machine interactive integration and artificial intelligence. SR can create a 'materialized' experience distinguished by a combination of virtuality and reality. This phenomenon provides communication and interaction with virtual objects in a natural manner via eye movements, hand postures, touch, sound, etc."
That all sounds great, but I did not see much that validated this vision.
However, KDX is right that they can leverage all of the advancements taking place in the AR/VR/MR sphere such as new 3D modeling capture methods, content creation in stereo 3D, advanced processing techniques and more.
In its booth, it showed a number of applications that use its glasses-free 3D displays. For example, in the mobile arena, it showed the latest smartphones, tablets and laptops with 3D displays. Most interesting was a new laptop with the world's first glasses-free "Pupil 3D" display developed jointly by KDX and Samsung. This is actually a switchable lenticular type so there is no compromise in 2D image quality. It is based upon a FullHD resolution panel for the first product, which is destined for the China market, but will move to a 4K panel later. This switchable technology can support displays up to 27". Non-switchable designs can go up to 70".
Also on display were glasses-free medical monitors, digital signage and a new-generation LOHO magic mirror (TC10) that can "interact, perceive, think and has both wisdom and design." We did not see this one, however. There was also a demo with a Leap Motion system with ultrasonic haptic feedback we missed too.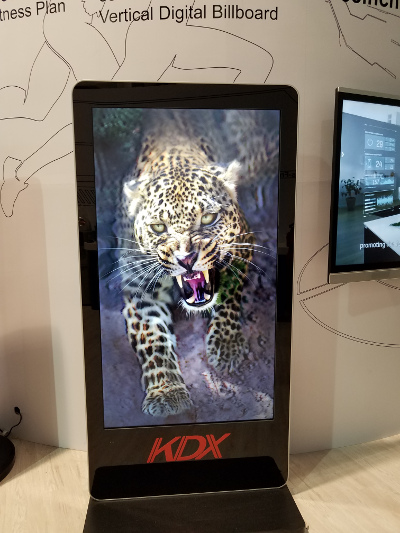 KDX also announced the new Simulated Reality Alliance at CES. This alliance builds on KDX's 3D+ strategy to involve a wide range of ecosystem partners in haptics, sensors, content, audio and even software and solution providers as well as retailers and distributors. There was a launch ceremony where representatives from KDX, Philips, AURO, Ultrahaptics, retailer JD, Arima, Hiscene and the Shenzhen Electronics Industry Association all gave speeches. In attendance were a large number of additional companies.
It is unclear exactly what this Alliance will do other than cooperate to build SR solutions. Such alliances in China can often be more of a marketing message than meaningful development and marketing efforts with serious funds behind them. Nevertheless, the formation of such an alliance is a step in the right direct to help integrate technologies for a simulated reality future.