Our friend Jon Peddie has written an interesting report in his latest TechWatch newsletter, highlighting some aspects of Nvidia's GTX1080 (Nvidia Reaches 240Hz With 16nm) which we only briefly touched upon.
First, you need to know about Perspective Surround. In a nutshell, this feature 'knows' that there are three active projections (one for each monitor and each primitive). Each of these projections will be applied to each display in real time.
Key to the GTX1080 is its image warping capabilities for virtual reality. VR requires that two images are generated, one for each eye, which – naturally – doubles the amount of work required throughout the graphics pipeline. Nvidia deals with this using Simultaneous Multi-Projection, using a special projection engine in its Pascal GPU.
Two separate projection centres are supported by the SMP engine, which render the stereo projections directly in a single rendering pass (known as single pass stereo). It means that all of the pipeline work, such as scene submission and geometry processing, only need to be performed once. The SMP hardware supplies a number of projections to the current primitive, which, as Peddie notes, is important for combining the single pass stereo with lens matched shading.
Image: Nvidia, via TechWatchLens matched shading is approximating the shape of the lens-distorted projection. The SMP engine divides the display region into four quadrants, each with its own projection plane. Parameters can be adjusted to match the shape of the VR lens distortion as closely as possible. Due to this, the source image can be as much as 66% fewer pixels per eye. The result is a large reduction in shading rates and an increase in throughput for pixel shading. Different settings can be used by developers; for example, high resolution in the centre of the image and lower resolution around the edge (a form of foveated rendering – TA).
These features are all part of Nvidia's updated VRWorks SDK. This also includes Nvidia PhysX for VR, which will tell the PC when a hand controller interacts with a virtual object. It also models the behaviour of the virtual world to mimic the real one, so that, for instance, explosions look realistic.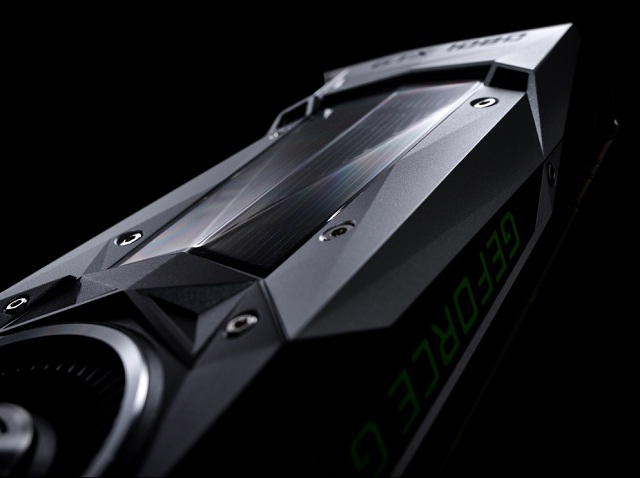 Another new VRWorks feature is called Ansel: it's a virtual camera integrated into the gaming experience. Gamers can use this to move the camera to wherever they want it (not just behind their crosshairs, for example) to compose the perfect screenshot. Filters, zoom 360° capture and more are included. Screenshots can be taken at up to 32x screen resolution. Only certain games will support the feature, but announced ones include AAA titles like The Witcher 3 and The Division.
Naturally, the GTX1080 supports HDR; the controller is capable of showing 12 billion colours and supports Rec.2020, SMPTE 2084 and HDMI 2.0b 10-/12-bit. All of this was present on the previous (Maxwell) GPU. Pascal adds UltraHD 60fps decode (10-/12-bit), UltraHD 60fps encode (10-bit) and DisplayPort 1.4-ready HDR metadata transport.
Finally is a replacement for the anti-screen tearing V-Sync feature, known as Fast Sync. As well as eliminating tearing, Fast Sync enables to the GPU to render graphics unrestrained by refresh rate, to reduce input latency. V-Sync ties rendering to the display's refresh rate, and so can harm gamers more than helping.
With Pascal, Nvidia has untied the front end of the render pipeline from the backend display hardware. Fast Sync is one of the first results. Using it, the game engine works as if V-Sync is off (there is low input latency), even if it is enabled. Fast Sync then chooses which of the rendered frames to send to the display. Peddie writes that "Fast Sync basically reintroduces the notion of front and back buffers between the GPU and the display."