China's itel claims to be the world's number one smartphone brand for phones under $75 with a presence in 70 emerging markets. The company is adding to its mobile product line with the itel S23+ which has a 6.78-inch FHD+ AMOLED curved display. That gives the phone a 59-degree curvature with a 93% screen-to-body ratio at a 1080×2400 resolution.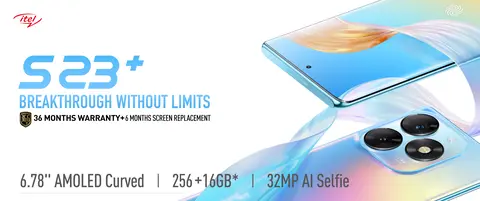 The phone uses the itel OS13 operating system, and offers the Alvana GPT voice assistant. OS13 is based on Android 13 and and has been tweaked for itel's feature list including its AI assists, custom privacy controls, dynamic bar, and battery life management. The dynamic bar, a first for the company, providing notifications on battery use, incoming call status, and other reminders.
As for specs, the S23+ can go up to 16GB of RAM on some options with 256GB of storage. There's an extended RAM technology that the company claims leverages an additional 8GB from on-board ROM to extend its capabilities and make multi-tasking of as many as 20 background apps seem seamless.
The phone is equipped with a 5000mAh battery, 18W fast charging and can achieve a full charge in 2 hours. There's also a 32MP selfie camera, and a 50MP camera with an F1.6 aperture. It has some AI features to enhance the processing of images.
The device is available with a 36-month warranty and a 6-month free screen replacement warranty in African markets.