In addition to the HUD technology described in a separate article, TI showed a number of products using DLP chips – mostly the newest TRP chip set.
One very cool new product from HP is called the Sprout (HP's PC Unit Sprouts Anew). This is an all-in-one PC with a 23″ monitor and pico-projector built-in to project downward on a working surface. Three cameras (RGB, structured light and IR) also face the working surface to allow the capture of objects placed on the pad. This is not a 3D capture but rather an image capture (3D capture is planned for later).
The pad can be used to create many kinds of work and play surfaces such as a keyboard, interactive game pad, or piano keys.  A number of apps are available to support the platform as well. It is essentially a camera enabled touch surface.
HP Sprout
Asus has launched the first HD LED-based projector (P3B) that offers up to 300-400 lumens  when running on battery power.
Hitachi showed an ultra-short throw projector that can stand up to produce a downward projecting image or lay flat to send the image to the wall.
We also saw a new tablet (YOGA Tablet 2 Pro)  from Lenovo with an integrated pico projector. (Too Much from Lenovo….)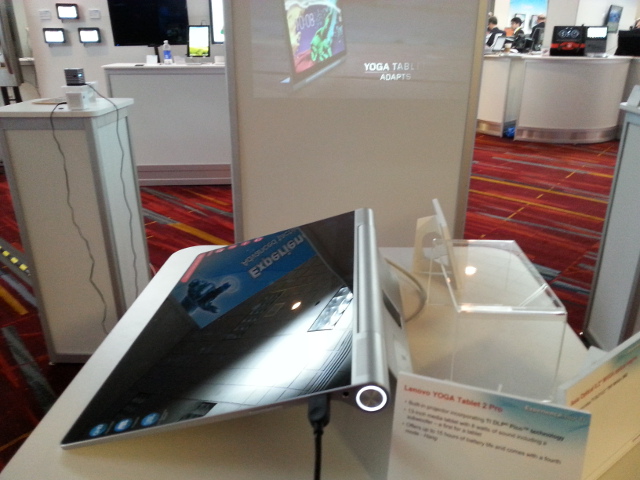 Lenovo YOGA Tablet Pro 2
Another novel product was a pico projector Wi-Fi hot spot that included a 1280 x 720 resolution projector offering 200 lumens of light output.  This one is from ZTE (ZTE Announces 2nd Gen Smart Projector at CES)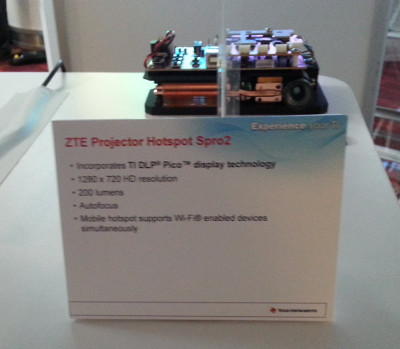 ZTE Wi-Fi hotspot with pico-projector
---