Business and Strategy – Innolux, Taiwan's largest LCD fab, made headlines last week with the announcement of new fab investment in mobile displays as it looks to keep pace with LCD demand, particularly of LTPS LCD type that is so popular in high pixel density mobile display devices from Apple.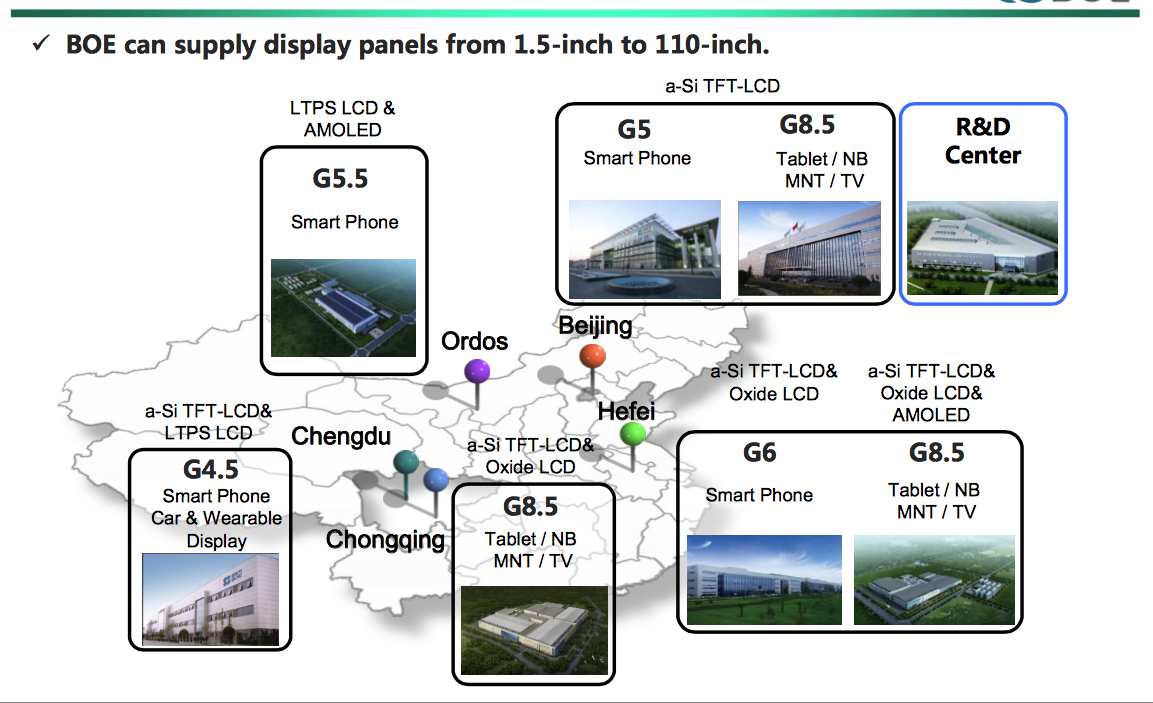 Taiwan's Innolux is building its first new LCD fab in years, with rivals like BOE in mainland China also expanding. Source: BOE 2014 DisplayWeek
In fact Apple's ODM partner/Foxconn is linked to the deal that will build a 6G LTPS (low temperature polysilicon) backplane LCD fab that is expected to go into production in Q2-16 with up to 24K substrates per month. The new 6G facilities are expected to bring yearly output value of $2.6B. According to a Digitimes.com report, the lions share (perhaps all) are slated for the iOS based devices. The announcement portends recovering LCD panel demand as it is the first "large-scale" capacity expansion plan unveiled by a Taiwan-based LCD firm since the 2008-2009 industry downturn.
Innolux is Taiwan's top producer of LCD panels but finds itself short when it comes to mobile display panel manufacturing it only holds an 8% share behind Samsung's 14% share and Sharp's 10%. In other display applications, Innolux rivals LG and Samsung Display for top producer in larger size displays.
The company reported a 22% share in the larger display size global TV panel market, and that same 22% in monitor market share. Digitimes.com also reported Innolux leading the notebook display panel market with a 25% share in that category. To achieve this, the company operates two 8.5G lines at its Kaohsiung facility (80K/month substrate capacity), which the group reckons has an output value at some $1.75B.
In August 2014, we reported panel shipment (units) vendor rankings with Innolux, for the first time, surpassing Samsung (in second place). DisplaySearch's Q2-14 research showed LG had the lead with (25.1%), followed by Innolux (20.1%) and Samsung (18.9%). Innolux also holds a 22% share in LCD monitor panel shipments, behind LG Display's 24%.
For panel makers like Innolux, LG and Sharp, mainland China LCD fabs loom large on the horizon. At the Display Week conference sponsored by SID in May this year, China based BOE chairman Wang Dongsheng gave a keynote stating "Mainland China will soon become the world's leading panel manufacturing base", he said. Dongsheng claims LCD panel shipments last year in China "…amounted to 13% of the world's total, and is expected to reach about 26% in 2016",  he said in his keynote at the Display Industry conference. In Mainland China, currently, there are five major display panel makers and "…BOE is the biggest, with 2013 shipment of over half of mainland China's total", he said. Mainland China's expansion is evidenced by the recent news that Japan display glass maker Nippon Electric Glass (NEG) will build China's biggest substrates glass factory in Xiamen's Torch High-Tech Zone in support of the AUO LCD fab located nearby. The group said that it will invest over $600M (1.4B RMB) to complete phase one of the build-out that is scheduled to be completed by the end of 2015.
So Taiwan is playing mobile display panel catch-up with a big investment in LTPS LCD panels from Innolux/Foxconn and high demand from companies like Apple, looking for a stable alternative supply source. But OEMs need look no further than across the China Sea as the mainland looks to eventually grow its dominance in the space, and will surely change the supply calculus in the complex flat panel display industry. – Steve Sechrist