In the first half of 2023, India's wearable device market experienced robust growth, recording a remarkable 53.3% year-over-year (YoY) increase, shipping a total of 57.8 million units in the first half of 2023, according to the IDC's latest research note. This growth was primarily driven by the smartwatch segment, which witnessed a substantial 128.6% YoY increase, and the smartwatch category's market share surged to 40.0% from 26.8% a year earlier. Additionally, the earwear category also grew, albeit at a slower pace of 27.3% in 1H23.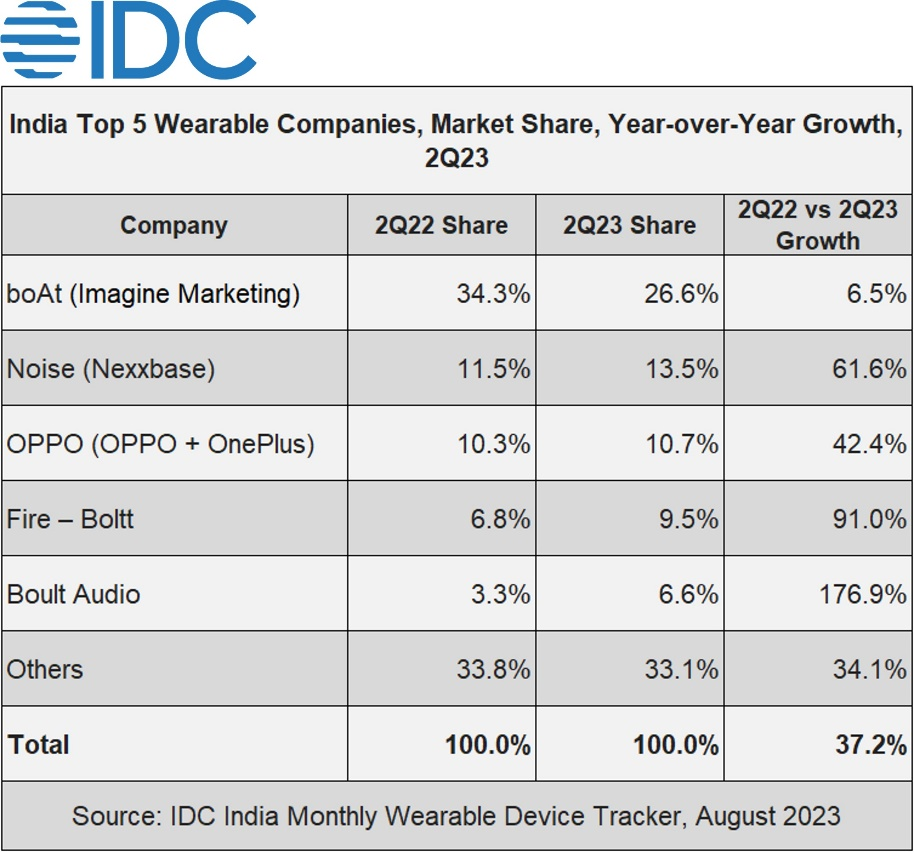 The second quarter of 2023 saw 32.8 million wearables shipped, reflecting a 37.2% YoY growth and a significant 30.6% quarter-on-quarter (QoQ) growth. Notably, the smartwatch segment experienced remarkable growth, nearly doubling its shipments to 12.8 million units in Q2'23. Earwear shipments also increased by 15.2% YoY. During this period, the average selling price (ASP) of smartwatches dropped substantially by 44.9%, going to down to $25.6 from $46.6 in Q2'23, while the overall wearable ASP decreased to $21.0 from $26.7 a year ago.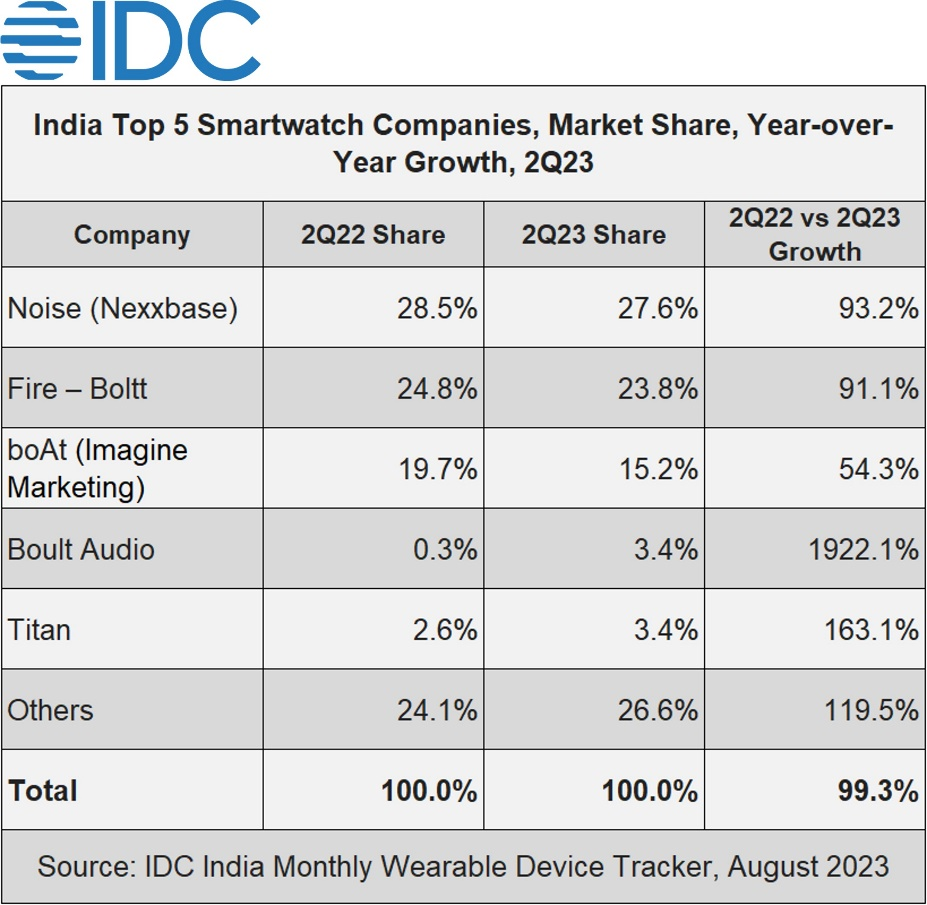 Key players in the Indian wearable device market made strategic moves to enhance their offerings. Online channels, particularly e-tailers, continued to drive sales with a dominant 73.9% share in Q2'23. Notably, established brands started exploring offline avenues to expand their reach, targeting Tier 3/4/5 towns.
The competitive landscape featured several prominent companies, with boAt (Imagine Marketing) leading the wearable space with a 26.6% market share, driven by its growth of 6.5% YoY. boAt's focus on earwear was evident, with 77.7% of its shipments belonging to this category. Noise (Nexxbase) secured the second position with 13.5% market share, experiencing a remarkable YoY growth of 61.6%. Oppo (including OnePlus) stood third with a 10.7% share and growth of 42.4% YoY in Q1'23. Fire – Boltt and Boult Audio occupied the fourth and fifth positions with 9.5% and 6.6% shares, respectively.