The global display materials market is projected to reach a staggering $47.75 billion by 2026, according to a new report from UBI Research, a leading provider of market intelligence for the electronics industry. This growth can be attributed to the increasing adoption of advanced display technologies and the demand for innovative products across various industries.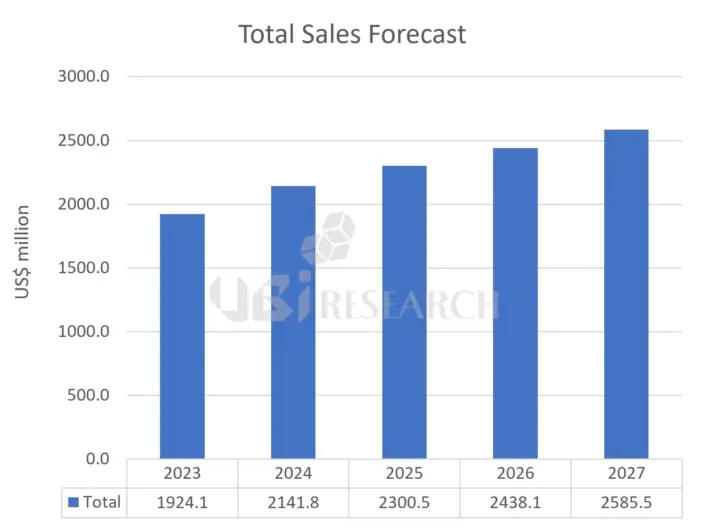 The report reveals that the market, which was valued at $32.26 billion in 2020, is expected to grow at a compound annual growth rate (CAGR) of 6.7% between 2021 and 2026. This significant growth is driven by the rapid expansion of the smartphone, television, and automotive sectors, as well as the emergence of new applications in wearable devices, virtual and augmented reality, and gaming.
One of the key factors fueling the demand for display materials is the rising popularity of organic light-emitting diode (OLED) and quantum dot (QD) technologies. These cutting-edge technologies offer higher resolution, better color reproduction, and thinner form factors, making them ideal for modern display applications. Furthermore, the report highlights the growing interest in foldable and flexible displays, as major companies like Google, Samsung, Oppo, and OnePlus launch foldable smartphones to compete in the premium market. These new product releases are expected to spur innovation in the display materials market, as manufacturers seek to develop and refine materials that can accommodate the unique requirements of foldable and flexible displays.
UBI Research also points out the need for continued investment in research and development, as well as collaboration among industry players to improve the performance and durability of display materials. The increasing environmental concerns and regulatory requirements are driving the development of eco-friendly and energy-efficient display materials, which will play a crucial role in shaping the market's future.