The European Audiovisual Observatory released its first estimates for European cinema attendance in 2017 at the 68th Berlin International Film Festival. The Observatory estimates that total admissions in the EU decreased by 0.7% to 985 million tickets sold in 2017. While this is 6.6 million less than in 2016, it still represents the second-highest admission level registered in the EU since 2004.
Cinema attendance in the European Union 2008-2017 (provisional, in millions)

(Source: European Audiovisual Observatory)
Admissions developed in a less even manner across Europe in 2017. Attendance increased in 13 and decreased in seven EU markets, while remaining stable in five of the 25 EU markets for which provisional data were available. Geographically speaking, the moderate decline in EU cinema attendance was primarily caused by a major drop in Italian admissions as well as a comparatively poor year-on-year performance in France. Out of the five major EU markets, only the United Kingdom and Germany registered an increase in cinema attendance while admissions reached record levels in Poland, the Netherlands, Romania and the Slovak Republic.
Outside the EU, the Russian market surpassed the 200 million benchmark for the first time, jumping to 213.6 million admissions, the highest level achieved in recent history, further strengthening Russia's position as the first European market in terms of admissions. Turkey, the seventh-largest European cinema market, registered an equally impressive growth in attendance, while Norway registered a decline from 2016.
Key Cinema Data in European Countries 2016 – 2017 (provisional)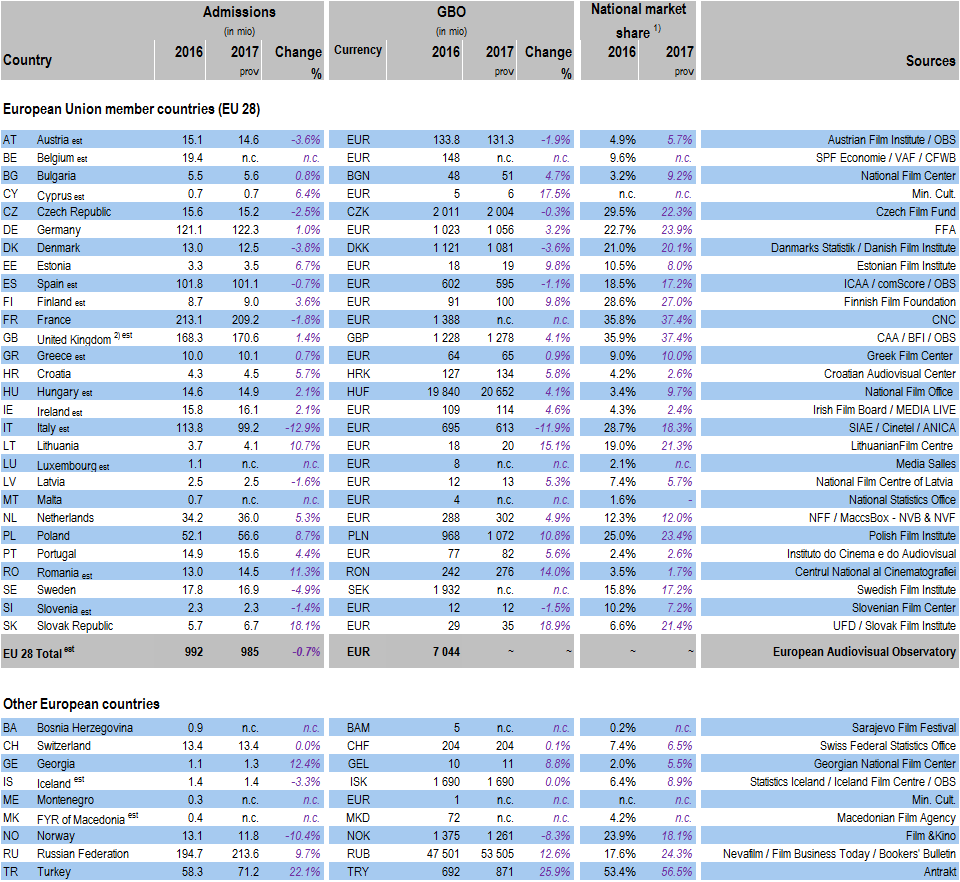 (Source: European Audiovisual Observatory)