Epson revived its 'colour brightness shootout' area for IFA 2015 – a demonstration that was particularly unpopular, and caused a lot of bad feeling, with other projector makers at ISE in February.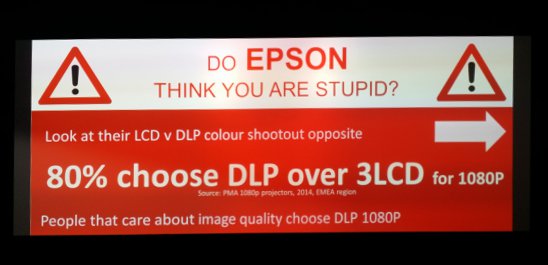 We were a little surprised that a variant on Optoma's ISE sign didn't make a reappearanceThe idea behind the area is to highlight the bright colours that Epson's 3LCD projectors can output, comparing them to DLP units. However, the DLP projectors were obviously poorly set up – as we said in our ISE report, 'Have you ever seen a grey banana?' We questioned Paul Wilson, UK product manager, about the demo. He said that all projectors were showing images in their brightest colour modes – not necessarily their most accurate, or even the same modes. No adjustments had been made, he said. "Hmmm…" we say.
Only two new projectors were on display in the stand, although they were part of a wider release of nine new 1920 x 1080 models, which will be coming soon. We have names for four of them.
In the home cinema segment, the EH-TW5300 will be the flagship model. Despite the Full HD resolution, this is an entry-level unit. It will have several different modes, such as Movie (adds frame interpolation to smooth movement) and Gaming (turns off some display enhancement features to reduce latency time).
A step-up model will be seen in the EH-TW5350, which adds Wi-Fi and Miracast connections. Both projectors have +/-30º automatic vertical keystone correction, and +/-30º manual horizontal. They feature MHL-HDMI, HDMI, VGA and USB ports; output 2,200 lumens of brightness; and can project a 34″ – 300″ image.
Epson's 5300 range will, as far as we know, consist of the EH-TW5210 (£460 ($710)), EH-TW5300 (£500 ($770)) and EH-TW5350 (£585 ($900)). The projectors will be launched in October.
A business model was also on show, known as the EB-U04. It has 1920 x 1200 resolution and 3,000 lumens of brightness, with a 10,000-hour lamp life. MHL-HDMI and Wi-Fi connectivity are featured. It will cost £460 ($710).
Epson was also showing its Moverio augmented reality wearable. While there have been no changes to the BT-200 for more than a year, a new model will be launched soon, for business users. It will be more rugged, with an HD camera and hot-swappable battery.
Prices are ex VAT.