E Ink Holdings, maker of low powered electrophoretic displays, said today the company has deployed over 600 displays in various sizes (ranging from 32-, 9.7- and 6.8-inch diagonal) black and white signs. The digital signs are distributed in a new exhibit space for the Estonia national museum, with the lion's share of the display real-estate going to WayFinding applications in the plus 5K sq. meter facility dedicated to the Estonian people's heritage.

Smaller NFC (near field communication) embedded displays deployed at museum venues, are used to adjust screen language to accommodate visitors holding a unique ID badge that indicates language preference, the company said. "After programing their language of choice, visitors then glean useful information in their chosen language when they are near an E ink empowered display. The solutions are part of the Estonian museum's larger goal of enabling visitors to learn about Estonian culture effortlessly," according to the E Ink information provided to us via e-mail late last week.
The way finding market is poised to grow…
The digital signage industry is expected to hit $23B by 2023 at 5.5% CAGR from 2016-2023 according to Global Market Insights (Global Market Insights, 2016). Part of the growth is fueled by demand for wayfinding signs. There is increasing need to provide accurate wayfinding as public spaces evolve and to quickly get visitors to their destinations.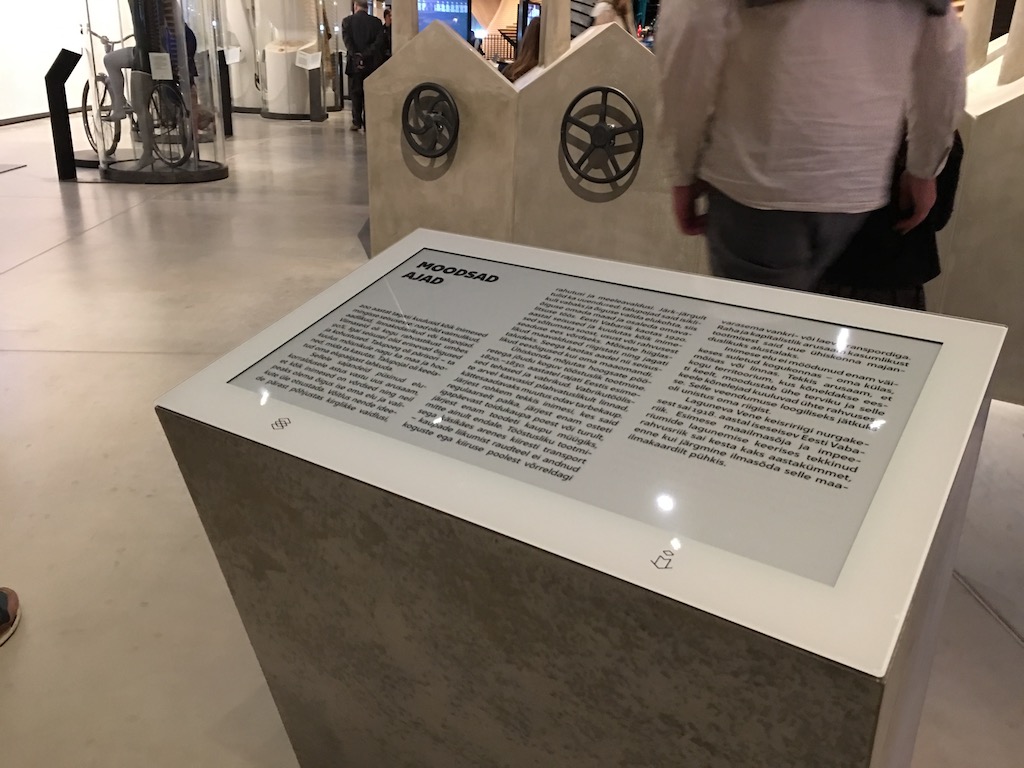 In the foreground, an E Ink EPD display adjusts to language preference of visitors using NFC (near field communications) chip embedded in the admission ticket at the Estonian national museum. Notice the background smaller display stand providing details on the bicycle exhibit. Source: Estonia national museumE Ink told us the available market research data does not break out numbers specifically for wayfinding signs. However, one can glean the potential of this category based on the following examples where dynamic wayfinding is helping mine new display markets:
Over 50,000 museums in the US and Europe alone
Smart city infrastructure
Healthcare representing an estimated 20,000 hospitals in the US and Europe
Public transportation including airports and train station signage
Retail
Corporate and educational campuses
To get the job done in Estonia, E Ink partnered with 3 + 1 Architects and Artec Design on concept and development respectively, for that country's national museum project. Electrophoretic displays are perfect for this kind of deployment as they require very little power (no hardwiring) and provide near perfect display reading conditions in the high ambient light conditions that characterize nearly all public venues.
Beyond the Estonia museum project, E Ink told us that the company is also working with other development partners including: Global Display Solutions (GDS), Visionect, CHK America, Australia based Mercury Innovations, and Lecip (under their Papercast brand).
Future development efforts going forward at E Ink according to Harit Doshi, head of the signage business at E Ink Corporation, include work on larger format displays shown at Infocomm this year, plus an advanced color ePaper (ACeP) initiative, the company's next generation color technology (shown at SID earlier this year.) Doshi said this technology is initially targeted for indoor wayfinding and signage applications, and will be added to the existing a range of existing products in 32-, 13.3-, 9.7-, and 6-inch diagonal display formats.
Technical specs on the displays deployed in the Estonian museum include:

It's been evident to anyone following electronic ink technology mainstay, E Ink Holdings that the company is expanding market focus beyond its consumer-based products like those found in wearable displays (watches) and low powered second screen technology for mobile phones.
We look forward to new larger and more colorful implementations of this unique US home grown technology with its roots at the MIT media lab, and now part of Taiwan based YFY group. – Steve Sechrist