EverDisplay Optronics (EDO) announced this week the launch of the world's first 6-inch 4K AMOLED display.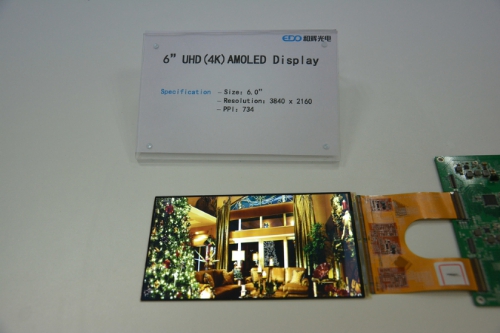 Although 4K TV is already commonplace among the consumer market, replicating the same resolution onto a mere 6-inch panel, a huge PPI hike up to 734, presented a formidable, hundred-fold scale challenge in terms of both design and process. The successful turning-on of the 6-inch 4K AMOLED panel has opened up wider possibilities for newer applications, such as virtual reality (VR), and today the sample achieved yet another milestone in demonstrating its capability and commitment in the field.
Whether smartphone display demands super high resolution remains to be seen, but a host of new applications would definitely use much more pixel packed displays. "Visually a person immerses himself into a faux real surrounding by means of VR devices. To do so, it requires exponentially higher PPI in display, far beyond what current market offers. Using today's UHD (4K) display turn-on as a launch pad, EDO is determined to enter the VR market." says Dr. David Chu, EDO's CEO.
VR has been recognized as a new application with great potential, with leading products from Korea, Japan and the US all featuringAMOLED displays. More than perfect color, AMOLED displays offer low latency, real darkness with superb contrast ratio and minimal hazardous high-energy blue ray. All these hit the bullseye of desirable features by VR devices. As the VR market grows, so should AMOLED.
EDO was built from day one to focus on AMOLED display in small and medium size applications. As a new player, EDO has been consistently raising the bar not only to challenge itself, but also quickly catch up on the industry, first with HD resolution from last March to FHD, then WQHD (2.5K) and UHD (4K) today, all done in less than 18 months. With its 6-inch 4K display, EDO has projected itself tothe forefront of first tier in the industry.
EDO spares no effort when it comes to working on AMOLED leading edge technology development and strives to bring excellent products to enable new applications and enhance old ones.