Think of an old-style, side-by-side, double-barreled shotgun. Each of those barrels contains a story about a very interesting recent development in TV-sized OLED display panels. But the barrels are twisted so they fire in completely different directions (Fig. 1). That is today's Display Daily.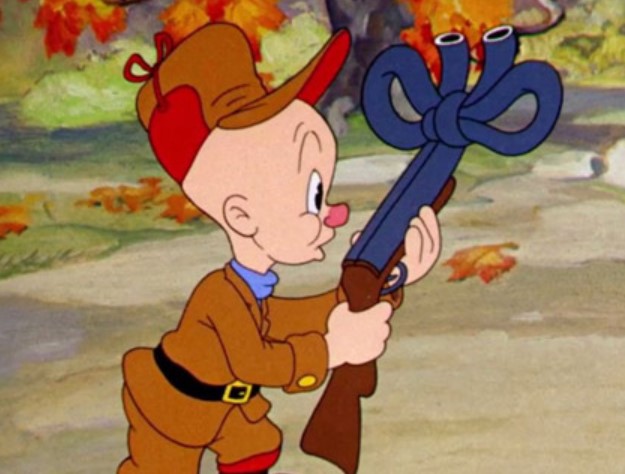 Which way will Samsung Visual shoot? (Image: Warner Brothers Cartoons)
Barrel #1. Gijong Lee, writing in the Korean on-line publication The Elec five weeks ago, reported that Samsung Display (Samsung's panel-making division) would produce QD-OLED TV prototypes in June. This is a surprise since nearly everybody, including a source within Samsung Visual (the set-making division), has been saying that Samsung Visual would not release QD-OLED sets before 2022. Lee went on to say that Samsung Display would send both TV and monitor prototypes to Samsung Visual, Sony and Chinese set-makers. (If you blinked recently, you may still be thinking that Samsung Visual had rejected the idea of making QD-OLED TV sets even though the panels would come from its corporate sibling. Well, it had, but that decision was recently reversed. OLED TVs – SDC, Samsung Visual and LGD – A Double Reversal of Fortune) Samsung Display plans to conduct a market response review in September.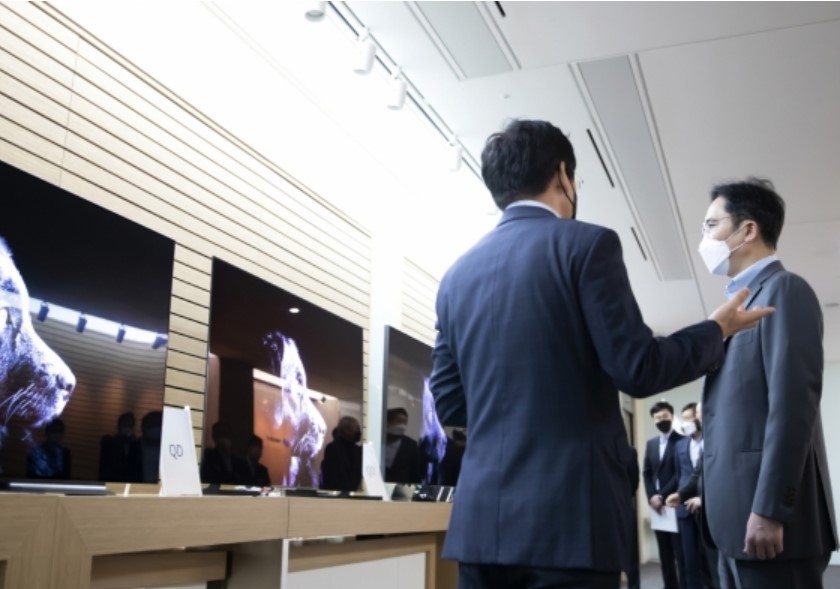 Fig.2 Samsung Vice Chairman Lee Jae-yong (right) inspects samples of Samsung Display's QD-OLED panels. (Photo: Samsung Display)
The panels will be manufactured at Samsung Display's Q1 production line, and Q1 could enter commercial production promptly if orders materialize. Samsung Display is already sending prototype panels to Samsung Visual, reported Lee.
Samsung Visual has asked Samsung Display for commitments concerning yield rate and production capacity. Q1's yield rate remains low, a source told Lee, and Samsung display is urgently working on increasing the yield. Q1's capacity is currently 30,000 Gen 8.5 substrates per month, which is probably not enough to supply the premium market segment. LG Display currently has a capacity of 140,000 Gen 6.5 substrates per month, reported Lee.
In January, Samsung Display sent QD-OLED panel samples to Samsung Visual, but Samsung Visual said the panels had unacceptably low luminance. Another of Lee's sources said Samsung Display planned to send new panel sample to Samsung Visual in April, the month that has just passed.
So I'm left with impression that QD-OLED sets may well be introduced in late 2021 and Samsung Visual is seriously interested in becoming a customer for the panels. But wait. The old shotgun's second barrel hasn't fired yet.
Barrel #2. Samsung Visual will acquire OLED panels from LG Display, reported Park Ji-eun in Money Today Broadcasting's online outlet in April. This is startling: It's like Churchill and Hitler sitting down to share cognac at Chequers, but Park provides details.
According to "industry officials," Park reports, senior management of the companies met recently and agreed that LGD would supply OLED panels to Samsung Visual. Park's source stated that only working-level meetings are needed to finalize the details. The volume to be supplied "is known to be" one million units in H2'21 and four million units next year, which would be half of LGD's total production capacity for 2021! Park reports an "industry insider" told him, "The meeting between the executives of the two companies in the past was led by the government, but this time it is meaningful in that it is a voluntary meeting."
So Samsung Visual will obtain its panels from LGD, not Samsung Display! This is the world turned upside down. But wait.
"It is explained," reported Park, that "Samsung Display had to cooperate with LG as the yield of QD-OLEDs that Samsung Display is preparing for production was also a problem."
Ahhh! So the two barrels of the shotgun are once again in alignment. Samsung Visual is committed to OLED-TV but, not feeling they can trust the manufacturing yield and volume from Samsung Display, they will source from LGD, at least temporarily. But I'll wait until there's official confirmation from the companies before I gamble the week's pizza money on the outcome. (KW)