Talking about full display smartphones, you may think of iPhone X or Samsung S8. However, in the past AliExpress 11.11 big sale, the best-selling full display product is not iPhone nor Samsung, but the DOOGEE MIX 2.
From the statistics provided, DOOGEE MIX 2 is the best-selling full-display smartphone in AliExpress on 11.11. Also, DOOGEE became the TOP 2 phone brand in AliExpress sale this time, only behind xiaomi. Not long ago, DOOGEE MIX broke the selling records in Banggood, AliExpress and other online markets. MIX series is proven to be the most popular and most affordable full-display smartphone series in the world.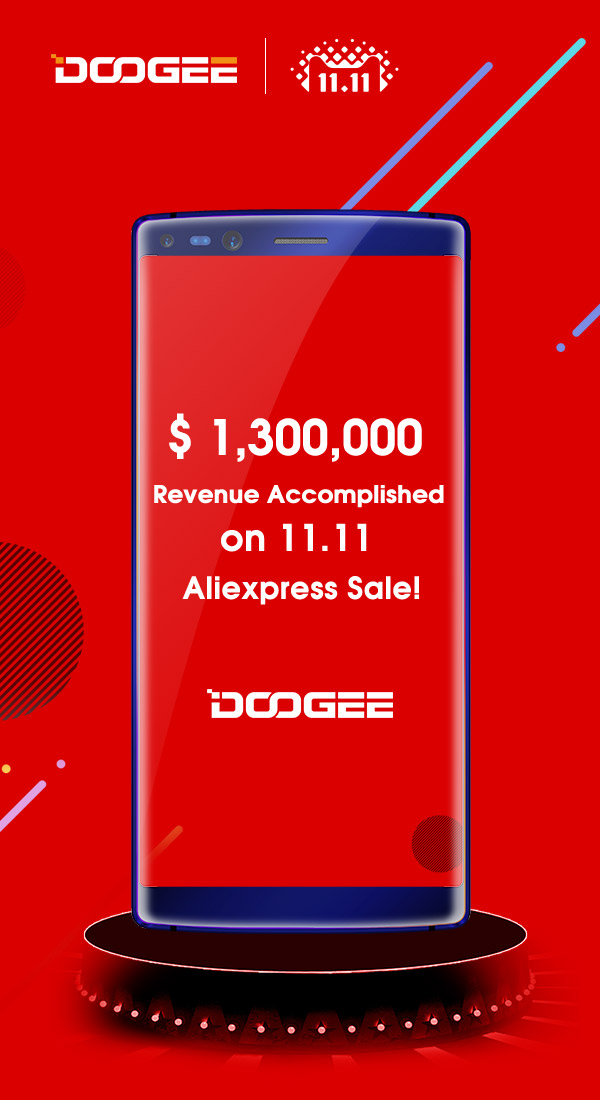 Why does DOOGEE MIX become so popular around the world? The secret may be that DOOGEE provided high-quality products with low price.
DOOGEE MIX: the smallest full display
Back in the first half of 2017, the market is full of big display smartphones. DOOGEE MIX innovatively put a 5.5″ display into a small body that usually holds a 5.0″ display, which distinguishes itself from the homogeneous competitors at that time. Forbes praises DOOGEE MIX as it "feels more comfortable than mi Mix". Except from the outstanding appearance, DOOGEE MIX has two cameras in the back, one 16.0MP and one 8.0MP to create great depth of fields. Powered by MTK Helio P25 and up to 6GB of RAM, the hardware of DOOGEE MIX is also reliable.
DOOGEE MIX unboxing video: https://youtu.be/l4Fc_PCfn84
DOOGEE MIX 2: innovative use of four cameras in a full-display smartphone
In the DOOGEE MIX 2, which is the newly released flagship phone, many advanced technologies are applied. With a wider, larger 18:9 5.99″ full display, DOOGEE MIX 2 is a better visual experience. DOOGEE MIX 2 innovatively put 4 cameras in the phone, two in the front and two in the back. One of the front cameras is capable to capture 8-10 people in a picture with the 130° wide-angle lens. The other front camera is capable to apply accurate face recognition. With the progressive hardwares, it is convincing that DOOGEE MIX 2 will do well in any aspect.
Face Unlock video: https://youtu.be/rVbqxHacEWY
130° wide-angle camera video: https://youtu.be/rOUETmLF0BM
DOOGEE MIX lite: it gets smaller and cheaper
Unlike other manufacturers who are pursuing bigger displays madly, DOOGEE thinks that comfortable grip is more important. That's why they launched a smaller full-display phone this year – DOOGEE MIX lite. MIX lite applies 5.2″ display, dual cameras and front fingerprint sensor as its key features. MIX lite meet the needs of students, elders, and ladies who want a small size of full-display smartphone, which gained great success in the markets after it was released.