Dlodlo (http://www.dlodlo.com/en/) Founder and CEO, Gang Li, introduced the company's V1 VR glasses in an event in New York on August 8th. He founded the company in 2013 in Shenzhen China with the intention of developing improved virtual reality (VR) systems. He is described as a "serial entrepreneur" and his previous company, Kanbox, was acquired by Alibaba for over $100 million. When he took the stage before a crowd of about 60-70 journalists, his first task was to teach us how to pronounce the company name. In my case, I'm not sure he succeeded.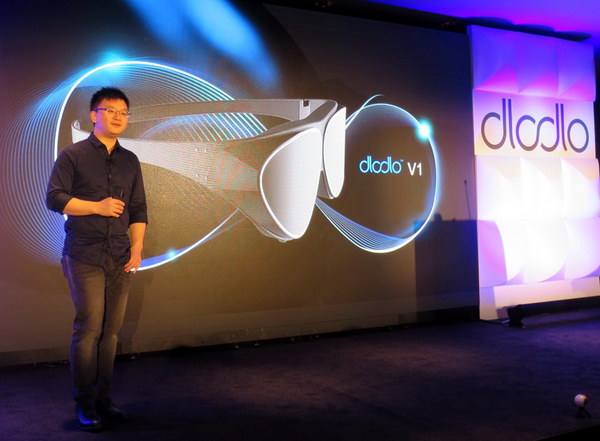 Dlodlo Founder and CEO Gang Li introducing the V1 VR Headset in the US. It had previously been shown at the Shenzhen Hi-Tech Fair in November, 2015.
According to Li, existing VR headsets are uncomfortable and heavy to wear. His goal was to design a VR headset that looked more like a set of sunglasses than other VR headsets. To a large extent, he has succeeded. The V1 headset is 0.63 inches (16mm) thick and weighs 2.7 oz. (78g). As a comparison, Li said the HTC Vive weights 19.6 oz. (557g), the Oculus Rift weighs 13.4 oz. (381g), the Sony PS VR weights 21.5 oz. (611g) (without headband) and the Samsung Gear VR weighs 11.2 oz. (318g) (without the phone).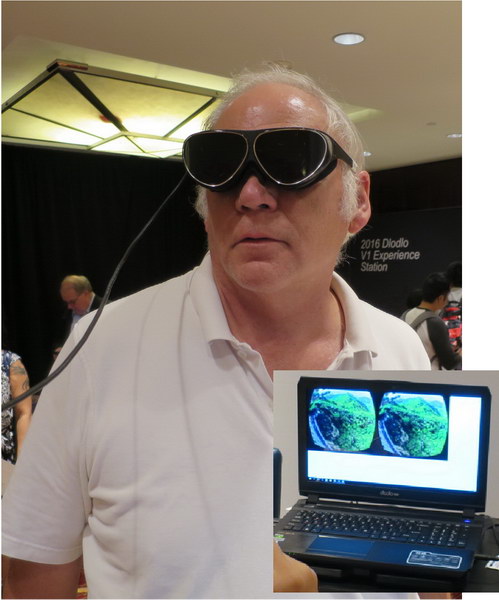 Meko's Matt Brennesholtz testing the Dlodlo V1 HMD. Insert: The Great Wall content being viewed as shown on the host computer.
The image quality was also good, with each eye having its own 1200 x 1200 resolution display covering a 105° field of view (FOV). Pixels were visible in the image, which is not surprising since each pixel had an angular size of about 5.2 minutes of arc and human vision can resolve down to about 1 minute of arc. The V1 FOV compares to the 90° – 100° FOV typical of most VR headsets, although the StarVR headset from Starwood has a FOV of 210° horizontally by 120° vertically. (Starbreeze shows Starvr headset, subscription required). To cover this larger FOV, the StarVR unit used two displays, each with 2560 x 1440 resolution. On the other hand, no one would confuse the oversize StarVR headset with a pair of sunglasses.
Currently the displays in the V1 are LCD displays. The company says it is investigating the use of OLED displays but declined to give a timetable for introduction.
Exploded view of the Dlodlo V1 VR glasses. For a quick tour, see https://youtu.be/KLgl1iNE7PE
The displays in the V1 headset are driven at 90 Hz. According to the company, this high frame rate is needed to prevent nausea in VR applications. Driving two 1200 x 1200 displays at 90 Hz is too much for a wireless interface such as Wi Fi and the demonstration units at the press conference were wired to host computers. The company is working on a portable computer, called the H1 and about the size and shape of an iPod Touch, with a custom wireless interface to drive the V1 glasses. This will allow a fully portable and wireless VR system since the H1 will not only provide the interface but the content as well. Eventually, the H1 will be powered by a Qualcomm Snapdragon 820 processor. The H1 will run Dlodlo OS 1.0, which is a customized version of Android 5.0.
Dlodlo is focused on consumer applications for its VR system, including games and 3D video. In addition to its V1 and H1 hardware developments, Dlodlo has started a delivery platform for VR content, targeting both its own hardware and other VR HMDs. This platform is expected to include a VR social network as well as content. The platform now streams 658 videos, including 139 3D movies and 519 VR panorama clips. The platform also introduces 76 independent sports, action adventure and shooting games such as Basketball, Deep Space Battle and Lamper.
Mr. Li closed his talk by saying, "See you at CES next spring." Hopefully, they'll have the H1 with them in January.
The Dlodlo V1 HMD is expected to start shipping in October, at least to developers, at a price of $559. No price or ship date was provided for the H1 host system. –Matthew Brennesholtz